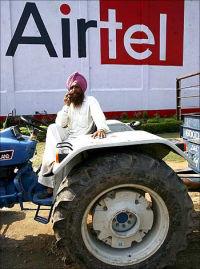 Qualcomm is in an advanced stage of talks with Bharti Airtel to sell its broadband wireless access licences in India.
BWA spectrum enables high-speed 4G services, called long-term evolution, with speeds of 5-15 mbps, many times faster than 3G networks.
Qualcomm India, which took part in the BWA auction last year, got licences for four markets, including the lucrative Delhi and Mumbai, apart from Kerala and Haryana.
The company paid a total of Rs. 4,912 crore (Rs. 49.12 billion). It might seek a premium over this from Bharti, said sources in know of the development.
The deal, if it goes through, will give Bharti BWA spectrum in eight circles. At present, it has BWA licences for Maharashtra, Karnataka, Kolkata and Punjab. It plans to start 4G services by the end of this year, a few months after the launch of 3G services.
The deal will also help Bharti compete with Mukesh Ambani's Reliance Industries Ltd, which has bought a pan-India BWA licence from HFCL. Reliance and Bharti are both expected to launch 4G services around the same time.
However, analysts say Bharti will have the advantage of offering customers seamless services across its 2G, 3G and 4G networks. Reliance is present only in the 4G space.
Qualcomm holds these four licences through its Indian arm, in which it holds a 74 per cent stake.
The rest is owned by GTL and Tulip Telecom. While Qualcomm refused comment on specific deals, it has always maintained that its India strategy is to add value to its business and exit at the right stage.
The company said its strategy was to work with 3G operators to develop the 3G and LTE ecosystem and then exit the India LTE venture.
"Consistent with those goals, discussions with 3G operators in India on LTE TDD commercialisation and commercial discussions related to Qualcomm's BWA spectrum are going on. These discussions are confidential and Qualcomm cannot comment on speculation regarding specifics," the company said in a statement.
Bharti Airtel said as a policy it did not comment on speculation.
Bharti Chairman Sunil Mittal, in an interview at the GSMA conference in Barcelona early this year, had said the company was betting big on 4G through LTE.