The finance ministry may ask cash-rich public sector undertakings (PSUs) to invest in foreign assets that are currently available at cheap rates due to the global economic slowdown.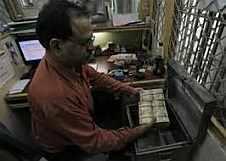 Finance Minister P Chidambaram would meet the heads of large PSUs next week to discuss their plans of utilising surplus cash.

"The finance minister will review the cash position of large central PSUs in a meeting next week. He will look at their reserves and discuss whether they would invest it somewhere," a finance ministry official told Business Standard on condition of anonymity.

The list of cash-rich PSUs includes ONGC, BHEL, BSNL, Coal India, GAIL India, NMDC and NTPC.

The finance ministry feels foreign acquisitions by Indian companies at this juncture would be profitable, as PSUs can foray into markets that have good growth potential.

"This is a good opportunity to acquire assets abroad if these are available cheap. It takes three years to commission a project and if you invest now, the (economic) cycle will roll on by then," the official said.

Secretaries of key infrastructure ministries would also attend the meeting to consider investment options for PSUs under their respective ministries. The PSUs may be asked to discuss concerns on deploying idle funds, especially in the infrastructure sector.

PSUs are sitting on a cash pile of about Rs 1.5 lakh crore and so far, efforts by the government to boost investment have not yielded desired results. Growth in gross domestic product in the quarter ended June fell to 5.5
per cent.
While industrial output contracted 1.8 per cent in June, growth of the eight core industries slipped to 1.8 per cent in July, indicating industrial growth may remain muted in July, too.
Most cash-rich PSUs have parked their funds in banks. Many of these had invited bids from banks, seeking high quoted rates.
Now, the finance ministry has asked banks to stop the bidding process and take deposits at the card rate, as lower interest in banks may force PSUs to consider other investment options.
Earlier, the finance ministry had considered asking PSUs to give a part of their surplus cash to the government as special dividends.
It had also considered asking these companies to park surplus funds in public accounts for government use.
However, both options were not considered the best way to deploy funds; these were merely resorts if a company failed to invest the money in activities aiding economic growth.
The issue of how best to utilise surplus cash is not one PSUs alone face.
As on March 31, India's largest private sector company, Reliance Industries, had surplus cash of about Rs 75,000 crore (Rs 750 billion), with investors and shareholders exerting pressure on the company to invest it quickly or distribute it to them.
However, an efficient treasury operation of the company, which aggregates free cash of about Rs 5,000 crore (Rs 50 billion) every quarter, ensured it earned hefty returns, which contributed 42 per cent to the company's net profit in the quarter ended March.