Over 25,600 cases of banking fraud reported up to December 21, 2017, says Minister RS Prasad.
Illustration: Dominic Xavier/Rediff.com.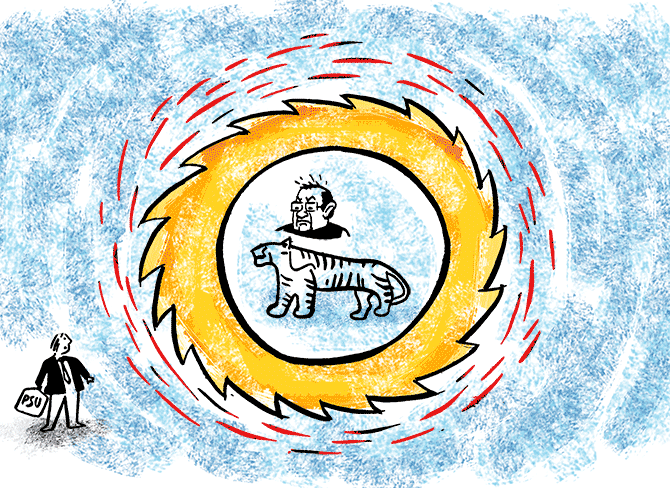 Public sector banks lost a total of Rs 227.43 billion due to banking fraud between 2012 and 2016, notes an IIM-Bangalore study.
Electronics and Information-Technology Minister Ravi Shankar Prasad recently told Parliament, quoting Reserve Bank of India data, there had been over 25,600 cases of banking fraud worth Rs 1.79 billion reported up to December 21, 2017.
Data released by the RBI last March revealed that during the first nine-months of 2016-17, 455 cases of fraudulent transactions of Rs 100,000 and above were detected at ICICI Bank, 429 at State Bank of India, 244 at Standard Chartered Bank and 237 at HDFC Bank.
Data shows 64 employees of State Bank of India, while 49 of HDFC Bank and 35 of Axis Bank were involved in facilitating these transactions.
Between April and December 2016, a total of 3,870 fraudulent cases were reported involving Rs 177.50 billion, which were facilitated by 450 private and public sector employees.
2011
CBI finds some executives of Bank of Maharashtra, Central Bank, Oriental Bank of Commerce and IDBI created 10,000 fictitious accounts and transferred Rs 1.5 billion worth of loans
2014
Mumbai police files nine FIRs against several PSB officials for fixed deposit fraud worth Rs 7 billion
Electrotherm India cheated Central Bank of India out of over Rs 4.36 billion
Bipin Vohra, a Kolkata-based industrialist, allegedly cheated Central Bank of India, receiving a loan of Rs 1.4 billion by using forged documents
Bribe-for-loan scam implicating ex-chairman and MD of Syndicate Bank, S K Jain, involved Rs 80 billion of sanctioned loans
2015
An alleged fraud committed on Central Bank of India by employees of Jain Infraprojects to the tune of Rs 2.12 billion
Employees from various banks defrauded the system of Rs 60 billion in a foreign exchange scam, involving a dummy Hong Kong corporation
2016
386 accounts opened by four people with Syndicate Bank, defrauded the bank of Rs 10 billion, using fake cheques, letter of credits and LIC policies
2017
CBI prepares charge sheet against ex-United Breweries chairman Vijay Mallya and ten others for non-repayment of Rs 9.5 billion worth of loans owed to IDBI
CBI registers FIR against five PSBs and six charge sheets against Deccan Chronicle Holdings for causing wrongful loss of Rs 11.61 billion
Nilesh Parekh, Kolkata business tycoon, was arrested by CBI, due to loss of Rs 22.23 billion caused to 20 banks
CBI arrests promoters of Abhijeet Group and former DGM of Canara Bank, for causing a loss of Rs 2.9 billion to two PSBs
CBI files case against a former zonal head of the Bank of Maharashtra and a director of a private logistics company at Surat in connection to an alleged scam worth Rs 8.36 billion
2018
Enforcement Directorate arrests former Andhra Bank director, in an alleged Rs 5 billion bank fraud case, involving a Gujarat-based pharmaceutical company
---
Fraud likely to hit other lenders too
The fraudulent transactions at Punjab National Bank are likely to hit the books of other lenders as well. Doubts about similar fraudulent practices at other banks were gathering steam, analysts said.
The impact of the PNB fraud will extend to counter parties (lenders), hit their asset qualities and increase provisions for bad loans.
Most bankers said the entire liability would fall on PNB since the letters of understanding (LoUs) availed by Nirav Modi's companies were issued on behalf of the bank's Mumbai branch.
Some banks, however, have direct exposure to Nirav Modi's companies, though they have been standard assets so far.
Bankers said Modi sent LoUs to banks stating that he would square off all his dues and that his company Firestone Diamond was up for sale. The valuation of the company was Rs 105 billion, he claimed in the letter.
But according to a PTI report, the CBI investigation has now expanded to a number of jewellery companies, which could be a cause for concern for banks. The nature of banks' engagements with jewellery companies was not clear.
"Four big jewellers -- Gitanjali, Ginni, Nakshatra and Nirav Modi -- are under scanner. The CBI and the Enforcement Directorate are looking at their arrangements with various banks and the end use of money," a senior official of a public sector bank told PTI.
Other banks may not have much to worry though.
Allahabad Bank has an exposure of Rs 20-22 billion routed through its Hong Kong branch in the PNB fraud. However, the entire exposure is on the bank, and does not relate to the client, confirmed Usha Ananthasubramanian, CEO, Allahabad Bank.
The bank had overdues slated to be paid on January 25 and subsequently on February 5, which were defaulted. 'We do have exposure to PNB, but it is on the bank and not on the client. The exposure is roughly Rs 20-22 billion," Ananthasubramanian told Business Standard.
The bank is contemplating corrective action, including tighter auditing and sensitising employees.
Another Kolkata-based bank, UCO Bank, has a direct exposure of around Rs 280 million to Nirav Modi. The bank also has an indirect exposure to PNB through its Hong Kong branch, confirmed a senior official at the bank.
R K Takkar, managing director and chief executive officer of UCO Bank, could not be reached for comments.
Mumbai-based Dena Bank has a standalone exposure of Rs 50 crore to the Nirav Modi company. It is a standard account with Dena Bank, a senior official said.
"The case assumes significance because based on these transactions other banks had advanced loans to these clients abroad. PNB has also involved the Enforcement Directorate to track the audit trail of the money. This dampens the sentiments around PNB, which had seen a marginal improvement in its asset quality in this quarter," said Jaikishan Parmar, analyst at Angel Broking.
Namrata Acharya and Abhijit Lele