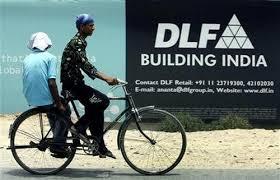 As realty giant DLF received a severe drubbing in the stock market, its promoters took the biggest hit of Rs 5,578 crore (Rs 55.78 billion) in value of their shareholding while overseas investors also took a hit of Rs 1,500 crore (Rs 15 billion).
Incidentally, the FIIs trimmed their holding in DLF marginally to 19.75 per cent in the quarter ended September, from 19.88 per cent at the end of April-June quarter.
Overseas investors have been on a selling spree in DLF counter from March quarter when their holding was at 19.90 per cent.
With a sharp fall of over 28 per cent in DLF stock yesterday, its promoters who hold 74.91 per cent stake in the company became poorer by Rs 5,578 crore (Rs 55.78 billion).
Dip in the stock has led to a loss of Rs 7,438.67 crore (Rs 74.38 billion) in the company's market valuation, which stood at Rs 18,701.33 crore (Rs 187 billion) at the end of Tuesday's trade.
There are 334 foreign institutional investors in the company who hold over 35 crore shares in the realty firm.
The number of individual shareholders holding nominal share capital up to Rs 1 lakh stands at 4,34,326, while those holding in excess of Rs 1 lakh is 69.
The hit for small retail investors was over Rs 200 crore, while that for HNIs was Rs 48 crore (Rs 480 million).
Sebi has barred DLF as well as its six top executives, including chairman and main promoter K P Singh, from the securities market for 3 years for "active and deliberate suppression" of material information at the time of its IPO.
Besides chairman and main promoter K P Singh, those barred from the markets include his son Rajiv Singh (Vice Chairman), daughter Pia Singh (Whole Time Director), Managing Director T C Goyal, former CFO Ramesh Sanka and former ED (Legal) Kameshwar Swarup.
DLF said it has not violated any laws and it would defend its position against any adverse findings in the Sebi order.
While the regulator has not imposed any monetary penalty, the prohibition order would bar DLF and the six persons, from any sale, purchase or any other dealings in securities markets for a period of three years, including for raising funds.
DLF had over Rs 19,000 crore (Rs 190 billion) of debt as on June 30, 2014, while its already-proposed fund raising plans include nearly Rs 3,500 crore (Rs 35 billion)through issue of certain bonds to lower debts.
This is one of the rare orders by Sebi where it has barred a bluechip firm and its top promoter/executives.
The order can be challenged at Securities Appellate Tribunal. DLF is the largest real estate group in the country with nearly Rs 10,000 crore (Rs 100 billion) annual turnover and market value of over Rs 26,000 crore (Rs 260 billion).
Its market cap had crossed Rs one lakh crore (Rs 1 trillion) mark soon after its listing in 2007, but fell later. DLF's IPO in 2007 had fetched Rs 9,187 crore (Rs 91.87 billion), the biggest IPO in the country at that time.