Hit hard by volatility in yarn prices, 50% of the looms said to be operating only 3-4 days a week.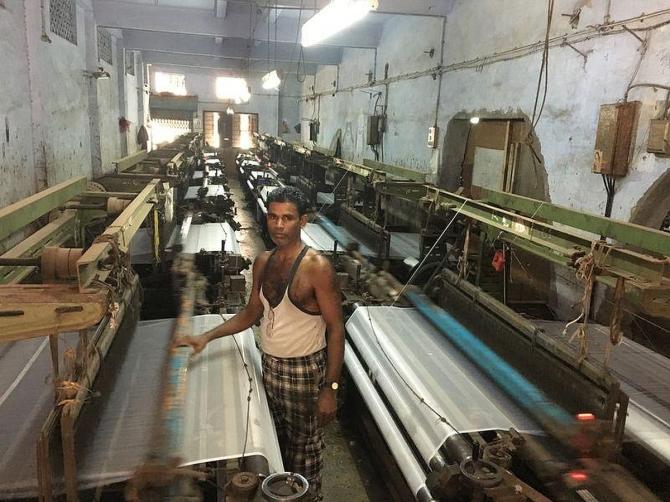 Part I: Bumps galore, but auto hubs breathe easy on sales spike
In the powerloom hub of Bhiwandi, near Mumbai, Covid-19 cases have been declining since last September, and there has been no coronavirus-related death since the beginning of this year.
People have stopped wearing masks, and looking at the town's bustling markets and streets, you'd think life was back to normal.
Not so. Though the fear and ferocity of the pandemic has receded, Bhiwandi's core powerloom industry is in deep crisis.
The volatility in yarn prices has posed a severe challenge to powerloom owners who resumed full-fledged operations only in August last year.
While Torrent Power, which distributes power to the town, maintains that there has been no dip in consumption since October, powerloom owners say they have slowed production down.
Purushottam K Vanga, former chairman of the Powerloom Development and Export Promotion Council, estimates that due to limited operations, there has been a 25 per cent fall in Bhiwandi's daily cloth production — down from around 20 million metres to 15 million metres.
Abdul Rashid Tahir Momin, president, Bhiwandi Powerloom Weavers Federation, claims that since mid-December, about 50 per cent of the powerlooms have been operating just three to four days a week.
"Input costs have increased and merchants are not willing to pay a higher price for cloth," he says.
Bhiwandi accounts for 20-25 per cent of the country's 2.5 million powerlooms.
And 70 per cent of the operators here have 12 to 24 looms each and work for larger units that procure yarn from traders.
At the looms, the yarn is woven into grey cloth, while the processing, dyeing, designing and printing happens later in the mills.
"Though it is not unusual for yarn prices to rise by 10-15 per cent, in the last two months, they've gone up 50-100 per cent," says Momin, blaming the price surge on speculative trade.
"Prices were fluctuating every two-three days and that made business difficult.
"Last week, prices of both cotton and synthetic yarn fell by around 10 per cent and then gradually increased by the end of the week." Momin wants the Maharashtra government's help to control yarn prices.
According to data from the Southern India Mills' Association, prices of both cotton hosiery and weaving yarn have risen in the past few months.
The average price per kg of hosiery yarn has increased from Rs 179-225 in August 2020 to Rs 218- 264 in January 2021.
And that of weaving yarn has shot up from Rs 170-271 per kg in August to Rs 243-350 per kg in January.
Bhiwandi's powerlooms shut down when the lockdown was announced in March 2020.
Though the government allowed the units outside the containment zones to open from May 22 onwards, it wasn't until August last year that the looms started operating again, when the migrant workers began to return.
Around 80 per cent of Bhiwandi's powerloom workers are migrants from Telangana, Uttar Pradesh, Bihar and Jharkhand.
"Earlier, I used to have work for 25 days in a month, but now it has reduced.
"Still, there is no option but to stay here because there is no source of livelihood in our native place in Bihar," says Hafiz-ul-Ansari, who works at a powerloom.
Loom owners are feeling the pinch, too.
"For the past two months I have been operating a single shift of 12 hours instead of double shifts," says Hanif Nathani, a powerloom owner.
"Operating looms with the current yarn prices is not sustainable. And there has been no relief from the government."
In December, Vanga wrote to Chief Minister Uddhav Thackeray, requesting that the interest on loans and electricity bills incurred during the lockdown period be waived.
Other demands include the setting up of a yarn market and a housing colony for Bhiwandi's powerloom workers.
Vanga says Thackeray hasn't responded yet.
"The textile ministry is supporting the powerloom sector for upgradation and productivity improvements," says an official at the central government textile commissionerate.
"The government has extended the PowerTex scheme till March 2021 to allow powerloom owners to avail of the subsidy and other benefits for upgradation," adds the official who does not wish to be named.
"We have not received any representation that 50 per cent of powerlooms in Bhiwandi have been functioning only three-four days a week.
"There is stress in the sector, but we expect yarn prices to stabilise," he adds.
Mill owners agree that prices will soften in the coming weeks.
A surge in demand for garment exports, production challenges in the spinning mills and the rise in cotton prices are contributing to the spike in yarn prices, they say.
The US ban on the import of cotton from Xinjiang in China is said to have fuelled the rise in international prices.
"We have sufficient stock of cotton. Spinning mills, too, have sufficient spare capacity," says K Selvaraju, secretary general, Southern India Mills' Association
"There is no price cartelisation. People should avoid panic buying. I expect yarn prices to stabilise by February-end or beginning March."
Photograph: Roli Srivstava/Reuters