DIPP Secretary Amitabh Kant said if the brand ambassador said India is intolerant, he surely is not working as brand ambassador.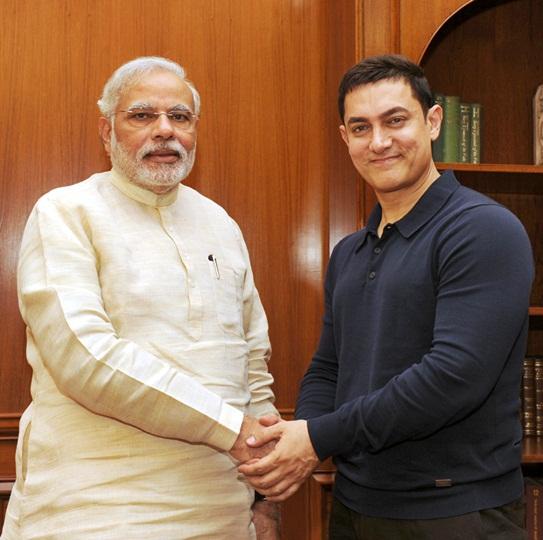 Image: Prime Minister Narendra Modi with Aamir Khan. Photograph, courtesy: Press Information Bureau
Actor Aamir Khan damaged 'brand India' while being the brand ambassador of the celebrated 'Incredible India' campaign, a senior official said.
Defending the exit of Khan from the campaign, Secretary, department of industrial policy and promotion (DIPP), Amitabh Kant said the actor, by terming India an 'intolerant country', worked against his role as that of a brand ambassador.
"A brand ambassador promotes a brand. People will come to India and tourist flow will increase only if the brand ambassador of 'Incredible India' promotes the country as 'incredible'," Kant said.
"But if the brand ambassador says India is intolerant, he surely is not working as brand ambassador," Kant said.
"The brand ambassador must be the best person for promoting and marketing India, he cannot be the destroyer of the brand," he said while replying to a query on removal of Khan from the campaign, without taking the actor's name.
Khan had late last year stirred a controversy after he expressed "alarm and despondency" over rising instances of intolerance in the country in the past few months and said that his wife (Kiran Rao) even asked if they should move out of India as she feared for the safety of their children.
Kant, who was involved in conceptualising Incredible India campaign in 2002 in his capacity as joint secretary, Ministry of Tourism, today tweeted, "Being a Brand Ambassador imposes responsibilities. U can't run down what u're promoting. That's damaging d brand."
Khan actively promoted Indian tourism for a decade as the brand ambassador.
Union Tourism Minister Mahesh Sharma had said Aamir had a contract with advertising firm McCann Erickson and not the government for the campaign.
"Since the contract with the agency is no more, automatically the arrangement with the actor no longer exists," Sharma had said.


Take this poll and let us know your opinion.
© Copyright 2021 PTI. All rights reserved. Republication or redistribution of PTI content, including by framing or similar means, is expressly prohibited without the prior written consent.