With the entire fraud amount becoming a non-performing asset, around 25 per cent of the bank's estimated net worth of Rs 40,000 crore could be affected.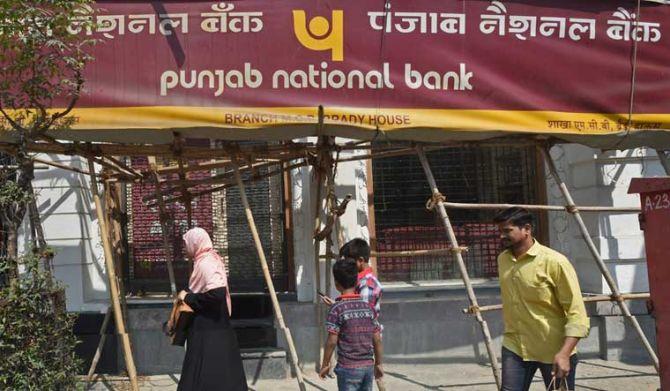 The Reserve Bank of India (RBI) had agreed in principle to a request by Punjab National Bank (PNB) to spread its losses related to the Nirav Modi-Mehul Choksi fraud over four quarters, sources said.
"However, we are still awaiting a written communication from the regulator," a source at the Delhi-based public sector bank said.
PNB is staring at losses on account of fraud worth Rs 14,500 crore (Rs 145 billion) in 2017-18 after letters of undertaking worth Rs 12,900 crore (Rs 129 billion) were issued by its employees to the companies owned by Nirav Modi and Mehul Choksi.
PNB had declared both accounts fraudulent after reporting the matter to investigating agencies.
According to RBI guidelines, banks have to make a provision for the amount related to fraudulent accounts in their books.
The fraud amount in the two cases stood at Rs 13,600 crore (Rs 136 billion), for which provisioning would have to be made in PNB's books in the quarter ending March.
The bank has said these transactions were contingent in nature.
The decision will provide relief to PNB, which would otherwise have to put a quarter of its net worth at risk.
PNB's profit and overall asset quality are expected to take a hit.
Analysts pointed out that with the entire fraud amount becoming a non-performing asset, around 25 per cent of the bank's estimated net worth of Rs 40,000 crore (Rs 480 billion) could be affected.
"To smoothen the effect of such provisioning on quarterly profit and loss, banks have the option to make the provisions over a period, not exceeding four quarters, commencing from the quarter in which the fraud has been detected," the RBI guidelines on 'provisioning related to fraud accounts' issued in April 2016 say.
PNB will have to make deductions from its reserves as the full provisioning will be made in more than one financial year.
The deductions will be made for the "amount remaining un-provided at the end of the financial year by credit to provisions", according to the RBI.
PNB executives said the bank would honour 'bona fide' commitments to other banks related to the LoUs before the amount to be repaid turned into NPAs.
The LoUs, if not repaid, will start turning into NPAs beginning May.
"There is no way the bank will become a defaulter in other banks' books, even if the amount related to LoUs is not repaid by the end of this quarter.
"Concerns over becoming a defaulter, if at all, will arise once the LoUs turn into NPAs, which will happen only after 90 days from the deadline. Banks can never be treated as a defaulter," sources in PNB said.
UCO Bank has the highest exposure of around Rs 3,000 crore (Rs 30 billion) in the alleged scam, followed by Union Bank and Allahabad Bank with exposure of around Rs 2,500 crore (Rs 25 billion) each, according to sources.
Photograph: PTI Photo