Prime Minister Narendra Modi had a "fruitful" meeting with CEOs from the energy sector on the first day of his week-long US visit in Houston on Saturday, the ministry of external affairs said.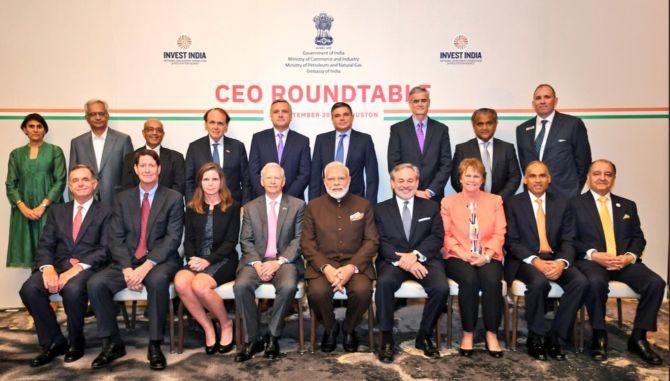 It added that the meeting focussed on working together for energy security and expanding mutual investment opportunities between India and the United States.
"Getting straight to business. PM @narendramodi just concluded a fruitful interaction with top energy sector CEOs at a Roundtable meeting in #Houston. Discussion focussed on working together for energy security and expanding mutual investment opportunities between India & US," MEA Spokesperson Raveesh Kumar said in a tweet.
Earlier, the Prime Minister's Office had posted on Twitter a couple of photographs of Modi's meeting with the chief executive officers (CEOs) of some of the top oil companies based in the US.
"Further energising India-USA friendship. Among the first engagements of PM @narendramodi in Houston is a meeting with CEOs from the energy sector. India and USA are looking to diversify cooperation in this sector," the PMO tweeted.
The prime minister is scheduled to address over 50,000 Indian-Americans at the "Howdy, Modi" event on Sunday morning local time, in which he will be joined by US President Donald Trump.
The event at the sprawling NRG football stadium here will be the largest gathering ever for an elected foreign leader visiting the US, other than the Pope.
Petronet signs MoU with Tellurian
US natural gas company Tellurian Inc. and Petronet LNG Limited (PLL) of India have signed an MoU, under which PLL and its affiliates intend to import up to five million tonnes per annum (5 mtpa) of liquefied natural gas (LNG) from America, the two companies announced on Saturday.
Tellurian and Petronet will endeavour to finalise the transaction agreements by March 31, 2020, they added.
The announcement came after Prime Minister Narendra Modi had a meeting with the CEOs of top oil companies based in the US in Houston on Saturday.
A statement from Tellurian said the Memorandum of Understanding (MoU) was signed in Modi's presence.
"Petronet, India's largest LNG importer, will be able to deliver clean, low-cost and reliable natural gas to India from Driftwood. Increasing natural gas use will enable India to fuel its impressive economic growth to achieve Prime Minister Modi's goal of a USD 5 trillion economy, while contributing to a cleaner environment.
"It is an honour to sign the MoU with Petronet in the presence of Prime Minister Narendra Modi. At Tellurian, we look forward to a long and prosperous partnership with Petronet in the Driftwood project," Tellurian's president and CEO Meg Gentle said.
The Driftwood project includes natural gas production, gathering, processing and transportation facilities, along with Driftwood LNG, a proposed 27.6 mtpa liquefaction export facility that will be located near Lake Charles, Louisiana on the US Gulf Coast.
In April, the US Federal Energy Regulatory Commission (FERC) issued the order granting authorisation for Driftwood LNG and the 96-mile Driftwood Pipeline, which will inter-connect the LNG terminal to the US natural gas market.
Under the MoU, Petronet and its affiliates intend to negotiate the purchase of up to 5 mtpa of LNG from Driftwood, concurrent with its equity investment, which remains subject to further due diligence and approval of its board of directors.
'Something big will be announced'
Even As Prime Minister Narendra Modi on Saturday landed in Houston -- the energy capital of the world -- the American corporate world is eagerly hoping for the two largest democracies of the world to be able to hammer out a trade deal, differences over which has emerged as one of the major irritants in the Indo-US bilateral relationship.
"We are looking at real possibility of something being able to be announced on the margins of this visit," Nisha Desai Biswal, president of US India Business Council (USIBC) told PTI in an interview.
The prime minister was accorded a warm welcome by members of the Indian community here as he arrived at the George Bush International airport for the mega "Howdy Modi" event in which he will be joined by US President Donald Trump and address over 50,000 Indian-Americans.
Working on the US Chambers of Commerce, USIBC represents top American companies having a footprint in India and has been advocating for a better and greater bilateral trade relationship between the two countries.
Indian and American negotiators have been working on this, Biswal said, adding that it is "long overdue" for India and the US to be able to resolve some of the issues that have been causing friction in the relationship and "start focusing" on the big picture what the two countries can do to boost trade and investment.
"So, I am hopeful that we will see something announced on the margins of this summit," said Biswal, who was Obama administration's point person for South and Central Asia.
Mukesh Aghi, president of the US India Strategic and Partnership Forum (USISPF), exuded confidence that the trade disputes between India and the US will be resolved by the time Modi and Trump meet in New York for the second time in three days' time on September 24.
"Absolutely", he said, when asked if some of the trade issues would be resolved.
"The gap is not that big. I am confident that by the time when Prime Minister Modi and President Trump meet in New York, a lot of the issues would have been sorted out," he said.
Modi addressing such a large number of Indian Americans in Houston has a significant value, Biswal observed.
Noting that Houston is the energy capital of the world and Texas probably has the second largest economy in the US after California, she said that the opportunity for advancing US-India trade is particularly significant.
During his visit to Houston, Modi will address an energy round table meeting with top CEOs of the gas and energy companies.
Houston also has a significant footprint in life sciences and aerospace.
"So, this is an important place from economic standpoint. It is also an important place from the perspective of Indian Diaspora. There is such a large Indian-American community here in Texas, the Houston area," Biswal said.
The fact that Modi will address nearly 50,000 Indian-Americans along with the US president points towards the importance of India for America and vice versa, she said.
© Copyright 2021 PTI. All rights reserved. Republication or redistribution of PTI content, including by framing or similar means, is expressly prohibited without the prior written consent.