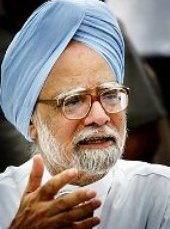 Trade and Economic Relations Committee headed by Prime Minister Manmohan Singh is likely to review on Friday different trade treaties being negotiated by India, including Foreign Trade Agreement with the European Union.

The TERC, which comprises, among others Finance Minister Pranab Mukherjee, Commerce and Industry Minister Anand Sharma and External Affairs Minister S M Krishna, will also review the state of play in the Doha Round of talks for a multilateral trade agreement under the aegis of World Trade Organization, sources said.

The PM panel is also likely to clear negotiations for India-Australia FTA as recommended by the joint study group.

Sharma said on Tuesday that the India-EU Broad-based Trade and Investment Agreement, the most ambitious for New Delhi, is in the final stage of negotiations. As many as 12 rounds of talks have been completed.

"We hope we will be able to successfully close it soon," he said.

The negotiators are trying to resolve differences on certain sensitive areas like the EU demand for further tightening of India's intellectual property rights regime and greater market access in services like banking and insurance.

On WTO talks, Sharma said that India would like to follow a 'middle ground' policy of mutual accommodation but without compromising the development dimension of the Doha Round.

The Round has been marred by wide differences between the rich and the developing countries on the level of protection and opening of their markets.

The Prime Minister's panel may examine setting up a joint study group for a possible free trade pact between India and the Common Market For Eastern and Southern Africa.

The country has already implemented free trade agreements with South Korea and ASEAN and has inked comprehensive pacts with Japan and Malaysia.