There are concerns that gold trade could be a possible route for laundering of unaccounted wealth, suspected to be stashed by Indians in Swiss banks.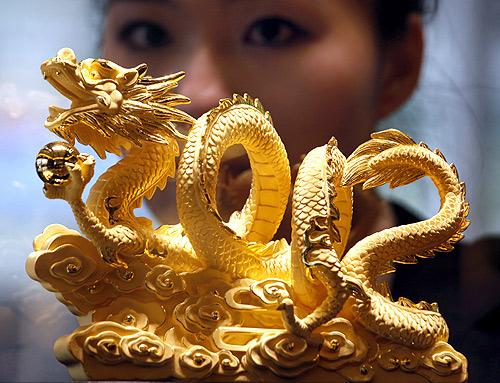 Image: India the largest destination for the yellow metal exports from Switzerland. Photograph: Reuters
Amid concerns of bullion trade being used for routing of black money, Switzerland's gold exports to India have risen further and is fast approaching Rs 1-trillion mark for the entire 2014.
The Swiss gold exports to India stood at over 2.8 billion Swiss francs (over Rs 18,000 crore) in October, up from about 2.2 billion Swiss francs in the previous month, shows the latest data from the Swiss Customs Administration.
This has taken the total Swiss gold exports to India since January this year to 14.2 billion Swiss francs (nearly Rs 93,000 crore), as per the data compiled by Switzerland's cross-border trade monitoring agency.
This surge in gold shipments has made India the largest destination for the yellow metal exports from Switzerland.
There are concerns that gold trade could be a possible route for laundering of unaccounted wealth, suspected to be stashed by Indians in Swiss banks, although there has been no official word from either countries so far in this regard.
The Supreme Court-constituted SIT, however, said in its latest report on black money that a dedicated institutional mechanism needs to be put in place to examine "mismatch between export/import data with corresponding import/export data of other countries on at least a quarterly, if not a monthly basis."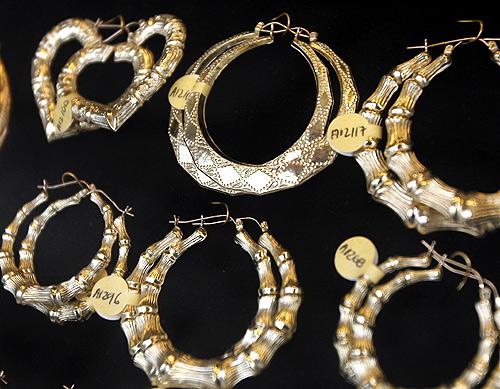 Image: Gold imports jumped 280 per cent to $4.17 billion in October. Photograph: Reuters
The SIT said that this suggestion has been made by the Financial Action Task Force (FATF), while citing the Data Analysis and Research for Trade Transparency System adopted by US, to control over/under invoicing to some extent.
"It is established since years that over invoicing or under invoicing is known method for stashing black money outside the country. Main question is how to control this malady.
"If there is proper vigilance to a large extent by the Customs Department, mis–invoicing can be controlled because, nowadays, price of various goods/machineries is known in the international markets.
"For this, data is also published and is available on computer at any point of time. Hence, it was suggested that in a Bill of Export/shipping Bills, an entry should be included, namely, what is the international market price of the goods/machineries which were sought to be exported," the SIT said.
The government has informed the SIT that this suggestion is already under consideration and is likely to be implemented within a short time.
As per the data from the Indian government, gold imports jumped 280 per cent to $4.17 billion in October. In September as well, gold imports increased manifold to $3.75 billion. This means Switzerland alone accounted for 60-70 per cent of the gold that came to India during these months.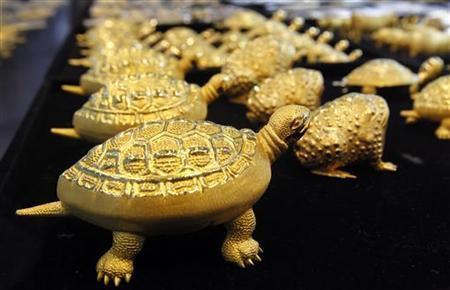 Undermounting global pressure, Swiss government started publishing trade data monthly from 2014 and included information on trade partners. Data on imports and exports of gold, silver and coins was available on quarterly frequency as a separate product up to 2013 but data by trade partner was not available.
While industry watchers attribute the surge during October and September partly to increased demand for yellow metal during Diwali and other festivals in India, the sudden spike is also being seen suspiciously in the backdrop of gold being used for 'layering' purposes to move funds from Swiss banks amid growing scrutiny for suspected black money.
According to banking industry sources, banks operating in Switzerland, including those headquartered in the Alpine nation and the Swiss units of other European banks, have turned wary about dealing with their Indian clients in the wake of a growing scrutiny of such accounts.
A number of Swiss banks, including three with significant global presence, have begun telling their Indian clients to sign undertakings that are aimed at 'derisking' the banking institutions from potential risks arising out of regulatory actions against the bank customers by foreign governments.
Some banks are also telling their clients to close their accounts if they are not ready to take such risks, or if they have apprehensions about such accounts not being compliant to regulatory requirements in their home countries.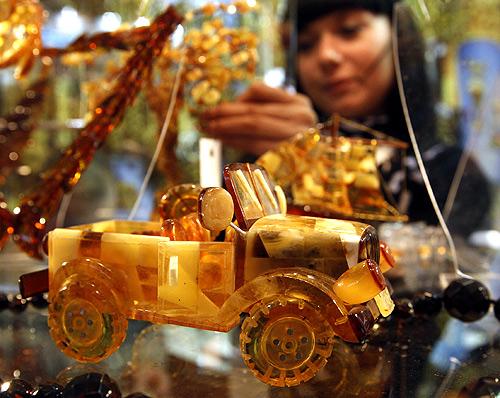 Through these 'derisking' undertakings, the customer agrees to take responsibility for any possible regulatory or administrative compliance with international norms.
A new strategy of 'layering' through gold and diamond trade came to light earlier this year at Swiss banks to thwart any attempt for identification of real beneficiary owners of funds entrusted with them, government and banking sources have said.
There is a growing suspicion that a portion of gold and diamond trade is being used to route funds from Swiss banks to India and other destinations. 'Layering' is a key stage in money laundering and involves moving illicit funds around financial system through a complex series of deals to complicate the paper trail.
This layering typically takes place between the first stage -- placement of black money in the financial system either in cash vaults, or through a series of cash or sham financial transactions -- and before the final 'integration' stage when money is put back into the financial system through various transactions for the benefit of its final recipient.
There has been a huge political uproar over Indian black money allegedly stashed in Swiss banks and the new government has said it is committed to tackling this menace.
As per Swiss National Bank's latest data, the total money held by Indians in Swiss banks stood at over Rs 14,000 crore (Rs 140 billion) as on December 2013, up by nearly 42 per cent from a year ago.

Photographs: Reuters