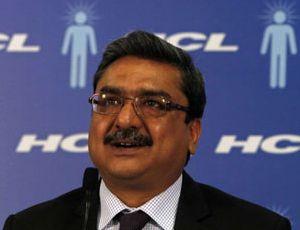 Next month, Anant Gupta, 49, will complete two years as the CEO of HCL Technologies.
When Gupta took over from Vineet Nayar, under whose tenure (from 2007) the company's revenues grew five times and profits four times, market watchers doubted if he would be able to sustain the high pace of growth that the market had got used to. He proved them wrong.
HCL Tech clocked $5.4 billion in revenue (up 14 per cent) and profit of $1.1 billion (42 per cent) in 2013-14, trumping its larger peers such as Infosys, at a time when the industry was still recovering from the slowdown blues.
These numbers have given HCL Tech its new milestone of 1: 5: 15 - net income of more than a billion dollars, revenues exceeding $5 billion and market capitalisation of more than $15 billion.
Gupta's mantra so far has been simple. Instead of falling for the temptation of bringing in change for the sake of change, he just took the existing strategy forward and continued to reap dividends.
Now that growth is returning to the $100-billion industry, will Gupta stick to the tried and tested model or chart a new growth trajectory for HCL Tech?
"It's not about adding anything new..." the reclusive Gupta says in a rare hour-long interview. His strategy will be to focus on areas that the company thinks are important, such as engineering outsourcing services, apart from building up existing strength such as infrastructure management service (IMS). Running out of steam?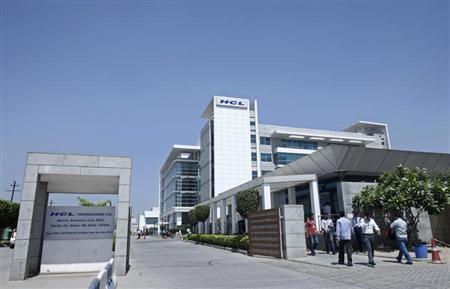 Image: HCL Technologies Ltd office at Noida, on the outskirts of New Delhi. Photograph: Mansi Thapliyal/Reuters
Despite Gupta's good innings, where he has not only mined existing contracts to draw more revenues but has also made the deals more profitable, experts have a bone to pick with him.
An analyst with a brokerage firm describes HCL Tech like a plane flying on a "single engine", referring to the company's outsized dependence on IMS.
The analyst almost accuses Gupta of not experimenting with anything new.
Now a billion-dollar business, IMS was a concept pioneered by a team led by Nayar and Gupta and was earlier called remote infrastructure management services.
It was because of HCL Tech's foothold in IMS that the company was able to weather the global economic crisis that started in 2008.
When big companies slashed their technology budgets, their spending on application development dropped.
However, the infrastructure management budgets remained more or less intact - in fact, they increased in some cases - aiding clients to drive operational efficiencies as well as save dollars.
Another analyst says that HCL Tech needs to have a larger breadth of service lines so that "even if something goes down, something else goes up."
Gupta says HCL Tech is not "lopsided on one specific service line" and has been able to "weather the ups and downs of changing dynamics of the marketplace" but when pointedly asked about its heavy reliance on IMS for growth, he fiercely defends the company's position.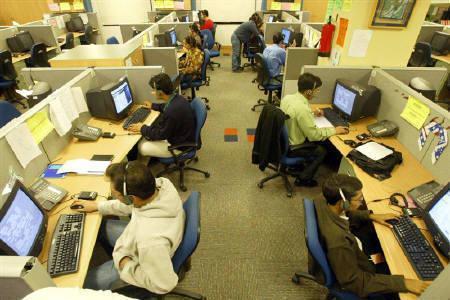 Image: Engineers attend to calls from abroad inside a call centre in Gurgaon. Photograph:Kamal Kishore/Reuters
"At the end of the day, you will look at where you get maximum growth, and growth delivers revenue and profits regardless of where it comes from," he says.
HCL Tech's phenomenal growth story in the IMS space has inspired both larger as well as smaller rivals such as Infosys and NIIT Technology.
This fact is not lost on Gupta. He says the "potential apprehension", if at all there is one, should be on whether HCL Tech will be able to handle the competition.
In the future, he adds, new service lines like digital could become a growth engine while older ones like application services business or IMS would mature and perhaps have slow growth rates. "I do not think it is only an IMS story. IMS was, I would say, the early thought," Gupta says.
That's why it bought out UK-based SAP consultancy Axon Group Plc in 2008. HCL is now building its application development and maintenance service line.
It is working on complete solution stack for custom application, SAP, mobility, business intelligence et cetera, as it feels companies are not buying individual pieces of applications anymore.
Gupta has now narrowed his focus on developing the engineering services business that currently contributes only 7.5 per cent of HCL Tech's annual revenues. Gupta calls it the next wave of growth.
HCL Tech will aid companies, whether they are high-tech firms or industrial goods manufacturers, to build products.
"But, we are clear that we do not want to build commercial products," says Gupta.
The reason for this decision is to not compete with its own customers. About a trillion dollars are spent on design work, product design and development work.
The outsourced work today is only about $40 billion, "so the headroom is $40 billion to a trillion dollars", according to Gupta.
He claims that HCL Tech is already the largest provider of engineering outsourcing services from India and would be the sixth in the world.
Making a detour As far as intellectual property is concerned, HCL Tech files patents on behalf of its customers.
This is in stark contrast to the path Infosys' new chief executive, Vishal Sikka, who comes from a software products background, is leading the company on.
"I find all of us in the industry in a downward spiral. It's like a treadmill of increasingly lower cost, hiring people faster and faster, from more and more mediocre places, training people less and less, putting them into job faster and faster. I think that is a wrong direction," Sikka said in a recent rather scathing remark.
Image: Tata Consultancy Services (TCS) Chief Executive N. Chandrasekaran poses for a photo after a news conference to announce the company's Q2 results in Mumbai. Photograph: Sailesh Andrade/Reuters
TCS has a popular banking software, and so does Infosys, but no such product comes to mind when one thinks of HCL Tech.
Gupta doesn't budge. "We do not want to commercialise and we will not get into the business of commercialising. We believe the market for outsourced engineering work is much larger than building your own products and commercialising them," he says firmly.
Gupta is faced with another dilemma these days.
"We are invested in a value proposition which is relevant today; Should we scale that up or should we invest in something new?"
This question is not unique to Gupta or to HCL Tech.
While the industry is clocking double-digit growth, the popularity of cloud computing and the shift in technology with concepts such as mobility are threatening traditional business models.
The rising prospect of automation and robotics is further deepening the worry lines. Gupta acknowledges the threat but is not too perturbed.
"There will be pieces of automation, but that market is not going to die… While we will hear of technologies like auto-healing and things like self-corrective systems, I think there will still be a huge amount of intelligence in the human operations and management requirements," he adds.
As far as the ongoing wave of digitisation is concerned, Gupta says it will disrupt not just the info-tech sector but all industries.
There will be some bloodshed for sure. But, as large industries will need to re-align their entire backend and supply chain to streamline the new frontend, they will need the help of service providers like HCL Tech to migrate complex tasks.
Gupta's management style is in sharp contrast to that of Nayar. While the latter was considered "flamboyant," Gupta is "understated," says an analyst.
"But, he is a hardcore operations guy who knows his stuff." A senior official of the company who has closely worked with both seconds the analysis. Nayar was a visionary, who came up with great ideas and then left it to his team to take them forward. "In this process, sometimes things got left out." But, Gupta will make sure ideas reach their logical conclusion.
"He will roll up his sleeves and get down to do work himself," the official says.