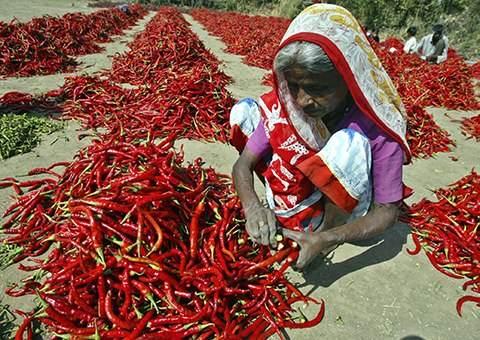 Image: A woman removes stalks from chillies at a farm in Ahmedabad. Photograph: Amit Dave/Reuters
Farmers in India like to adorn their rusty ploughs with chillies and limes. Hanging by a fine thread, they dangle from the handles.
The duo of chilli and lime, according to those who live off this land, will ward off misfortune. But the severe weather comes regardless.
It's often in the form of drought, sometimes a torrential downpour, and in the coastal regions, cyclones are also common.
This weather doesn't just rob the Indian farmers of their crops, it robs them of their livelihoods too.
Very few Europeans would rely on chillies and limes.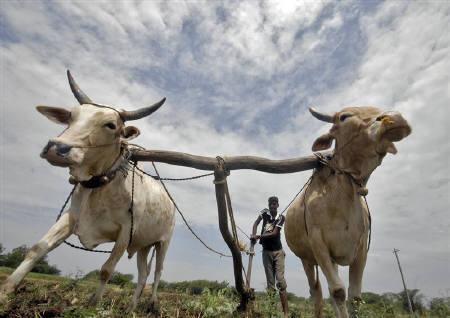 Image: A farmer ploughs his field against the backdrop of monsoon clouds at Medak district in Andhra Pradesh. Photograph: Krishnendu Halder/Reuters
It's a matter of course for us to protect ourselves by taking out insurance. However, the concept of "insurance" is alien to more than two billion people on the planet.
At the same time, insurance is all the more important in these particular areas in terms of their societies – societies in which there isn't a lot of wealth to go around, and any individual's loss could mean the end of a dignified existence.
For it is not true that those who have very little have nothing to lose.
When a cow belonging to an Indian dairy farmer dies, it is not just a great tragedy from a spiritual perspective; milk sales are the most stable source of income for these farmers, bringing in the equivalent of almost 25 euros per week.
The death of a cow turns such a household on its head.
Image: Farmers in India do not have security compared to peers in developed nations. Photograph: Rupak De Chowdhuri/Reuters
The bounty of other harvests will have a hard time compensating, because they vary wildly.
Moreover, it is impossible to accelerate the growth of these resources.
In some cases, for example, the yield of crops from the fields won't be ready to be harvested until much later.
Without protection from risk factors, growth is expensive
Swiss farmers have it easier, and that's not just because they have more productive cows: at 25 liters per day, they are much more generous than their peers in India, who produce 5 liters a day.
It's above all social security which safeguards prosperity.
The concept of social security stems from Otto von Bismarck, Chancellor of the German Empire in the 19th century.
Bismarck hoped that such social security would ensure peace in society.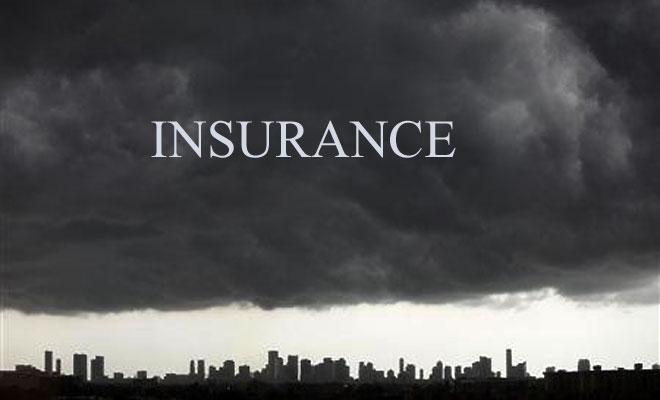 Image: The concept of "insurance" is alien to more than two billion people on the planet. Photograph: Reuters
Europe may not have been spared from war and social unrest in the intervening years, but the importance of solidarity within a community can be traced back to the roots of society, and the idea of basing this solidarity on insurance has survived every crisis – including the most recent financial crisis.
Moreover, the financial crisis actually strengthened this reasoning and punished those insurance companies that looked for ways to make profit in the capital market rather than in core business.
Now, the concept of social security is experiencing a renaissance in developing and emerging markets.
The largest government-sponsored and privately sponsored programs in the world are being set up at this very moment, and today are already reaching out to 36 million poor households, whether that is providing health insurance in India or insurance for more than 100 million small farmers in China.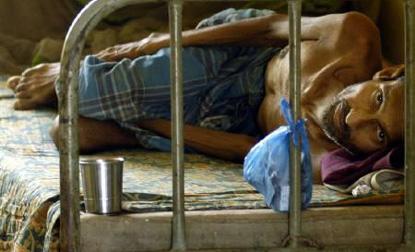 Image: Indian government is sponsoring healthcare programmes to reach out to the poor. Photograph: Reuters
Such insurance programs, and others like it which cater to low-income populations, have seen massive growth in the last few years.
At first, the idea of targeting these markets was just as alien to members of European insurance firms as it was to the customers who live in the impoverished districts of developing countries. In these areas it's primarily the women who take care of the financial side of a household.
Ten years ago, Allianz began working with the aid organization 'Care' in the villages of Southern India, using street theatre and Bollywood sketches to illustrate the principles of insurance.
Since then, the number of Allianz microinsurance customers across Asia, Africa and Latin America has risen to over 24 million.
The Helvetian development cooperation also promotes access to insurance in developing countries.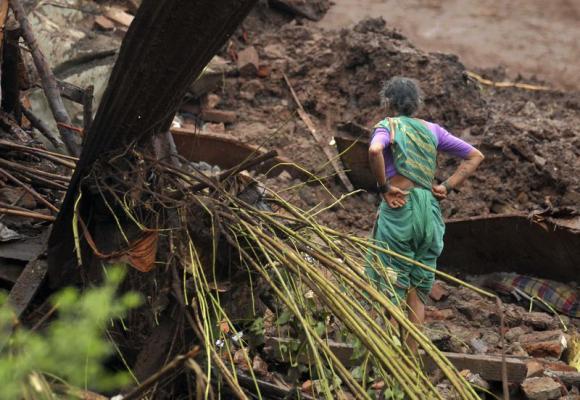 Image: A resident looks at the debris of her damaged house after a landslide at Malin village in Maharashtra. Photograph: Reuters
This is because the Swiss Department for International Development, the Agency for Development and Cooperation (Deza) and the State Secretariat for Economic Affairs (Seco) all know that insurance doesn't just protect material possessions, but also creates wealth.
This was proven in a 2011 study carried out by the World Bank. I
n their paper "How Do Governments Respond after Catastrophes? Natural-Disaster Shocks and the Fiscal Stance", Martin Melecky and Claudio Raddatz reveal the extent to which the insurance sector contributes to the resilience of a country.
In poorer countries the economic output declines after a natural catastrophe, but in rich countries this is not the case.
In order to understand this on the level of macroeconomics, it is useful to take an example of an individual case: The small business owner, who is protected against the loss of his livelihood, also dares to undertake a larger risk and, if he is a farmer, invests in somewhat higher-value seeds or a more fertile plot of land.
Therefore growth without protection from risk factors is expensive, and innovation is risky if certain safeguarding measures have not been taken.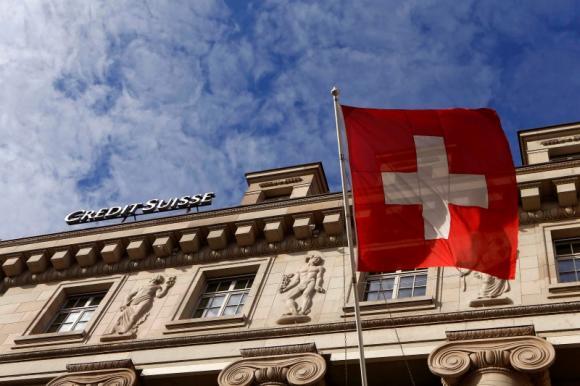 Image: Insurance penetration rate is the highest in Switzerland. Photograph: Reuters
The insurance penetration rate in the productive and innovative countries of the world is correspondingly high.
The insurance penetration rate of a country is a statistical measure that specifies to what extent the premium income from primary insurers contributes to that country's gross domestic product.
In Switzerland, for example, the penetration rate is 10 per cent – one of the highest in the world.
Countries in sub-Saharan Africa do not even manage to reach one one-hundredth of this.
A future for the slum dwellers of Manila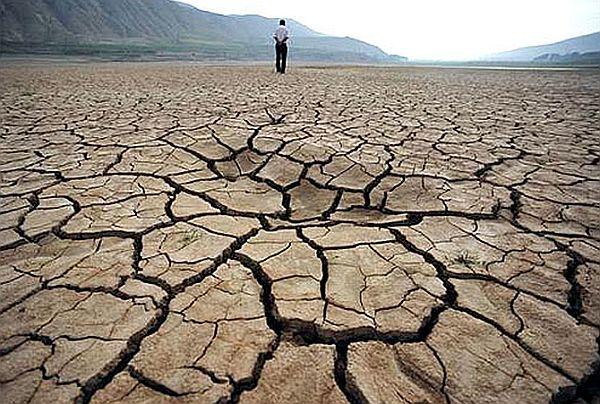 Image: India and other developing nations are prone to droughts and hence many governments are looking to the international finance and insurance market to protect themselves. Photograph: Reuters
But you need enormous leverage – both organisational and financial – to launch an insurance program like the one in India or China.
For if you combine the danger of all the cyclones, droughts and floods, then you have a risk that could provide a considerable blow even to India's financially strong state budget.
That's why many governments are looking to the international finance and insurance market to protect themselves.
More and more of them are landing in Zurich.
And that is how all those storms which the chillis and limes couldn't ward off end up appearing in the books of the reinsurers working around LakeZurich.
Today our local insurance capital offers the slum dwellers of Manila a future in just the same way that it financially covers the backs of farmers in India or Mali.
---
This article originally appeared in the Neuen Züricher Zeitung. Michael Anthony was involved in building the micro-insurance business at Allianz.
At Allianz Re, he is currently working on an agricultural insurance model for emerging markets.
Powered by

To read more such stories Click Here!