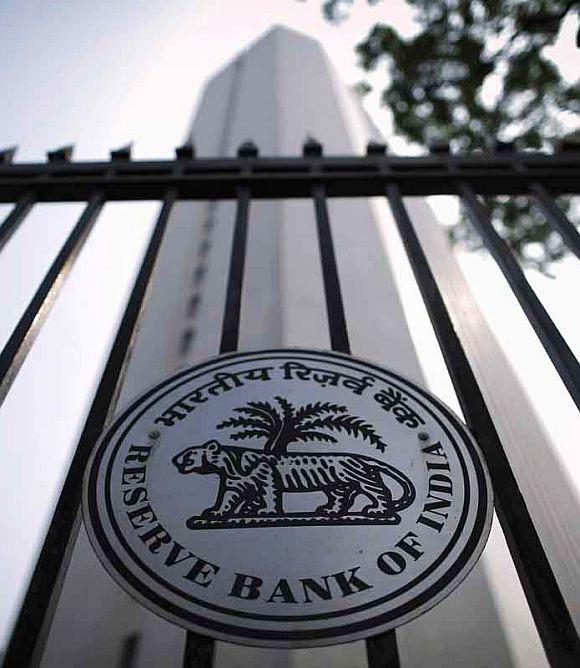 Image: RBI completes 80 years. Photograph: Reuters
The Reserve Bank of India (RBI), established through the Reserve Bank of India Act, 1934, commenced operations in 1935.
Unlike many other central banks, with a sole mandate of inflation targeting, RBI wears many hats - monetary policy authority, supervisor and regulator of the financial system, manager of foreign exchange and issuer of currencies, among others.
On Thursday, Prime Minister Narendra Modi will be in Mumbai to commemorate the central bank turning 80. Business Standard takes a look at RBI's 80-year journey:
THE EIGHT DECADES OF RBI
THE CONCEPT OF A CENTRAL BANK (1925 - 1934):
1926: Royal Commission on Indian Currency suggests creation of a central bank named the Reserve Bank of India (RBI)
1934: The Reserve Bank of India Act is passed to constitute RBI
Image: A photo of the first meeting of RBI's Central Board of Directors, which was held in Calcutta on January 14, 1935. Photograph, courtesy: Business Standard
DECADE 1: THE JOURNEY BEGINS (1935 - 1944):
1935: On April 1, RBI starts operations as a shareholders' bank; Osborne Smith is appointed the first governor
1938: First RBI notes issued
1940: RBI's accounting year changed to July-June; silver rupee replaced by quarternary alloy rupee
1943: C D Deshmukh becomes first Indian governor
1944: Security thread on notes introduced for the first time

DECADE 2: THE EARLY YEARS (1945 - 1954):
1946: Ordinances introduced to empower RBI to inspect banks and authorise licensing of branches
1948: RBI ceases to function as Pakistan's central bank; State Bank of Pakistan starts operations a year later
1949: RBI nationalised on January 1; Banking Companies Act comes into force two months later
1950: Department of banking development created, with post of executive director
1952: Bill Market Scheme introduced to enable banks to obtain advances from RBI against self-liquidating bills
DECADE 3: BUILDING INSTITUTIONS (1955 - 1964):
1956: Selective credit controls deployed for first time
1960: Deposit insurance introduced, following the collapse of a couple of banks
1960: Banking sector consolidation starts; between 1960 and 1982, about 200 banks were merged
1962: Banking Regulation Act amended
1964: RBI empowered to regulate deposit acceptance activities of non-banking institutions
DECADE 4: THE ERA OF NATIONALISATION OF BANKS (1965 - 1974):
1965: Credit regulation introduced to align the growth of bank credit with plan requirements
1966: Cooperative banks' operations brought under RBI; rupee devalued by 36.5% on June 6
1967: Size of bank notes reduced
1968: Quarternary alloy rupee coins demonetised; Gold (Control) Act passed
1969: Fourteen scheduled commercial banks with deposits of over Rs 50 crore nationalised
1970: RBI sets minimum interest rate to be charged on advances against sensitive commodities; inflationary trends lead to measures, including increasing of bank rate and SLR
1972: Differential interest rate scheme introduced
1974: Foreign Exchange Regulation Act comes into force to conserve foreign exchange
DECADE 5: THE PERIOD OF EXPANSION OF BANKING BUSINESS (1975 - 1984):
1977: A new series of money supply introduces the concepts of M1, M2, M3, etc
1978: RBI commences gold auctions on behalf of govt; annual appraisal of banks started
1979: Penalty for non-compliance of CRR and SLR introduced
1980: International gold prices soar to all-time highs; six private sector banks nationalised
1982: National Bank for Agriculture and Rural Development established
DECADE 6: THE PERIOD OF ECONOMIC LIBERALISATION (1985 - 1994):
1986: BIFR set up, reflecting concerns over industrial sickness. MICR technology introduced for cheque clearing
1988: Maximum lending rate abolished, allowing banks to charge customers according to their credit record
1989: Certificates of deposits and commercial papers introduced to widen monetary instruments
1990: Agriculture and rural debt relief scheme providing debt relief to up to 10,000 small borrowers announced
1991: External payments crisis; rupee devalued in two stages
1992: Income recognition and asset classification norms introduced
1993: Guidelines for licensing of new banks from private sector introduced
1994: Nationalised banks allowed to tap capital market; lending rates of commercial banks de-regularised; rupee made convertible on current account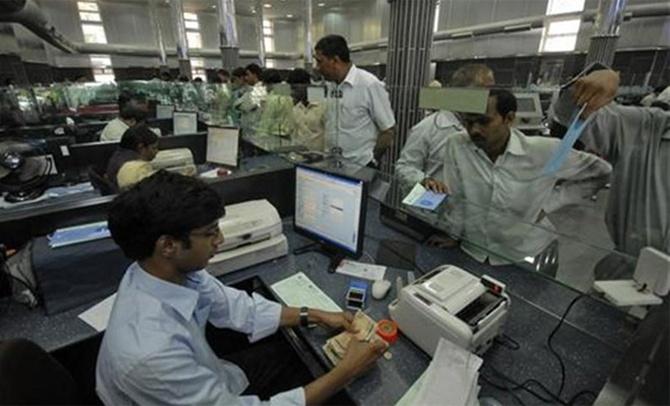 Image: In 1994, Nationalised banks allowed to tap capital market. Photograph: Reuters
DECADE 7: THE ERA OF CRISIS AND REFORMS (1995 - 2004):
1995: Banks allowed to fix their own interest rates on domestic term deposits with maturity of two years
1996: RBI website becomes operational
1997: RBI conducts first auction of 14-day treasury bills; FIIs permitted to invest in dated government securities
1999: Interim liquidity adjustment facility introduced; interest rate swaps and forward rate agreements introduced as OTC derivatives; Foreign Exchange Management Act replaces Foreign Exchange Regulation Act
2000: Stock Index Futures introduced as an exchange traded derivative
2001: Kisan Credit Cards introduced; Clearing Corporation of India established; guidelines on internet banking issued
2003: Risk-based supervision of banks introduced; two new banking licences given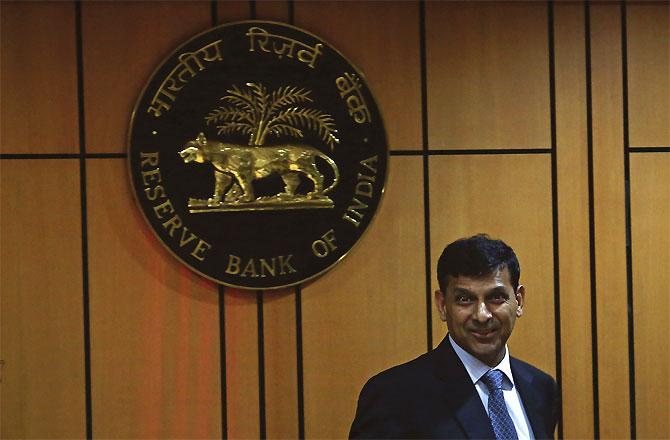 Image: RBI Governor Raghuram Rajan. Photograph: Reuters
DECADE 8: CONSOLIDATING THE GAINS AND TACKLING INFLATION (2005 - 2015):
2008: Global financial crisis starts with collapse of Lehman Brothers
2009: Rupee starts depreciating against $
2010: Inflation starts rising, prompting RBI to increase rate; base rate was introduced as minimum lending rate
2010: Crisis begins in microfinance sector; government promises to offer new banking licences
2011: Savings deposit rate deregulated
2013: RBI releases guidelines on subsidiarisation of foreign banks in India
2014: RBI offers banking licences to Bandhan and IDFC; guidelines for licensing of niche banks released
2015: In January, RBI cuts interest rate for the first time since May 2013, indicating the war against inflation is over, at least for the time being; central bank signs agreement with government to have the mandate of exclusive inflation targeting
(Source: Reserve Bank of India)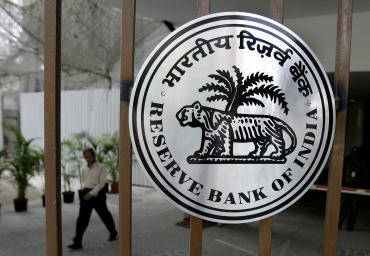 Image: An illustrious journey for RBI. Photograph: Reuters
RBI AND THE LAW
The Reserve Bank of India (RBI) was established on April 1, 1935, in accordance with the provisions of the RBI Act, 1934. However, there are several other Acts that govern the functioning of India's central bank. Here are the Acts governing RBI's various functions.
UMBRELLA ACTS:
RBI Act, 1934: It governs the central bank's functions**
Banking Regulation Act, 1949: It governs the financial sector.
** Finance Minister Arun Jaitley, in his Budget speech for 2015-16, has proposed to amend this Act to provide for a new committee that will take decisions on monetary policy actions and set interest rates. He also proposed to amend the sections 45U and 45W of the RBI Act, which will effectively take away the central bank's powers to regulate government securities and other money market instruments
ACTS GOVERNING SPECIFIC FUNCTIONS:
Public Debt Act, 1944/Government Securities Act (proposed): Governs the government debt market
Securities Contract (Regulation) Act, 1956: It regulates the government securities market.
Indian Coinage Act, 2011: Governs laws related to currency and coins
Foreign Exchange Regulation Act, 1973 / Foreign Exchange Management Act, 1999: Governs foreign exchange market
Payment and Settlement Systems Act, 2007: Provides for regulation and supervision of payment systems in India
Government Securities Regulations, 2007
ACTS GOVERNING BANKING OPERATIONS:
Companies Act, 2013: Governs banks as companies
Banking Companies (Acquisition and Transfer of Undertakings) Act 1970/1980: On nationalisation of banks
Bankers' Books Evidence Act
Banking Secrecy Act
Negotiable Instruments Act, 1881
ACTS GOVERNING INDIVIDUAL INSTITUTIONS:
State Bank of India Act, 1954
The Industrial Development Bank (Transfer of Undertaking and Repeal) Act, 2003
The Industrial Finance Corporation (Transfer of Undertaking and Repeal) Act, 1993
National Bank for Agriculture and Rural Development Act
National Housing Bank Act
Deposit Insurance and Credit Guarantee Corporation Act
Source: RBI