Battle-ready, the CM's 'foot soldiers' are warriors as they closely monitor infra projects with a quiet sense of urgency, finds Anjuli Bhargava.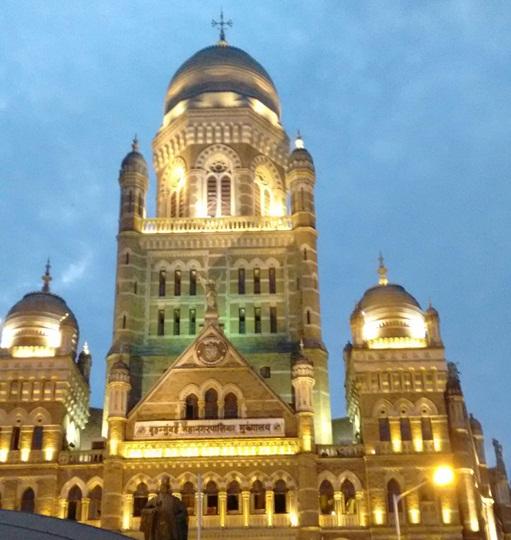 IMAGE: Of the 27 projects being monitored, four to five are critical for Mumbai.
Maharashtra Chief Minister Devendra Fadnavis' war room in Mantralaya at Mumbai's Nariman Point - set up to closely monitor and push infrastructure projects in the state - is rather quiet with four youngsters, heads bent, working silently on their laptops.

No guns in sight. There's no blood for sure. The only thing in disarray is a large chart on the wall, which seems slightly tilted probably by a strong gust of wind.
The room is large. There's a rectangular table in the middle with chairs around it as if a round-table discussion is about to begin any minute. There's a big modern projector screen on one of the four walls.
Kaustubh Dhavse, 37 years, is an engineer and had studied public policy at Harvard.
He had worked with HP, Frost & Sullivan and others till Fadnavis pulled him into government, gave him the status of a joint secretary (he's officer on special duty to the CM) and put him in-charge of the war room.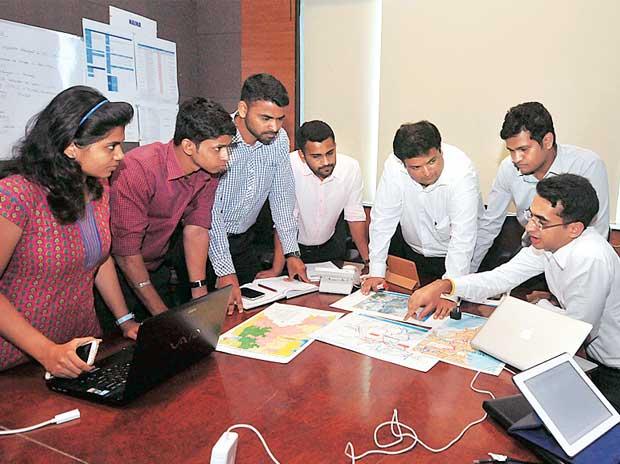 IMAGE: Maharashtra Chief Minister Devendra Fadnavis' young warriors at work. Photograph, courtesy: Business Standard
In the conference room with them is young Zoravar Gill (Cathedral, Mumbai and St Stephen's, Delhi), one of the interns who quit his AT Kearney job to join the war room intern team.
To set up the war room team, the CM's office (led by the principal secretary) took an unconventional approach. It advertised for interns from diverse fields and professions below 25 years of age.
Around 5,000 applicants were appraised and 35-36 interns were taken on board. Nine of them work in the war room and handle specific projects of the total 27. By April this year, the war room had been set up and the team was in place.
Big projects that can transform Mumbai
Why a war room? It's rare for a government to handle anything on a war footing - at least in India.
Dhavse says Mumbai has no choice. The deterioration in the city - visible to anyone living there or used to visiting it - over the past 20-25 years has been largely due to an "execution paralysis".

Lack of political will and want of bureaucratic urgency might have played a part but, there is a bigger factor.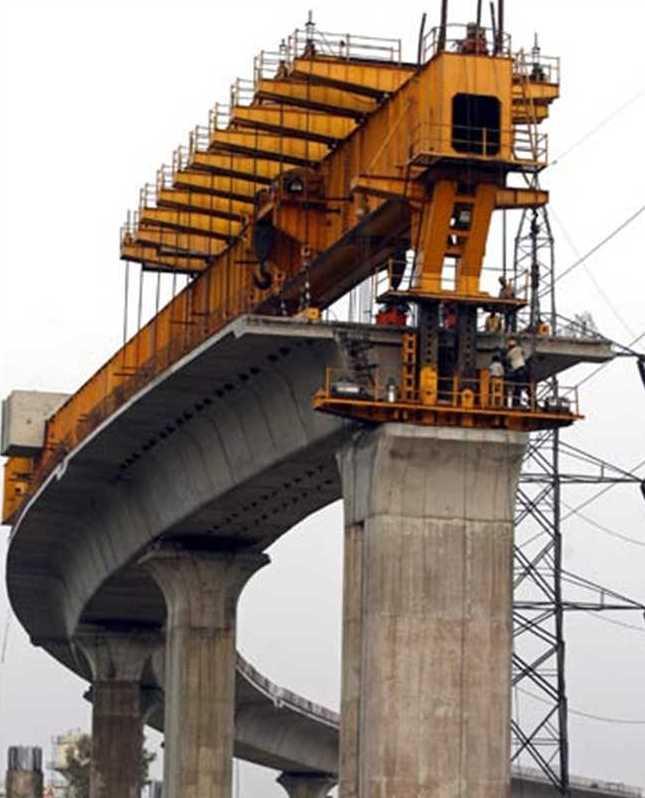 IMAGE: Construction work on the Mumbai Metro line. Photograph: Reuters
"Most of the projects that need to be executed to decongest the city and make it an easier place to live in have a peculiar commonality. There is a significant inter-agency dependency. Multiple agencies - almost 17-20 - are involved in any single project, which makes coordination and resolution of issues a nightmare," he says.
Very few agencies take the initiative to "take matters into their hands" or push hard enough to make things happen.
That's where the war room comes in. Projects are being monitored by the team members on a daily basis and once a month, the chief minister is apprised on the status of the various projects. If something is stuck due to apathy, lack of clearances or coordination, he can directly issue government orders to make sure it gets done. "We de-bottleneck here," says Dhavse.
Of the 27 projects being monitored, four to five are critical for Mumbai.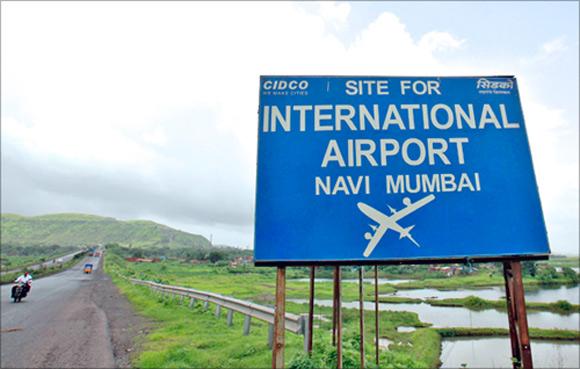 IMAGE: Projects are being monitored by the team members on a daily basis . Photograph: Reuters
These include the coastal road, the Mumbai trans-harbour link (MTHL), the Metro and the Navi Mumbai International Airport along with a bunch of irrigation projects.

Maharashtra is one of the worst-affected states by the drought.

Also on the list are other less relevant projects such as the building of a Shivaji statue in the middle of the ocean, apparently, to boost tourism. One argues on the pointlessness of something like this but Dhavse sticks to his (non-existent) guns.
Dhavse asks reporters seeking an interview to come over the next day. The same is true of principal secretary to the CM, Praveen Pardeshi.
The next day, Pardeshi ushered in this reporter while some businessmen were making presentations to him in his chamber. He did not seem bothered by the fact that journalists were around. Unlike most senior bureaucrats, stuff happening in his room did not seem shrouded in secrecy.
He seemed open, transparent and rather easygoing.
Mumbai's Mantralaya - a large, air-conditioned space - is quite unlike the dingy and often smelly Shastri and Udyog Bhavans in Delhi, with plenty of natural light and escalators. It feels more like the headquarters of a large consultancy firm.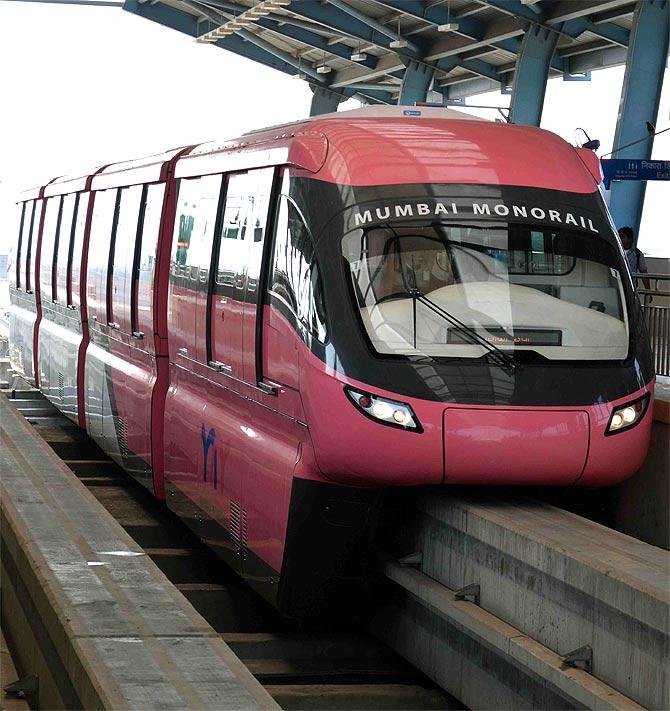 IMAGE: 27 projects are discussed in two hours and issues are resolved as they come upt. Photograph: Sahil Salvi/Rediff.com
How is the war room different from any old project-monitoring unit?

Dhavse cites two things: One, it is the strategic think-tank of the CM and, two, it is designed to get stuff done.

War-room reviews are not endless, pointless discussions with everyone pointing fingers at each other; they identify the bottlenecks, find the responsible individuals and ask them for resolutions.

No beating around the bush, so to speak. Dhavse says 27 projects are discussed in two hours and issues are resolved as they come up. Orders are issued as and when needed by the CM and promptly obeyed by all concerned.
When Dhavse says the first flight from Navi Mumbai will take off by the end of 2019, this invites scepticism.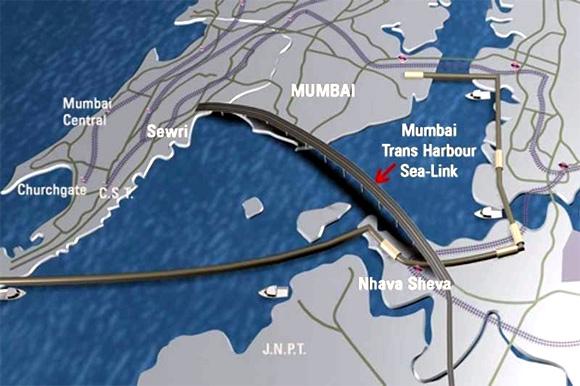 IMAGE: If the war room delivers, Mumbai will look totally different. Photograph, courtesy: MMRDA
MTHL, Navi Mumbai International Airport and coastal roads, all seemed rather critical at some point but are they still as relevant?
Haven't the hubs of activity in Mumbai shifted dramatically in the past 10-15 years? Are the old links needed as much?

Is there any new vision here or are we just parroting and trying to complete someone's undone work? The CM and his team think all this - and more - is needed.

If the war room delivers, Mumbai will look totally different.

Dhavse takes a pen to draw the new face of Mumbai (with the elevated and underground Metro, the MTHL and the coastal road).

It sounds good on paper, but the question is: Will it really happen?
THE WARRIORS
Kaustubh Dhavse
OSD to CM
War room team
Zoravar Gill
Sagar Shirke
Shrijeet Joshi
Apurv Pethkar
Akshay Gujar
Abhijit Nimbalkar
Bhavika Onkar
Advait Sawarkar
Mohaneesh Ujjain
THE COMMANDERS
Devendra Fadnavis
Chief minister of Maharashtra
Praveen Pardeshi
Principal secretary to CM
Milind Mhaiskar
Secretary to CM
Pravin Darade
Secretary to CM