Besides a great idea, it takes pluck, and some luck, to get going. Three startup entrepreneurs share their success stories with Indulekha Aravind.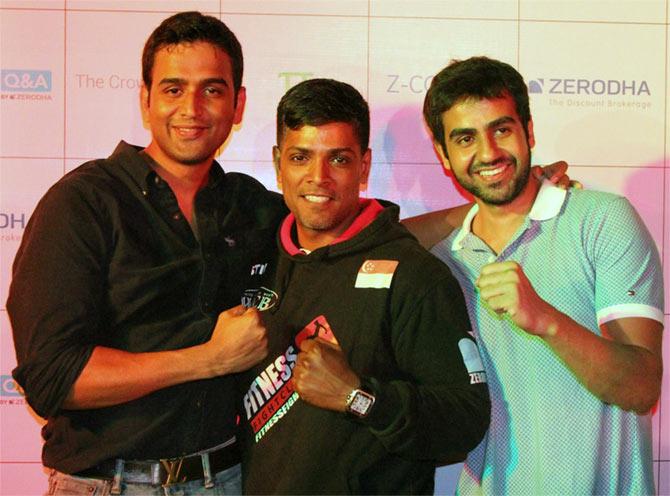 Image: Nithin Kamath (L) can afford to smile now. Photograph, courtesy: Zerodha
All my IIT cousins now want to do startups: Nithin Kamath, Founder and CEO, Zerodha
"I come from a family where if you don't go to IIT or a regional engineering college, you're considered to have done nothing with your life. So I was the guy all the cousins in the family were told not to hang out with!" Nithin Kamath, the Bengaluru-based founder and CEO of Zerodha, says with a smile.
Kamath can afford to smile now - it is fairly obvious as soon as you step into the premises of the financial services startup he launched in 2010 by offering the lowest broking charges in the country.

A black Audi A6 stands outside the office in JP Nagar, while a golden Audi Q5 is parked in the porch of the main building.
The foundation for Zerodha - which Kamath says sees a daily turnover of Rs 7,000 crore (Rs 70 billion), serves 56,000 customers and had pre-tax profit of Rs 30 crore (Rs 300 million) last year - was laid when he was 17.

That was when he was initiated into the nuances of trading by his Marwari friends, who took him to "bucket shops" in the city, essentially less than legal outfits where you could place bets on the stock market, which he continued to do till he finished his engineering in 2001.
That turned out to be a particularly propitious year because derivatives trading was introduced in India, ICICI Bank and IndiaBulls had just launched their online trading interface and Kamath bought an Internet connection, so he could now trade in indices at home instead of bucket shops.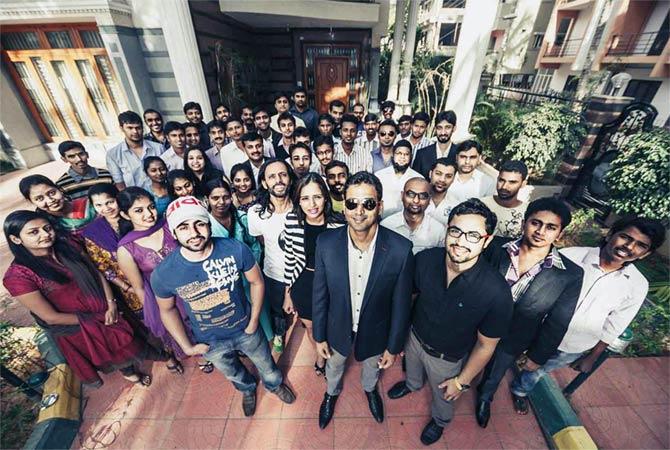 Image: Team Zerodha. Photograph, courtesy: Zerodha
His parents never discouraged his trading, though they were from fairly conventional backgrounds.
His father, Raghuram Kamath, was an executive with Canara Bank and his mother, Revathy, taught the veena.
"I always had confidence in him," says the senior Kamath. He also let him handle the trading accounts in his name and his wife's before he turned 18. The son jokes that his father knew the state of his finances by his shampoo and shaving cream: if he didn't make money, he would start using his father's.
But soon after he started trading online, the dotcom bust happened. "The Rs 4 lakh I had saved over four years was wiped out in a couple of months. That was a big amount in those days," says Kamath.
He then joined a call centre because it left his days free to trade, which he did feverishly with the sole aim of accumulating enough trading capital. "I think for those three-and-a-half years, I must have slept only on weekends."
Those were heady days for call centres but he was still not earning enough to quit and trade full time. And then the miracle happened.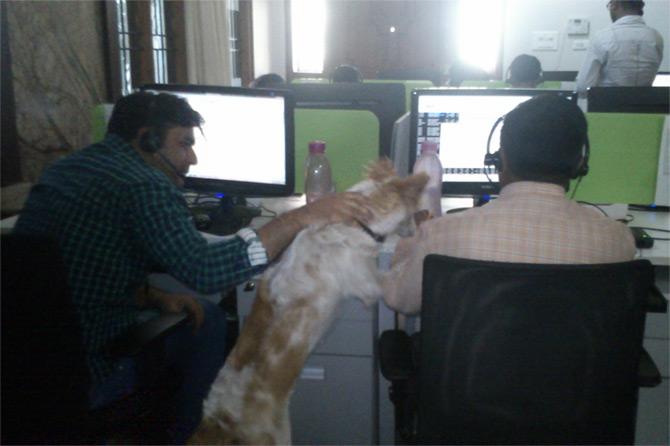 Image: Zerodha office. Photograph, courtesy: Zerodha
"I used to work out with a US-returned guy in the gym. We met for a drink one evening, where I told him what I was doing and showed him my performance for the last three years. He was so impressed that he gave me a cheque of Rs 25 lakh to trade on his behalf. And all this over our first drink!" says Kamath.
On the phone later, Prakash, the "gym buddy" who declines to reveal his surname, plays down what sounds like a huge gamble.

"He seemed like a very intelligent guy and I thought I would help him out," is how he self-deprecatingly puts it. As soon as he got the money, Kamath quit and started working from home under the name of Kamath Associates to give some gravitas to what he was doing.
His client base grew to 40, mainly through word-of-mouth. Then, in 2008, when Reliance Money launched, Kamath Associates became its sub-broker. Soon, his turnover became bigger than all the other franchisees put together.
Sudip Bandyopadhyay, former CEO of Reliance Money, does not confirm this but recalls Kamath as a "young, bright guy" who performed very well. "He had a lot of energy and ideas, and took Reliance Money's model of fixed fees forward with Zerodha," Bandyopadhyay says.
That was also the year he got married to his girlfriend, Seema Patil, who he had met when they were working at the call centre.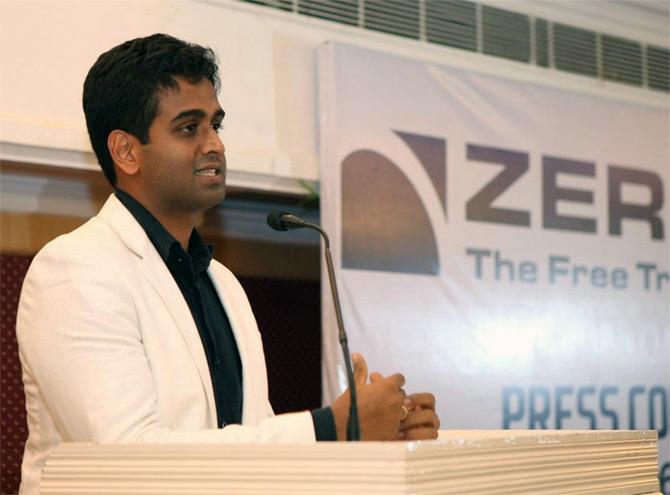 Image: I'm the rock star of the family, says Nidhin Kamath. Photograph, courtesy: Zerodha
Seema says she was not very worried about how his business would do, especially Zerodha. "I knew that if it did not work out, he would come up with something else."
Her parents, though, were not so easy to convince because, like most middle-income folks, they wanted a son-in-law with a steady job.

"For them, share markets and business sounded very risky and they thought that when the markets fell, Nithin would lose everything," Seema says. Her father went to the Reliance Money office and tried to figure out what they were doing.
In May 2009, Kamath made what he calls "the dumbest move in my life" when he exited all his positions just before the results of the general election because he did not want to take a risk.
Except that the market jumped 40 per cent in four days. A despondent Kamath and his team closed the office and went to a resort where, after a few drinks, he decided he did not want to trade for clients any more.
Instead, he would build a brokerage firm that would be completely online, and offer the broking services he himself had needed 10 years ago.
Thus was launched Zerodha in August 2010, which offered a flat brokerage fee of as low as Rs 20. "The cost of executing a trade does not increase according to the size because the effort is the same, so we could offer a flat rate. We also brought in transparency through a brokerage calculator, and by offering the same deals for all customers, we could also be a lot more efficient than other brokerages," he says.
Having given up active trading once Zerodha was born, he now gets his adrenaline rush through playing poker for high stakes. And have his relatives finally come around?
"Oh yes, I'm the rock star of the family. All my IIT cousins now want to do startups, and you know who they turn to," he says, laughing.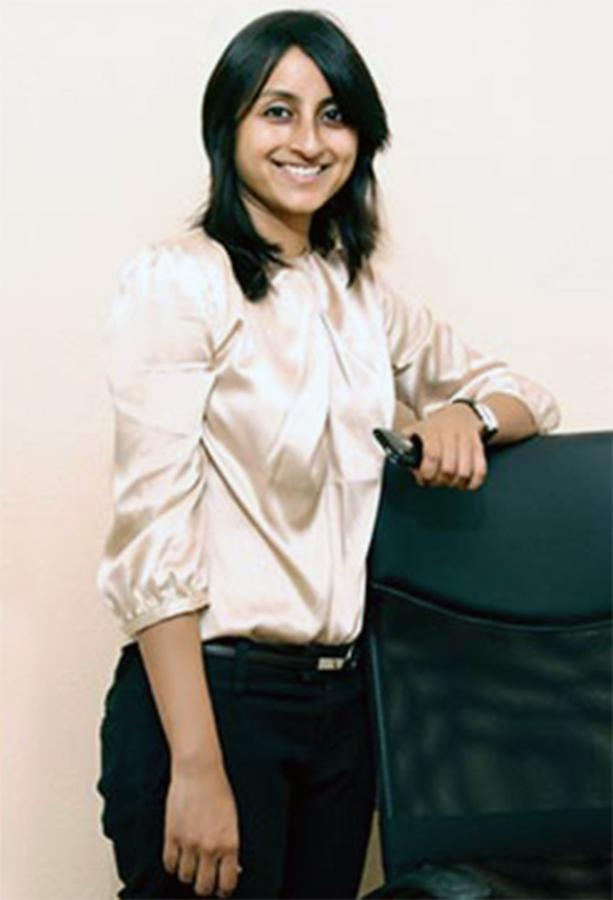 Image: Richa Kar, Founder, Zivame. Photograph, courtesy: Zerodha
"I knew that if this did not work out, for whatever reason, I could go back to a corporate job: Richa Kar, Founder, Zivame
"Apne friends ko kya bolungi? Meri beti bra-panty bech rahi hai, computer par? (What will I tell my friends? That my daughter is selling bras and panties online?)"

Zivame founder Richa Kar's mother, a homemaker, exclaimed in shock when her daughter, an engineering graduate from BITS-Pilani with an MBA from Narsee Monjee Institute of Management Studies, told her she was planning to quit her corporate job and launch an online lingerie retail store.
"She wasn't as concerned about the fact that I would not have a regular salary," Kar recalls, laughing. She adds that her father, who retired from Tata Steel in Jamshedpur, did not quite understand what exactly she wanted to do, but neither of her parents discouraged her, for which she was thankful.
Three years on, Kar's mother and her friends are among the over 500,000 customers who shop from Zivame, which raised $6 million in its second series of funding in December 2013.
Entrepreneurship happened to the slim 33-year-old by chance: there were no role models in the immediate family and the e-commerce landscape in 2011, the year she launched Zivame, was only developing the contours we see today.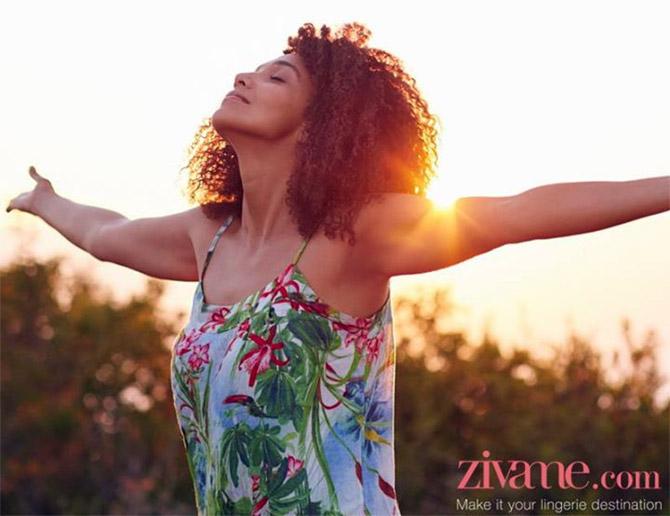 Image: Zivame office walls have black and white images of women in lingerie on various walls. Photograph, courtesy: Zerodha
It was her stint at SAP, where one of her clients was lingerie giant Victoria's Secret, that drew her attention to a sector which she realised had so far been below the radar in India.
"I saw the numbers and other details, and then it struck me that this was a great category," she says at her office in Domlur in Bengaluru, which has black and white images of women in lingerie on various walls and a collage with images of models in bras behind the reception.
Visits to various shops in the city selling lingerie strengthened her conviction.

"Though Indian women come in all shapes and sizes, retailers were only stocking a few standard sizes because of lack of shelf space. And then there are the sales girls who laugh if you want something lacy and racy!" she says.
So after eight years in the corporate sector she decided to take the plunge and launch a portal which would sell bras in as many sizes as possible, offer advice on the right fit, discreet packaging and money back if you were not satisfied.
Kar says she was not nervous then about venturing out on her own. "I knew that if this did not work out, for whatever reason, I could go back to a corporate job. It was just a question of being able to support myself for a year."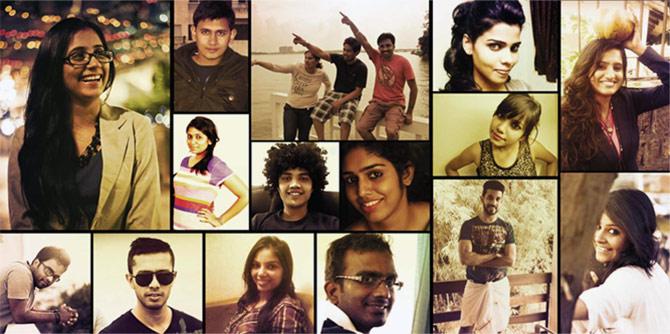 Image: Team members of Zivame. Photograph, courtesy: Zerodha
Kar quit in March 2011 and launched Zivame in August ("Ziva" in Hebrew is "brilliant", "me" was tagged on by the founder) from the first floor of a house in Domlur with a commercial permit she shared with batchmates from BITS who were running a consultancy for social ventures.

Her first customer, incidentally, was a man, who was trying to place an order for Rs 7,000 from Indore.
Those days, her only hire was an office boy (the technology part was outsourced), which expanded to a girl to answer calls the next month. And when the girl quit to join Infosys, Kar answered calls in her name, Sindhu.

In November, five more employees were hired. Kar's then boyfriend and now husband, Kedar Gavane, says he lent a hand when he could, and was able to offer some advice about online companies since he was with Comscore, the Internet analytics firm.
Though Zivame was launched with Rs 35 lakh from her savings, friends and family, the company was burning cash quickly because it was gaining traction, and Kar knew she had to seek institutional funding.

The first round, or Series A, came from venture capital funds Kalaari Capital and IDG Ventures.
Vani Kola, the managing director of Kalaari, was able to grasp the potential of the business quickly. "But when there are men on the other side of the table, we tell them to check with the women in their team or in their families to understand whether there is a real problem because they can never relate to the embarrassment of buying lingerie and other issues women have to face," Kar says.
Though she had just launched the company, the families of Kar and Gavane were also impatient for the couple to tie the knot, since she was 29.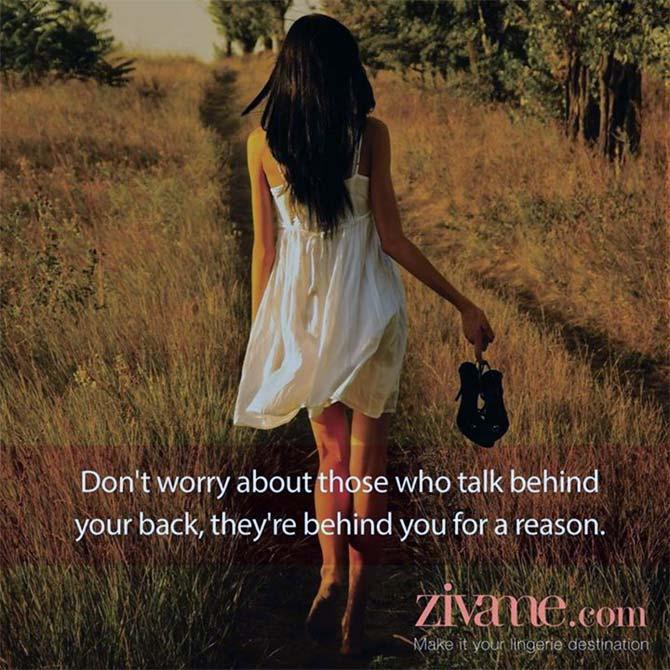 And so she did, over a weekend in Bengaluru because that was all the time she could afford to take off.

"I took leave on Friday, got married on Saturday and was back at work on Monday," she says.
Zivame had raised Series A funding in February and the wedding was in April, so her focus was on scaling up the company and hiring, and not the wedding and honeymoon. "But since I've enjoyed building the business, I don't complain at all."
The next round of funds, Rs 33 crore (Rs 330 million), came from existing investors and Ronnie Screwvala's Unilazer Ventures.
"Kar has a high sense of confidence about her, is focused on her execution and what struck me was her deep knowledge of the sector she had founded," says Screwvala.
Asked what she thinks she might be doing 10 years down the line, Kar says longingly that she hopes she would be relaxing by a beach and giving gyan as chairman, while a CEO actually ran the company.

"But before that I want Zivame to become a very big brand and company."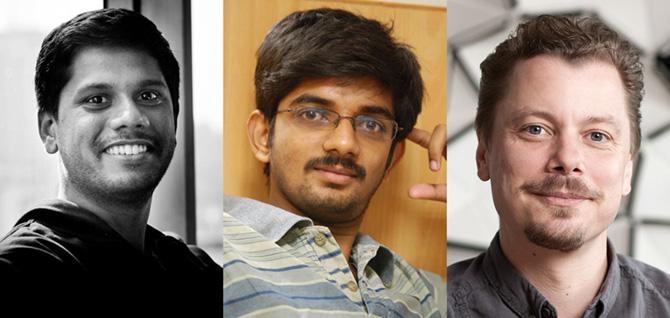 Image: Cherian Thomas (L), Arun Prabhakar Co-founders, Cucumbertown. Chris Luscher (right) helped with the design. Photograph, courtesy: Cucumbertown
A passion for cooking and blogging: Arun Prabhakar and Cherian Thomas, Co-founders, Cucumbertown

When Arun Prabhakar's senior from Model Engineering College in Kerala, Cherian Thomas, sounded him out for help with his pet project, a sort of social network for sharing recipes, he agreed to do so in his spare time but was not immediately convinced about the potential.
"I thought: A recipe-sharing site, really?" says the bespectacled 27-year-old CTO and co-founder of Cucumbertown, which has attracted angel investment of $300,000 from names like Farmville co-creator Sizhao Zao Yang and Silicon Valley seed fund 500 Startups.

The site allows users to post and browse recipes, interact with cooks and follow them, and get tips and suggestions, building a community united by their love for cooking.
When Thomas contacted him, Prabhakar was at education startup TutorVista. Thomas was with gaming company Zynga, which had bought Farmville. Neither of them planned to make it a full-time business.
Meanwhile, Thomas, who was driven by his passion for cooking and blogging, had also reached out to Chris Luscher of Information Architects, a leading design firm based in Zurich.

He had never met Luscher, but by a remarkable coincidence, Luscher replied that he had been thinking of starting something along similar lines and agreed to help with the design.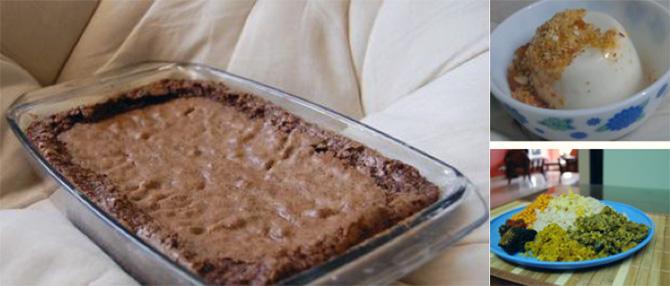 Image Cucumbertown is the literal translation of a phrase in Malayalam, vellarikka pattanam, which means a place where anything is possible. Photograph, courtesy: Cucumbertown
When Thomas showed the proof of concept to his boss at Zynga, he fell in love with it and said he would fund it.
Thus, what was meant to be a part-time project rolled out as a full-fledged startup in October 2012 under the quirky name of Cucumbertown - the literal translation of a phrase in Malayalam, vellarikka pattanam, which means a place where anything is possible.
Thomas says his wife knew he was destined for something like this and was relieved when he quit and launched the startup, rather than watch his mounting frustration at working in a big company. What convinced him to quit, he says, was users' reaction to the website.
Aparna Balakrishnan, a former social worker, is one of them. "The high from getting appreciated by other people is quite nice," says Balakrishnan, who has some 100 followers on Cucumbertown and was introduced to it by friends.

From 100,000 users in 2013, the site now has over 500,000, of whom only 35 per cent are from India.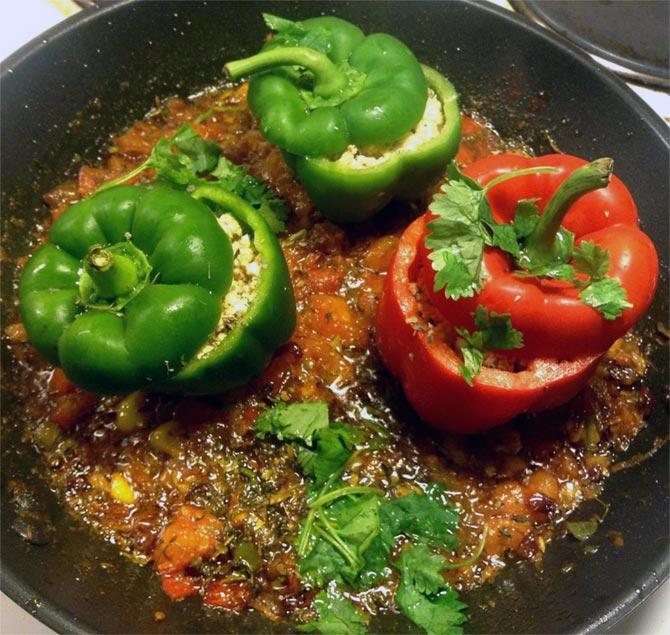 Thomas adds, tongue in cheek, "Besides, when we launched I was in my 20s and in world-domination mode!"
For Prabhakar, who got to know Thomas through the computer club at college, which he headed, it was the chance to be a co-founder of a startup.

Unlike most engineering graduates, he did not succumb to the pressure to join a big firm when he graduated. Instead, he joined a startup for brands, which ended up shutting shop in six months.

"My mother had been completely against it and had wanted me to join Infosys or a multinational corporation that would give me a steady income."

Undeterred, he then joined TutorVista, quitting that when it was bought by Pearson, to co-found Cucumbertown with Thomas.
Cucumbertown stands out among the ever-increasing startups from India because it managed to attract funding even without a clear revenue model.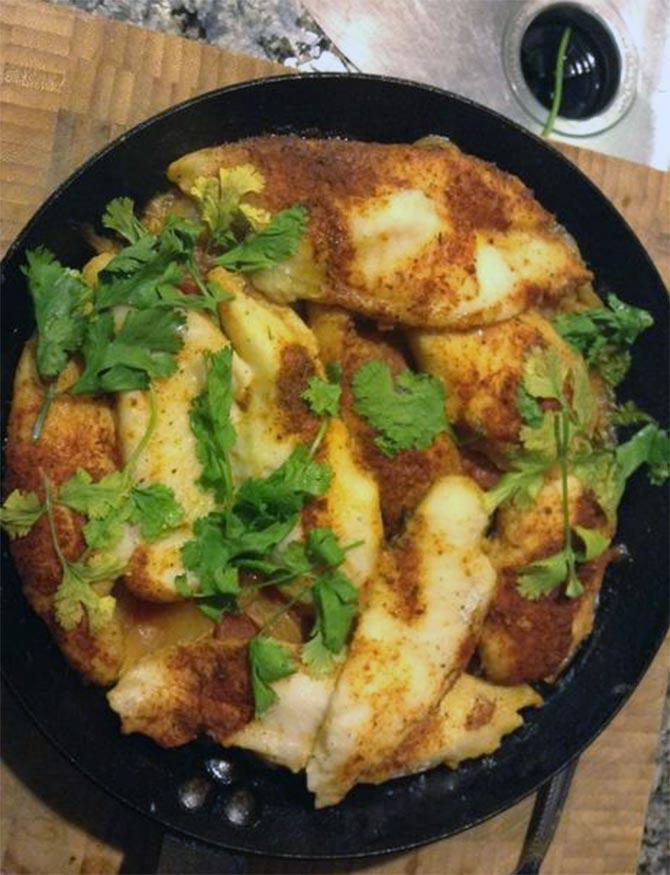 This is also why it's not surprising that funding had to be from the US, where investors are used to seeing consumer Internet companies like Twitter or Facebook which, in the initial years, concentrated only on growing its user base.
The company has just eight employees so far, working out of a rented house in HSR Layout, a favoured neighbourhood for startups in Bengaluru.

"There's no time to relax," Prabhakar says, with a grin, since he clearly does not have a problem with that.
Just about everything about launching Cucumbertown was a challenge, Thomas says.

The laundry list is long, from running out of cash to uncertainty about what the next day would bring to balancing work, family and friends. But the users make it worthwhile, he says. "Any work of art that gets recognised takes you to cloud nine."

And Prabhakar says his mother has come around to the idea that he would not be joining one of the big infotech firms.