One of prime reasons for the hesitation of states could be the long spell of uncertainty shrouding the Aadhaar project.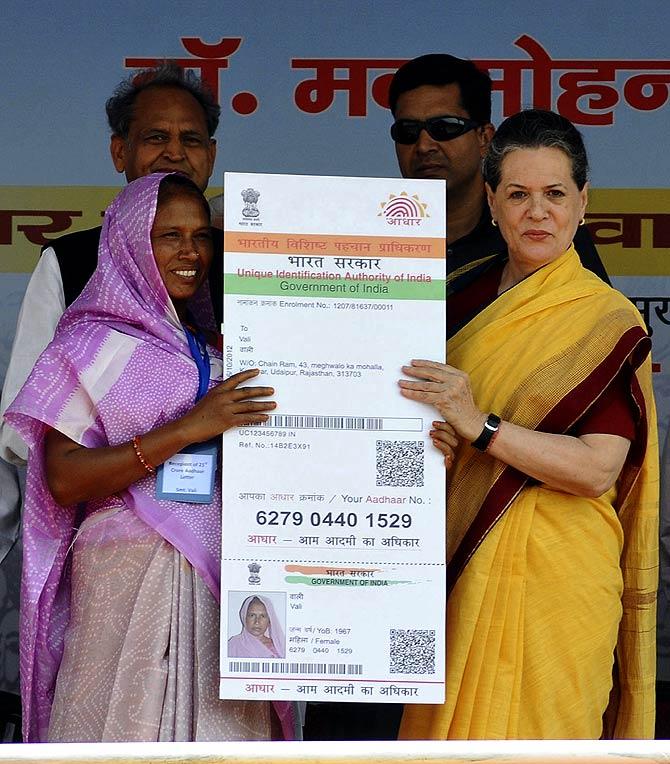 Image: Chief of Congress party Sonia Gandhi presents the 210 millionth biometric card to Vali , a villager in Rajasthan. Photograph: Vinay Joshi/Reuters
Clocking 317.8 million online real-time biometric authentications through 170 user agencies for a project that has been mired in uncertainty since its inception is no mean feat.
But despite the handsome numbers and the generous praise by those who have deployed Aadhaar-based authentications, its use is restricted to a handful of states such as Andhra Pradesh and Jharkhand.

Government welfare programmes like pensions and job guarantee schemes have been linked to it, but only in small patches of the country.
Considered to be one of the prime uses of the unique identity number (UID) number in the long run, Aadhaar-based authentication matches biometrics such as fingerprints or iris scans of people with the Unique Identity Authority of India (UIDAI)'s servers at the back end to check their veracity in real time.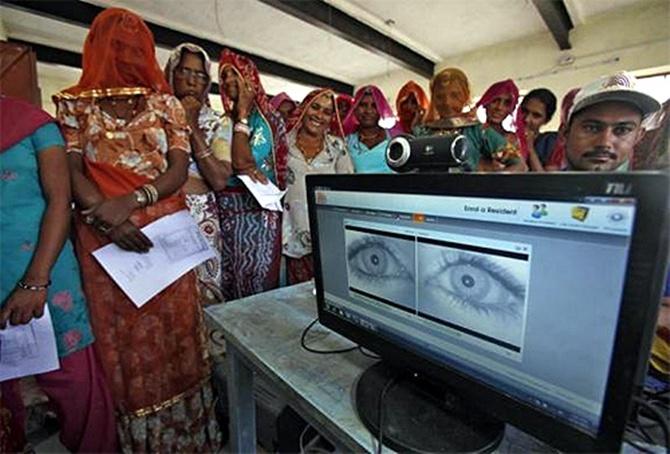 Image: 75 per cent of all authentications so far are taking place in Andhra Pradesh and Telangana. Photograph: Reuters
It has a response time ranging from one second to 20 seconds. However, rough estimates suggest that almost 75 per cent of all authentications so far are taking place in Andhra Pradesh and Telangana for disbursing payments under the Mahatma Gandhi National Rural Employment Guarantee Act (MGNREGA) and old age pension by India Post.

While around 4 million pension payments are disbursed every month in Andhra Pradesh and Telangana, the number for MGNREGA stands at around 1.9 million.
The real-time biometric attendance system implemented by the central government is another large user of the platform on which 101,488 government officials mark their attendance twice a day.
The state of Jharkhand, in fact, was the first to adopt the biometric attendance system that is accessed by 30,000 employees each day.

There are also some pilots of public distribution system (PDS) disbursements in Andhra Pradesh, Telangana and Jharkhand along with some banks in Madhya Pradesh, Maharashtra, Jharkhand, Andhra Pradesh and Chandigarh that are using it for disbursing banking correspondent payments.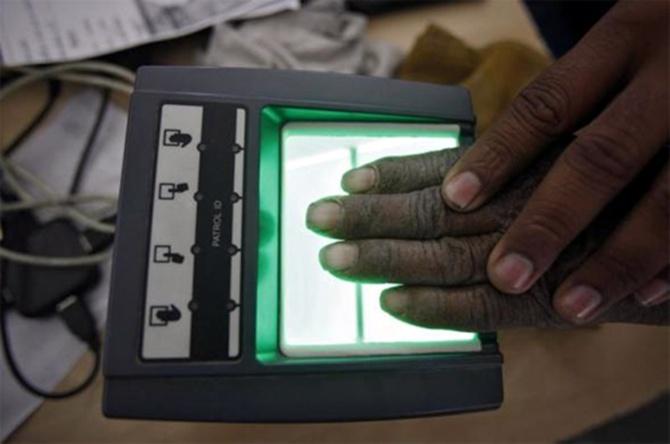 Image: long spell of uncertainty shrouding the Aadhaar project. Photograph: Reuters
Despite its existing users waxing eloquent about the benefits of Aadhaar authentication, a majority of the states are not employing it in a big way.

After Aadhaar was notified as a proof of address and identity, most of the agencies are only using it in the physical format, where a photocopy or print out of the Aadhaar card has to be submitted, without biometrically authenticating it.

However, this may be susceptible to fraud because a significant number of government certificates and attestations can be easily forged.
One of prime reasons for the hesitation of states could be the long spell of uncertainty shrouding the Aadhaar project.

The Supreme Court's direction that the UID number should not be made mandatory for government services is adding to the uncertainty.

Moreover, states that have been slow to adopt this service are also the ones with not a very high percentage of Aadhaar enrollments.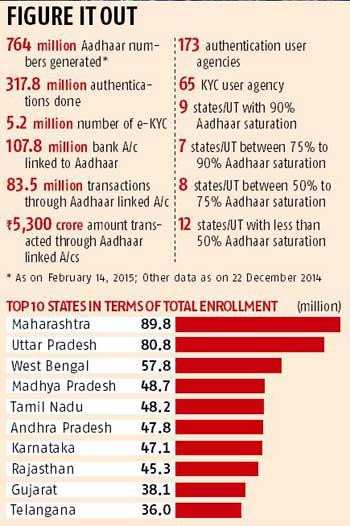 However, those who have used the technology swear by it. A Babu, collector of the Krishna district in Andhra Pradesh, who has spearheaded some of the initiatives in Andhra Pradesh and Telangana, says there are several proposals in the pipeline to further escalate the use of Aadhaar in the state.

The unique number can better target subsidies and weed out fakes and duplicates from the system, he says. For instance, vehicle and property owner databases are being seeded with Aadhaar, just like beneficiary lists of people living below the poverty line.

"A simple query across the databases can rid the government of thousands of undeserving beneficiaries."
By March, the state's PDS platform will also be expanded to 6,000 fair price shops in Andhra Pradesh while voter lists of the entire state will be linked with Aadhaar numbers.

Babu, who claims savings of anywhere between 10 and 25 per cent on projects linked to Aadhaar, says the technology tool is the "best gift to an administrator like me".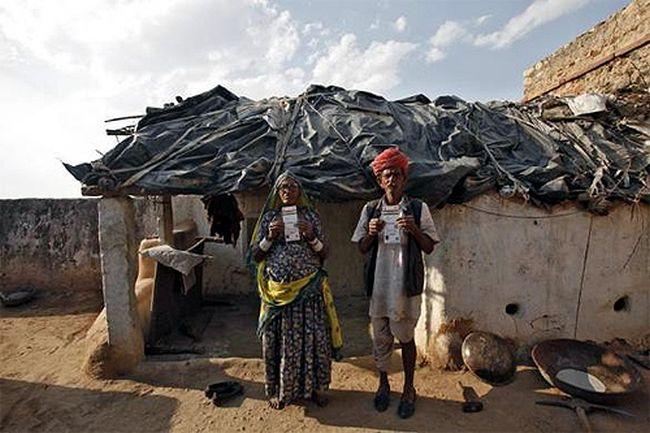 Image: Over 758 million Aadhaar numbers have been generated. Photograph: Reuters
N N Sinha, principal secretary (information technology) of Jharkhand, adds the system is being expanded to cover PDS in all districts of the state and large sections of the MGNREGS along with old-age pension payments. There are huge savings derived from it, however connectivity is an issue. "Otherwise the system is very smooth and is hardly lethargic," adds Sinha.
The National Optical Fibre Network, which plans to connect each of the 250,000 gram panchayats in the country with broadband, could solve the connectivity issue.
The fact that since coming to power, the National Democratic Alliance government has been providing unprecedented support to the project will further prompt more states to come on board.

Moreover, as the project nears its target of covering the entire country by March this year, the case for Aadhaar-based authentication is expected to become stronger.

So far, over 758 million Aadhaar numbers have been generated. But for further growth to happen, the project will have to fight hard to keep another controversy to stop its march.