Renjen recalls he "landed in the United States with a scholarship, two pairs of jeans, and couple of hundred dollars in the pocket".
Image: Punit Renjen, global CEO, Deloitte. Photograph, courtesy: Business Standard
In the late 1980s, Punit Renjen, then in his early twenties, had to go through 15 rounds of interviews before he was offered a $37,000-a-year job at Deloitte, the consulting and auditing company.
Twenty-eight years later, on June 1 this year Renjen, 53, will take charge as the global CEO of the Deloitte network of 47 member firms, operating in 150 countries, with a head count of 210,000 employees worldwide.
"It is harder to get into Deloitte than into the University of Pennsylvania," Renjen is reported to have said in an interview in 2012. That is why he does not hesitate in talking about his efforts over the years that has helped him reach the helm at Deloitte.

"I have put in more than 10,000 hours perfecting my craft. And I am good at it," Renjen said in an internal company video while addressing a group of Deloitte employees in Australia.

"I am good in M&A (mergers and acquisitions) - I don't say that with arrogance, but because I have put 25 years in the craft," he goes on to add.
Budget 2015: Complete Coverage
Over the years Renjen has held several leadership positions within the firm, including that of chairman and chief executive of Deloitte Consulting, its consulting arm. He also serves as a member of the board of directors of Deloitte Global, and as chairman of the board of directors of Deloitte Foundation.

Under his stewardship, the US operations of Deloitte nearly doubled its business even during the recession years. "There are absolutely no shortcuts - you have to put in your time," Renjen tells the audience.
Photograph, courtesy: W. P. Carey School of Business
His backstory proves him out. Hailing from Rohtak, an unpretentious town in Haryana, Renjen was packed off to Lawrence School in Sanawar, a premier boarding school in the hills of Himachal Pradesh, by his father, an immigrant from Pakistan who ran an auto component business.

Seven years later, life took a new turn for the teenaged Renjen. He was pulled out of school when his father faced bankruptcy. He got admission in a local school and worked as a dye operator in his father's company after school hours.
That went on for some years, till he won a Rotary Foundation scholarship to Williamette University in Oregon, USA.
He earned a master's degree in management there. Renjen recalls he "landed in the United States with a scholarship, two pairs of jeans, and couple of hundred dollars in the pocket".

That was the first time he had ever flown in an airplane. Interestingly, a few years later it was in an airplane too that a Deloitte partner read Renjen's profile in a university magazine and sounded him out for an interview with the firm.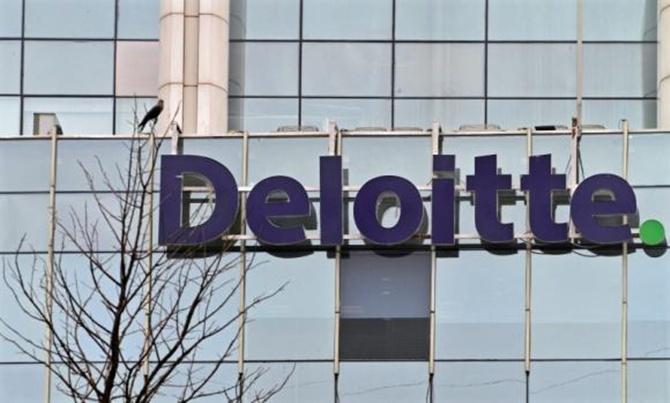 Photograph: Parivartan Sharma/Reuters
Commenting on Deloitte's organisation culture and its core beliefs, which also helped him grow within the firm, Renjen says in another company video: "We are very comfortable with who we are - we are not defined or validated by comparing ourselves with somebody else. That does not mean we don't compete - we compete aggressively. But we celebrate this notion that we are unique and special."
Renjen believes that exceptional organisations are led by selfless servant leaders, with clearly articulated and lived corporate belief system.

One key lesson from his corporate journey, says Renjen, is that "you never make it yourself - you also need others to help you". So Deloitte takes pride in creating leaders within the organisation through a programme of mentorship and apprenticeship.
"What I do at this firm defines me - this is my life's work," he says, while adding that the other thing that would define him is what his 10-year-old son would think about him when he became an adult.
Renjen, who loves running, has only one regret in life. "I wish I was a great cricket player," he says, "but I am not."