'I had to stop going to school after 7th standard as my parents did not have enough money to even feed us'
'I was just an uneducated and poor farmer till I joined the self-help group. Going to a foreign country to highlight our achievements was a dream come true'

'My dream is to see all women like me who live in villages to come up in life and be independent'

Malliga and Jayalalitha talk to Shobha Warrier/Rediff.com about how millet farming changed their lives, their successful trip to Milan and how their 'murukku' was appreciated at Milan.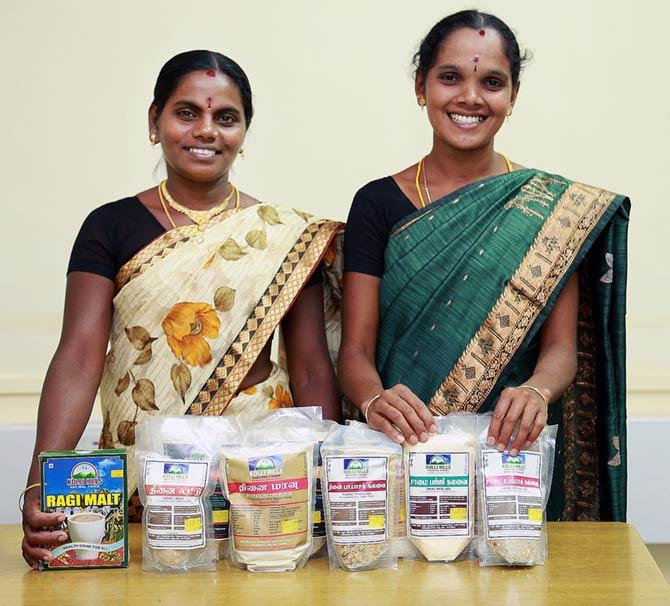 Image: Malliga Seerangan and Jayalalitha Easwaran in Chennai. Photograph: Ramesh Damodaran
The journey from a remote village in Kolli Hills in Namakkal district of Tamil Nadu to flashy Milan has been an unforgettable experience for Malliga Seerangan and Jayalalitha Easwaran.

Their background is similar – poverty, no education and cut off from development. But today the success story of the two women, 35-year-old Malliga Seerangan and 27-year-old Jayalalitha Easwaran, is an inspiring lesson in women empowerment.

These two women are part of a self-help group supported by by the MS Swaminathan Research Foundation, that promotes biodiversity through farming. They were in Milan to attend an event on 'Agricultural biodiversity, value chains and women's empowerment' organised by Bio Diversity International, on September 17.

The event was organised to celebrate the women 'who grow, harvest, process, cook, buy or sell a variety of food and agricultural products to sustain their families and contribute towards conservation of agricultural biodiversity'.

"Women and agricultural biodiversity are closely linked," say the organisers. So both Malliga and Jayalalitha were the right people to represent what the event stood for; Agricultural biodiversity, value chains and women's empowerment.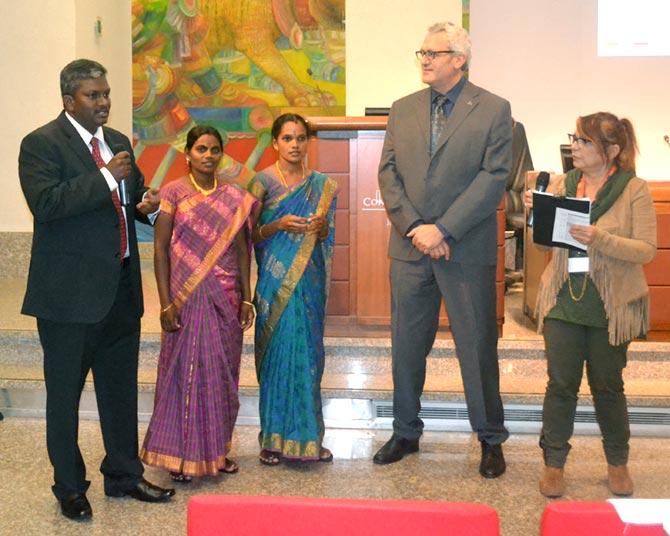 Image: Malliga (second from left) and Jayalalitha in Milan. Photograph, courtesy: MSSRF
It was their first trip abroad and accompanying them was Dr Oliver King of the MS Swaminathan Research Foundation. MSSRF is playing a key role in transforming the lives of many women by promoting different types of millet cultivation -- little millet, Italian millet, finger millet, common millet, and Kodo millet under different agro-climatological and landscape conditions.

The organisation has helped them follow locally suited traditional agricultural practices like inter-cropping, multiple cropping, mixed cropping and crop rotation based on soil types and rainfall pattern focussing on the food and nutritional security of the people. For example, mixed cropping is practised to maintain the family's food security.

The nutritious products made from millet are sold through Kolli Hills Agro Biodiversity Conservers Federation (KHABCoFED) in attractive packs as organic food in nearby cities. MSSRF follows the four 'C's: conservation, cultivation, consumption and commercialisation.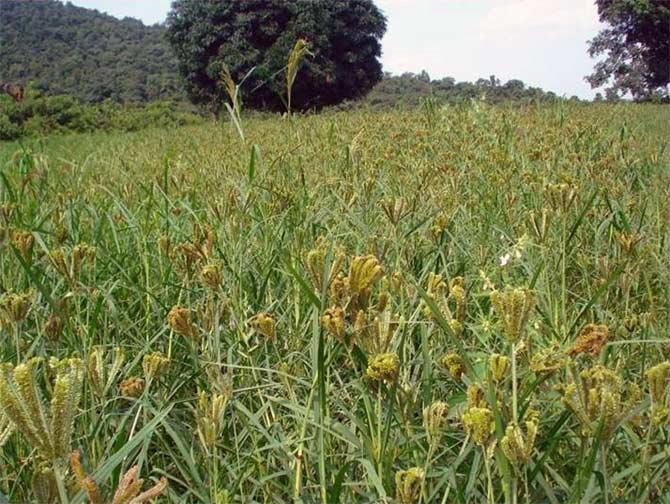 Image: Millet farming transforms the lives of farmers. Photograph, courtesy: MSSRF
How millet farming transformed Malliga Seerangan's life
'My family has been involved in farming for many generations and I grew up seeing my grandparents going to the fields. From the time I could remember, I was also helping them and my parents in the fields.
'I had to stop going to school after 7th standard as there was not enough money to even feed us. We had a small farmland. Since there was no market for millets, naturally there was not much income from farming. I continued doing the same work after getting married.
'People in and around Kolli Hills do only farming and that too, only ragi and samai. There was a time when we farmed just enough for us to consume, and nothing more than that.
Today, we are farming six varieties of millets, thanks to MS Swaminathan Research Foundation which came to our village around 15-20 years ago. Other than helping the farmers in cultivating, they also helped us start small self help groups groups of men and women.

'There are more than 1500 farmers in our small region itself and each group consists of 13 women. I am the head of our group.
'We pool in small amounts of money and put it in the bank, and then each member can take a loan for farming. Earlier, we didn't even have a bank account, nor did we know how operate an account.
'They also taught us how to do farming depending on the weather. We had no knowledge of good farming practices. Now, we are producing several folds of different varieties of millets.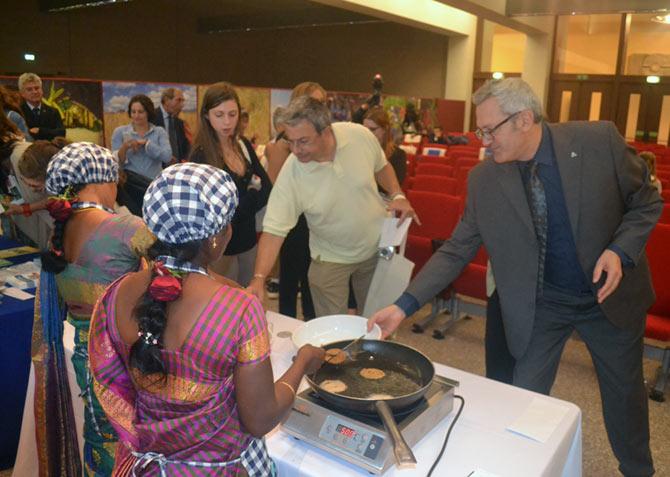 Image: The murukkus turned out to be a big hit at Milan. Photograph, courtesy: MSSRF
'Earlier, we had to grind millets physically which involved hard labour but today MSSRF have installed mills so that in less than half an hour, the powder is ready.
'They also taught us how different products can be made of these millets to make it popular among people. We were used to eating them as it is but today, we make and sell products like millet rice, ragi murukku in attractive packs.
'Now, we know that these millets have high iron content and are excellent for good health. You won't believe, not a single person is diabetic in our village, and it is only because we have been consuming millets for generations.
Today, even city-dwellers have understood the health benefits of millets. They make tasty upma so children also enjoy eating it. Our ragi malt powder, murukku powder, samai, etc are available in Tamil Nadu, Andhra Pradesh and Karnataka under the Kolli Hills brand.
'Life has changed for us after all this! We had no voice in those days; we never went to the market alone. Today, we go to the market with our products.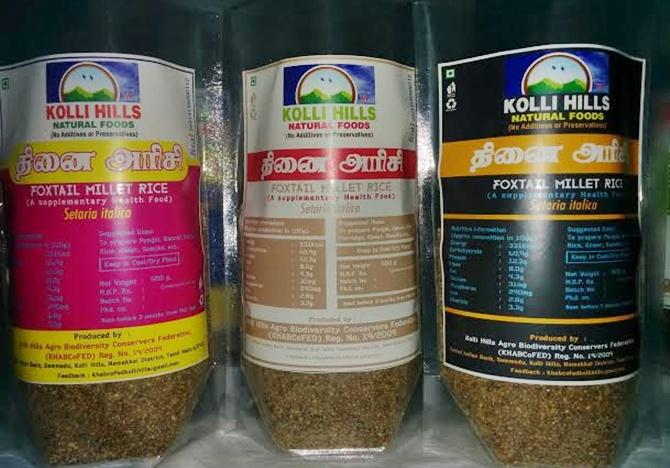 'We have our own bank accounts and we need not beg for money from our husbands. If you take the case of our group itself, all of us make a profit of Rs 2500-3000 every month and each one of us deposits Rs 100 in our group.

'Now, after taking care of the household needs, I can buy saris and jewellery with my own money. I am able to educate my children better.
'My dream is give as much education to my children as possible. I could not study much but I do not want my children to have the same fate. I want them to do better in life.
'Till the groups were formed, there was no respect for women; now the men in our village know that we are as capable or better than them.

'We are financially independent as well. We operate bank accounts, deposit and withdraw money. We take loans and also repay them. We know to do all these things without anybody's help now.
'We also have the knowledge about millets and can talk to people about its nutritive values.

'From being confined to the four walls of the house, if women in our village have progressed today, it is all because of MSSRF urging us to form groups, helping us diversify and selling our products in the markets.
If you take my case, till they came, I had not even stepped out of the village. Now, I got the opportunity to travel to Delhi, Chennai, Mumbai and for the first time abroad too.

'When I got into the flight the first time when I went to Delhi, I just couldn't believe it.

'This time, when we were going to Milan, I thought it was a dream. I am just a small, uneducated farmer who was born in a very poor home, and here I was going to a foreign country to show them what we do.
'We were asked to make 'murukku' for the delegates there. All of them enjoyed eating our 'murukku'. We made around 50 murukkus and they got over in no time, and we felt really happy and excited about it.

'They took photographs and videos of us making 'murukku'. They had so many questions for us and as we don't understand English, Sir (Oliver King) played the role of an interpreter. I have no words to express my happiness. It was an overwhelming experience.
'Then, we went around sightseeing. I am so impressed with the cleanliness of the city. I did not spot any garbage on the road and I didn't see anyone throwing anything on the road.

'They have built good footpaths for people and I also liked the pedestrian crossings. Here, we have to run to cross the road but there the vehicles stopped for us.

'After seeing Milan, I wondered why we can't keep our cities clean. I really liked their city better than ours.'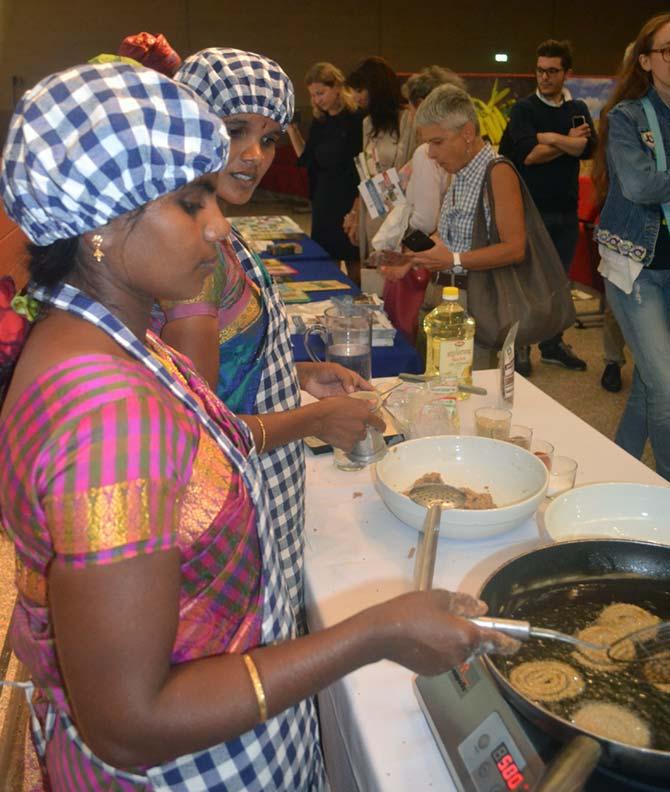 Image: When they appreciated the 'murukkus' we made, I felt extremely happy, says Malliga. Photograph, courtesy: MSSRF
A life changing experience for Jayalalitha Easwaran
'In our village, everybody has been farming since generations. Though I helped my parents as a child in the farm, I got involved in farming actively 10 years ago.

'Malliga Akka who was my neighbour told me to join the self help group started by MSSRF, and from then on my life changed completely. She told young women like me that if we join the group and start working we would become independent and capable.
'I was just a school drop-out who had no confidence to even to talk to strangers but today, I can confidently talk about the importance of eating millets and its health benefits.

'I go to the bank all alone, I have learnt to open an account and operate it. I also take loan from the bank, repay it on time and manage my finances well.

'Till I joined the group, I was an illiterate young girl confined to my home. I had to depend on my husband for money.

'Today, I manage my household expenses with the money I earn from my work. My husband is also proud of me!
'Earlier, we had to physically plough the field, now with the machines given by MSSRF, we do not have to labour so hard.

Similarly, they have installed grinding machines to powder millets. All these have helped in our work tremendously. We concentrate mainly on ragi malt and ragi murukku and sell them in attractive packets in 15 markets.
'It's only because of MSSRF that I travelled to Mumbai in a flight for the first time in my life. Till then, I had not stepped out of our village.
'Now, I have gone to a foreign land also. I cannot explain how excited I was about the trip.

'I could not believe that a school drop-out like me could go abroad to showcase what we make. I had never dreamt that I would have such good fortune.
'When they appreciated the 'murukkus' we made, I felt extremely happy.
'My dream is to see all women like me who live in villages to come up in life and be independent.'