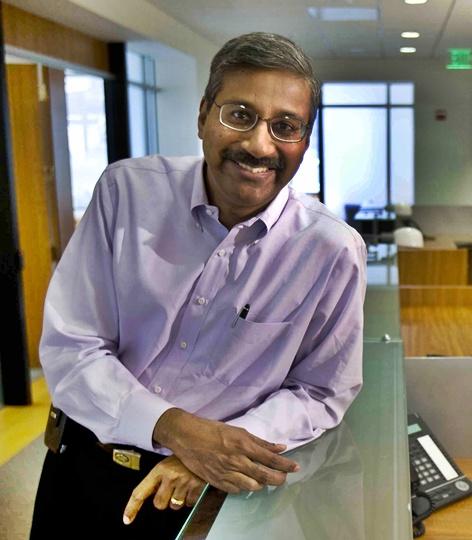 Image: Silicon Valley angel investor Kavitark Ram Shriram . Photograph, Courtesy: Sherpalo Ventures
Five Indian-Americans have been named among the 400 richest people in the US by Forbes, a list topped by Microsoft co-founder Bill Gates for the 21st year in a row with a net worth of $81 billion.
Founder of outsourcing firm Syntel Bharat Desai, entrepreneur John Kapoor, Symphony Technology founder Romesh Wadhwani, Silicon Valley angel investor Kavitark Ram Shriram and venture capitalist Vinod Khosla are among 'The Richest People In America 2014' list by Forbes.
Forbes said 2014 was another record year for American wealth, when the aggregate net worth of the richest 400 Americans was $2.29 trillion, up $270 billion from a year ago.
"Thanks to a buoyant stock market, the richest people in the US just keep getting richer," Forbes said.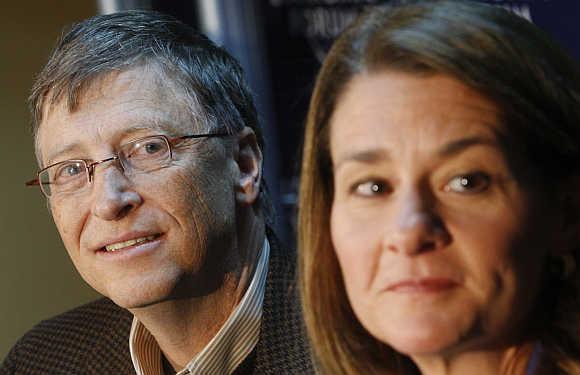 Image: Bill Gates with his wife Melinda. Photograph: Arnd Wiegmann/Reuters
Gates is the richest American for the 21st year in a row, with a net worth of US 81 billion. The Microsoft chairman's stake in the software company he cofounded accounts for just under 20 per cent of his total net worth. His friend Warren Buffett, chief executive of Berkshire Hathaway, occupies the number two spot on the 400, a rank he has held since 2001 with a net worth of $67 billion.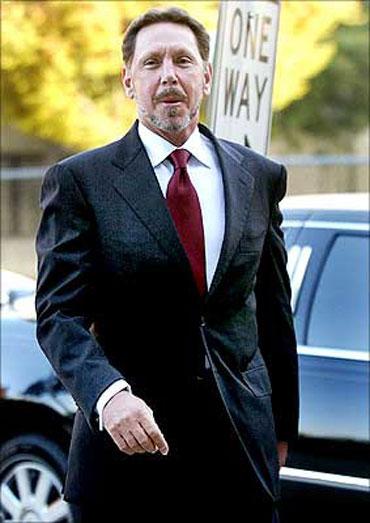 Image: Larry Ellison, third richest in US. Photograph: Reuters
Larry Ellison, who just announced that he was giving up the CEO role at Oracle, the software firm he founded, comes in at number three, with a net worth of $50 billion.
Desai and his family rank 255 on the list, followed by Kapoor who is ranked 261, Wadhwani (264), Shriram (350) and Khosla (381).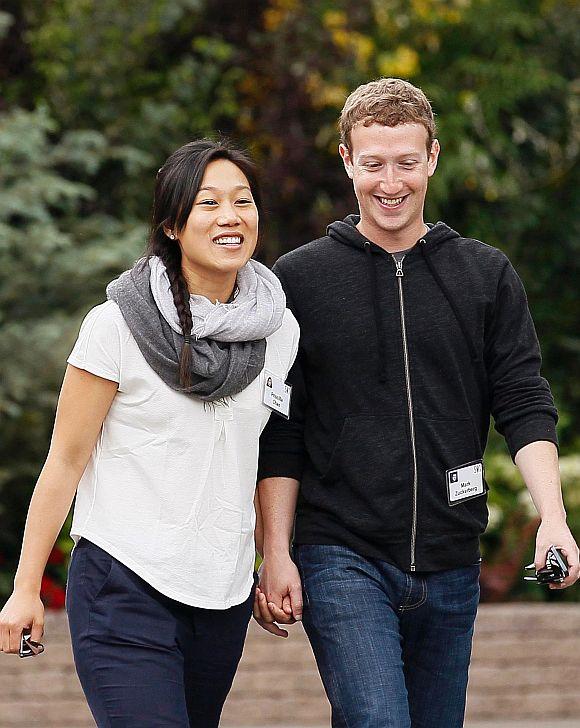 Image: Facebook CEO Mark Zuckerberg walks with his wife Priscilla Chan . Photograph, Courtesy: Rick Wilking/Reuters
Facebook co-founder and CEO Mark Zuckerberg is now the 11th richest person in the US, and the biggest dollar gainer on the list. His fortune soared to $34 billion, up $15 billion since last year, due to a sharp rise in the price of the social network's shares.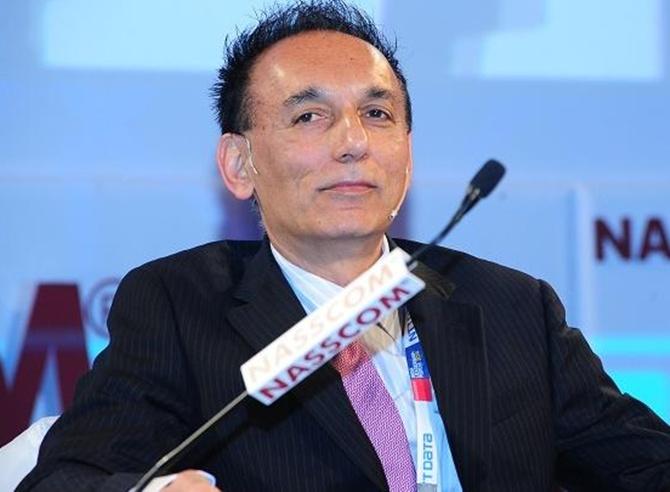 Image: Founder of outsourcing firm Syntel Bharat Desai. Photograph, Courtesy: Syntel
Bharat Desai, 61, and wife Neerja Sethi founded outsourcing firm Syntel in 1980 while studying at University of Michigan. The Indian Institute of Technology alumnus has a networth of $2.5 billion.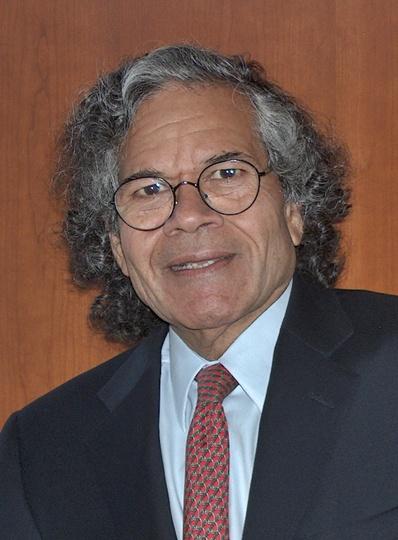 Image: Entrepreneur John Kapoor among richest Indians.
John Kapoor, 71, debuts on The Forbes 400 as a serial entrepreneur who has founded two pharmaceutical companies that he has guided to exceptional success.
The bulk of his wealth is concentrated in shares of Akorn Pharmaceuticals, an Illinois-based generics manufacturer that Kapoor has been involved with since the early 1990s, and INSYS Therapeutics, a cancer-treatment maker that went public in May 2013.
Kapoor, whose net worth is $2.5 billion, also has a small chain of fast-casual Indian restaurants in Arizona called Bombay Spice, as well as Roka Akor Japanese eateries in Chicago, Scottsdale and San Francisco.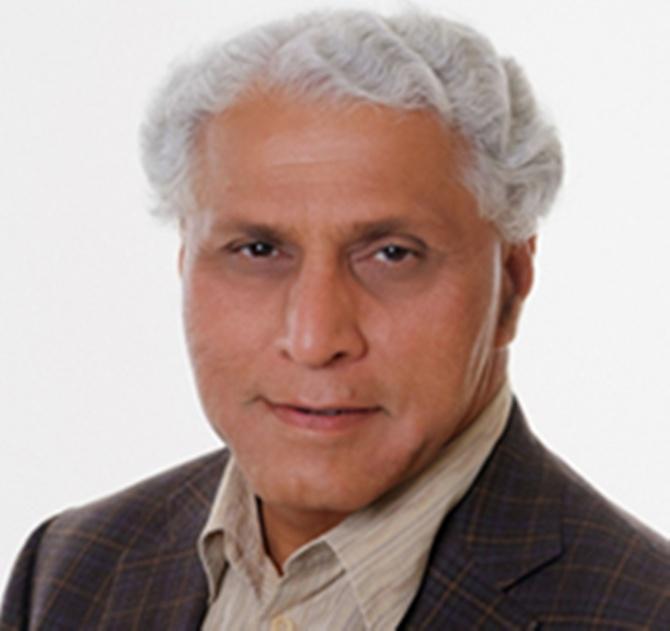 Image: Romesh Wadhwani founded Symphony Technology Group. Photograph, Courtesy: Symphony Technology
Romesh Wadhwani, 67, an Indian Institute of Technology Bombay alumnus has a net worth of $2.5 billion. Forbes said over the last decade, his galaxy of companies has expanded to 20 and is generating three billion dollars in revenues with 18,000 employees worldwide.
He is the recipient of the 2013 Forbes India 'Non-Resident Philanthropist Award' and sits on the boards of the KennedyCenter and the Center for Strategic and International Studies. Wadhwani signed Bill Gates' and Warren Buffett's Giving Pledge last year.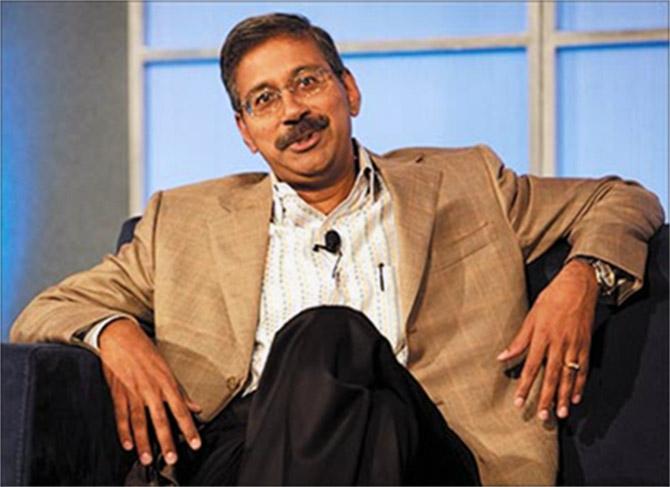 Shriram, 57, has a net worth of $1.87 billion. He was an early Google backer and has been a Silicon Valley angel investor since 2000. Through his Sherpalo Ventures, he has backed early-stage tech firms such as Zazzle and Paperless Post, as well as the frozen yogurt retailer Pinkberry.
Ram Shriram made most of his fortune through Google and has been on its board since the company was founded in 1998. In June 2014, Shriram and his wife donated $61 million to engineering initiatives at StanfordUniversity, which both of his daughters attended and where he is a board trustee.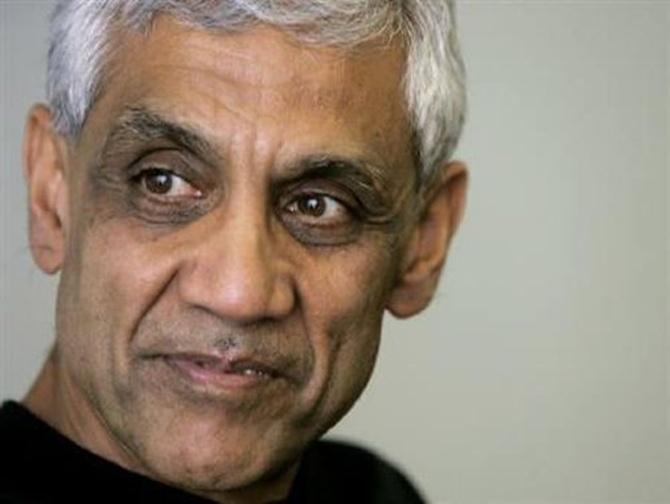 Image: Vinod Khosla has a net worth of $1.67 billion.
Vinod Khosla, 59, has a net worth of $1.67 billion and has run his own venture capital firm, Khosla Ventures, since 2004, following nearly two decades at VC firm Kleiner Perkins. His highest-profile investments have lately been in clean tech: wood-based biofuel, new types of batteries and water purification.
All together, the 400 wealthiest Americans are worth a staggering $2.29 trillion, up $270 billion from a year ago.
The average net worth of list members is $5.7 billion, $700 million more than last year and a record high. An impressive 303 of the 400 saw the value of their fortunes rise compared to a year ago. Only 36 people from last year's list had lower net worths this year.
The list has 27 newcomers including Elizabeth Holmes the youngest woman on the list, and the youngest self-made female billionaire in the world. Just 30 years old, the Stanford University dropout has built blood testing company Theranos into a firm that venture capitalists have valued at $9 billion.