'MasterCard continues to perform well despite a challenging global economy due to its investments in technology and services.'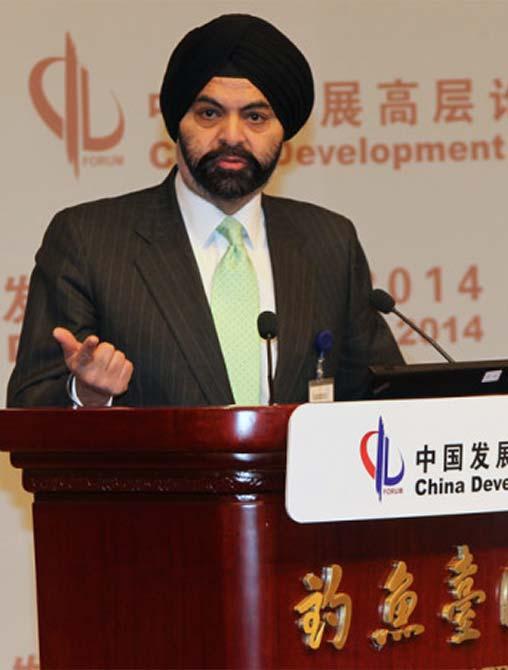 Ajay Banga, the 55-year-old CEO of MasterCard, is on a roll.

The Pune-born University of Delhi alumnus is the only Indian among the top 100 CEOs in Harvard Business Review's list of "Best Performing CEOs in the World". The report was released on October 14.
Banga, who joined MasterCard in 2010 as its chief operating officer, was promoted as CEO in 2011.
The company's shares have since exploded. In the last five years, MasterCard shares have jumped over three times with market value of $110 billion - making its shareholders jubilant in an otherwise muted stock market.
Currently, MasterCard is America's second biggest payment network by market value and handles more than 38 billion transactions a year.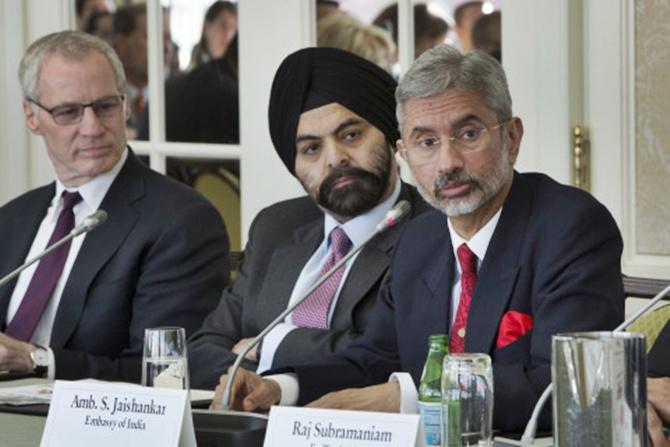 IMAGE:

(L to R) Ron Somers, President, USIBC; Ajay Banga, USIBC Chairman and President & CEO, MasterCard; Dr. S Jaishankar, Ambassador of India to the United States.
Banga joined the elite club of top 100 CEOs at a time when the Harvard Business Review, apart from considering hard stock market numbers, also looked at the environmental, social and governance performance of a company since a CEO took over.
Though Banga's place fell from 64 to 74 this year, he was one of the few top CEOs who held a master's degree in business administration.
Banga did his MBA from the Indian Institute of Management, Ahmedabad in 1981.
So what led to this success? Banga says MasterCard continues to perform well despite a challenging global economy due to its investments in technology and services.
"We're investing in other services, both organically and through acquisitions," Banga said soon after the company's earnings. "We are clearly seeing the benefits of these acquisitions in our business engagements.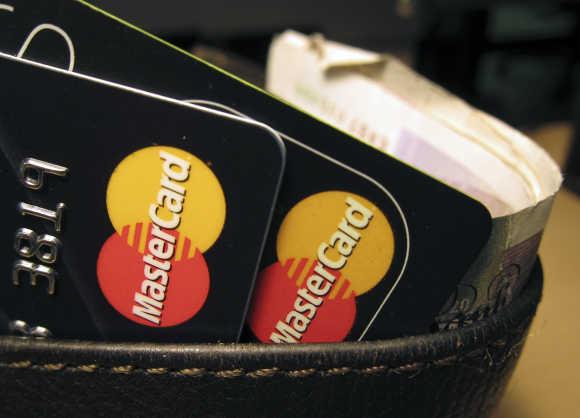 IMAGE: MasterCard continues to perform well despite a challenging global economy. Photograph: Reuters
Apart from running MasterCard, Banga - who is in US President Barack Obama's advisory council - plays an important role in promoting Indo-US business ties as the chairman of the US-India Business Council.

In a meeting between Prime Minister Narendra Modi and American CEOs on September 25, Banga was one of the prominent voices that raised many relevant issues, such as the importance of infrastructure and predictability of policies in India.
"There has been a lot of progress (in Modi's regime) but people want to see more," said Banga.
"I would like to see the rollout of tax reforms like the goods and service tax and I want to see the ability (of companies) to buy land. I would like to see improvement in the ease in doing business in India as these are all important."
Banga said for India to generate a million jobs a month, it needs a combination of manufacturing, tourism and infrastructure.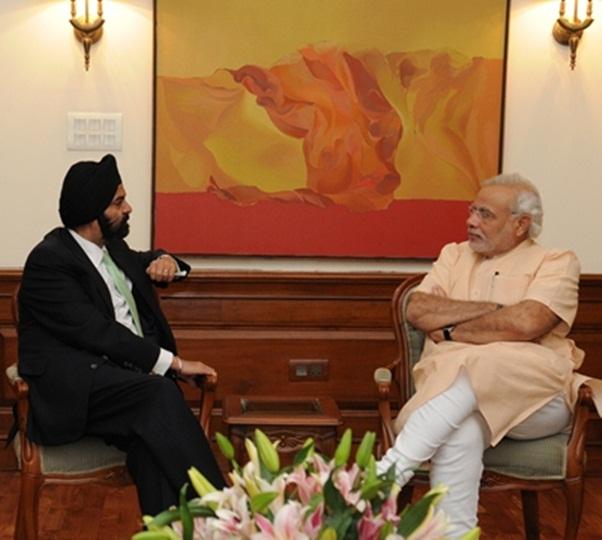 IMAGE: IMAGE: Ajay Banga with Prime Minister Narendra Modi. Photograph, courtesy: Press Information Bureau
"Infrastructure is not just airports and roads, it's also about skills and the right kind of environment to do business," he said.
Banga should know about India's creaking infrastructure. He spent 13 years in Nestle India, working on assignments across sales, marketing and general management.
Later, he spent two years at PepsiCo, where he was instrumental in launching its fast food franchises.
Banga also worked at Citigroup where he was the CEO of the Asia Pacific region and oversaw the bank's efforts in microfinance.
This year, on a visit to his alma mater (IIM-A), when he was asked about the qualities a leader should have, Banga said a true leader should always do well and good for others.
"It's the recognition that your success is tied to the success of others. You know the saying, 'It's lonely at the top'. It's only lonely at the top when you don't bring other people along with you," he said.
"This principle of doing well and doing good holds true for any one person or an organisation, but it's a especially powerful principle for business and the private sector today. In a business sense, it's the idea that the private sector can be a force for growth and a force for good," he said.
It's little wonder then that the MasterCard team is betting big on him.