Campus placements are already in full-swing and hiring plans of many companies, whose expansion plans were stuck due to policy paralysis, are now getting green signals.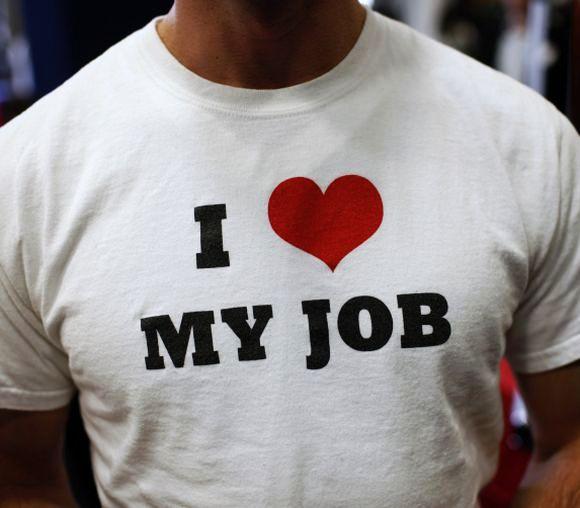 Image: A recruiter for software a company wears a t-shirt as he meets job seekers at a career fair. Photograph: Mike Segar/Reuters
In preparation for 'achche din' promised by the new government, India Inc has big plans for 2015 when it comes to hiring people and doling out pay hikes.
On the platter for the job market, the companies are promising an estimated 3-5 lakh new jobs, an increase of 15-20 per cent in headcount and average pay hike of 10-12 per cent
that can go up to 30 per cent for certain roles and sectors.
These ambitious plans, which experts mostly attribute to an upsurge in business sentiments since the new government took over around middle of the year, would make 2015 a much better year for the job market than 2014.
According to various human resource firms and job consultancy organisations, Indian companies recorded an average hiring growth of 10-12 per cent in 2014, while salary hikes stood at about 8-10 per cent.
With the economy showing signs of an upturn and the positivity continuing in the business sentiment, the experts believe that the hiring activities should get only better and the companies would dole out double-digit salary hike to attract the right talent.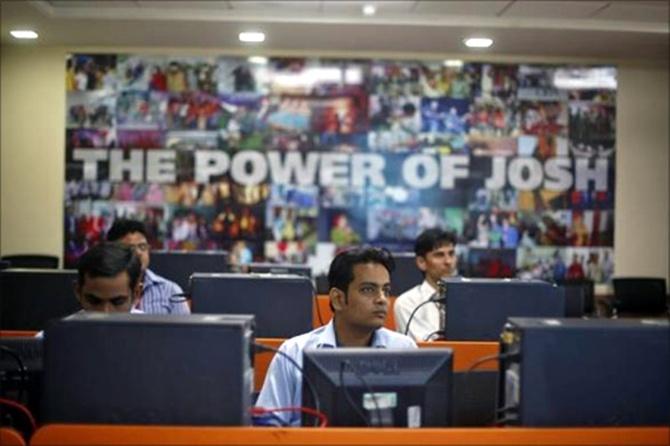 Photograph: Adnan Abidi/Reuters
The job market may get a further boost if foreign firms come to set shop here after certain sectors are opened up for further overseas investments, as promised by the government.
According to the global human resource solution provider, Aon Hewitt, the average salary increase for 2014 as projected by over 500 organisations in India stood at 10 per cent, with a range of 8.8 per cent to 12 per cent across industries.
Global major HayGroup says that the companies in India are likely to dole out an average pay hike of 10.5 per cent in 2015 -- much better than many other countries in Asia.
Another major global consultancy Mercer said that the Indian companies are likely to keep their average salary hike at 11 per cent in 2015, up from 10.6 per cent in 2014.
While hiring growth is expected to be robust across the sectors, IT, healthcare and pharma, manufacturing and engineering and retail could be the primary drivers of hiring followed by telecom, FMCG and financial services, staffing firm TeamLease Services' Senior VP Kunal Sen said.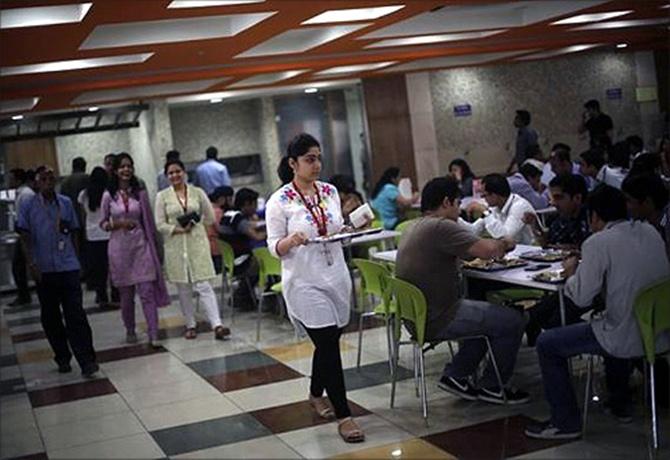 Photograph: Adnan Abidi/Reuters
In order to attract and retain key talent, apart from the general compensation increases, organisations would invest in wellness programs, retirement models, financial wellness, cohesive workforce and partnering with colleges to create specific talent pool. Attrition and growth may remain stable.
According to the Employment Outlook Survey by workforce solutions major ManpowerGroup, Indian employers are expecting a brisk hiring pace for the January-March period and India has also emerged one of the most optimistic nations in the world in terms of hiring plans for the next three months.
Campus placements are already in full-swing and hiring plans of many companies, whose expansion plans were stuck due to policy paralysis, are now getting green signals. Sectors like infrastructure, power, energy, manufacturing, IT, ITES, retail, e-commerce, banking and non-profit sector would also see high demand.
A stable government at the centre is likely to be a major trigger for robust growth in the job market in 2015 as there is likely to be faster passage of policies and legislations.
In addition, the emphasis of the government on the manufacturing sector is expected to create 100 million jobs in the next ten years in the manufacturing, mining and infrastructure sector.
Moreover, initiatives like 'Make in India' would entail significant job creation in the manufacturing, automation sectors in the coming year. While, the plan to create 100 smart cities is expected to fuel job growth further.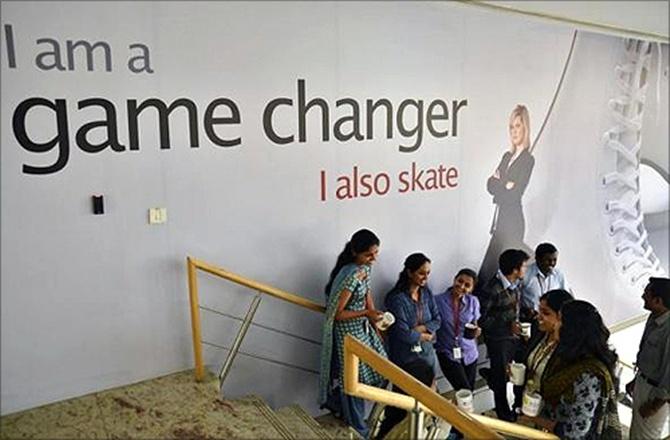 Photograph: Adnan Abidi/Reuters
According to Indian Staffing Federation, an apex body of staffing industry in India, the job growth is likely to touch 12 per cent fuelled by a growing market demand, while salaries can grow by 12-15 per cent in 2015.
Some sectors can see salary escalations in excess of even 30 per cent, ISF President Rituparna Chakraborty said. The HR experts also said that the New Year is expected to be a candidate-driven job market, when companies are likely to go out of their way to lute the perfect candidate.
"Organisations that will emphasise on non-monetised employee benefit programs with a focus to increase employee value proposition will have competitive edge to get key talent. In addition, hiring and retaining critical talent remains a challenge with companies trying to enhance pay for performance programs," said Sambhav Rakyan, Data Services practice leader, Asia Pacific at global professional services company Towers Watson.
Going by various employment indices, the Indian job market has shown an improvement on a month-on-month basis since the start of 2014 and this momentum is expected to continue in the coming year as well.
As per leading job portal Naukri.com, there has been a significant rise in hiring activity since the beginning 2014, while the momentum picked up significantly after May. While the full-year figures are still awaited, the Naukri Job Speak Index for the month of November 2014 showed a 13 per cent hiring growth on a year-on-year basis.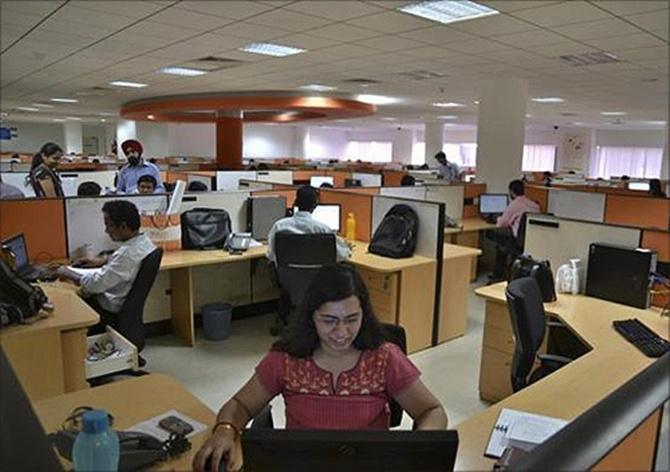 Summing up the year in terms of hiring, executive search portal Headhonchos.com Founder Shiv Agrawal said, "2014 has been a turnaround year as hiring has moved up by a sharp 10 per cent and is likely to grow meaningfully in 2015."
HR experts believe that the confidence that the current government has infused through its proactive approach to business has brought in a huge positivity. "The job scenario in the coming year 2015 seems extremely affirmative," global executive recruitment firm Antal International India's MD Joseph Devasia said.
"The job market will witness an explosive growth with at least 15-20 per cent increase in headcount across sectors except for auto and pharma sector, which may see lesser growth," Devasia added.
Executive search firm GlobalHunt's MD Sunil Goel said that the year 2014 was much better year compared to 2013 in terms of hirings.
After some volatility in the first half due due to elections, the last 6-7 months of the year showed "a pretty consistent and growing number" for hiring activities as the companies began working on their expansion plans.
For 2015, Goel said that the job market was going to be on a robust hiring mode, which can get a further boost from global players coming in to do business in India. "Overall 3-5 lakhs jobs are expected to be created in 2015 as growth in industry continues to rebound under present government," Goel added.