2015 is expected to be a happening year for the real estate sector.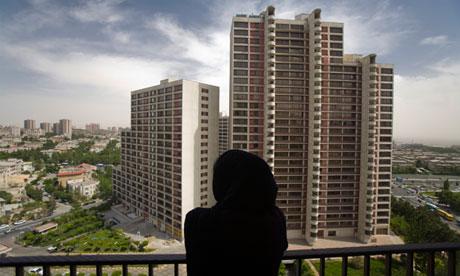 Image: Real estate developers have high hopes of pick-up in demand in 2015. Photograph: Morteza Nikoubazl/Reuters
The second half of 2014 was full of positive surprises for India's real estate sector.
Important events like banks lowering interest rates, RBI offering incentives for infrastructure financing and creation of real estate investment trusts (Reits) were one-of-its-kind initiatives that real estate developers cheered during last year.
And, the two most remarkable events was unveiling of 'Make-in-India' campaign and relaxation of FDI norms in construction sector has also brought in a lot of optimism into the sector, which is most of the times riddled with controversies.
Now, when we have ushered into 2015, real estate developers and experts believe there could be even more interesting trends that would rule the real estate sector.
Lets scroll down to know what's in store for the real estate sector in 2015.
Residential plots to rule the roost
Unlike conventional market trends, residential plots are gaining prominence amid property buyers.
Buyers prefer to buy plots for attractive returns in the mid-to-long term horizon.
This can further be justified by the fact that they are now considering upcoming smart cities, where apartment culture is yet to catch pace.
Also, for the development of these smart cities, smaller areas in the peripheries are being identified.
As this concept is yet to take off in most areas, plots tend to have become a strong investment option.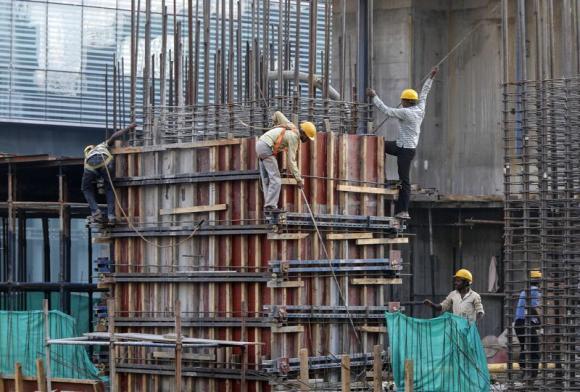 Labourers work at the site of a commercial building under construction in Mumbai. Photograph: Shailesh Andrade/Reuters
Moreover, since these pockets are expected to witness realty growth in the coming years, individual investors are in a hurry to grab opportunities.
South India will gain a lot of traction and here's why
Projects with over 1000 units or above are gaining ground in regions like Devanahalli and Hoskote in Bangalore and Old Mahabalipuram Road (OMR) and Grand Southern Trunk Road (GST) in Chennai.
Interestingly, these projects are situated on the outskirts of the city.
While availability of land parcels are prompting developers to launch these projects, lack of requisite social infrastructure provisions in the area is fuelling demand for the large projects.
A few such projects can be spotted in north India as well.
Heritage cities are a next big thing
The recent initiative by the government to develop various regions as heritage cities will also lead to high realty growth in those cities in the times to come.
The cities to be considered in the 1st phase of development include: Mathura, Amritsar, Ajmer, Varanasi, Vellankani, Kanchipuram and Gaya.
The second phase will include cities such as Puri, Tirupati, Allahabad, Ujjain, Hampi, Rishikesh and Lucknow. While cities like Varanasi, Rishikesh and Lucknow are already seeing considerable realty growth, other cities are likely to join the bandwagon soon.
Industrial corridors to boost infra growth in hinterland
Cities falling along the major industrial corridors are expected to see immense growth in the coming years.
As each corridor passes through various existing industrial clusters, towns and cities, these are likely to become investment hubs.
Thus, once completed, the real estate growth at India's hinterlands, connected via these corridors, will be exponential.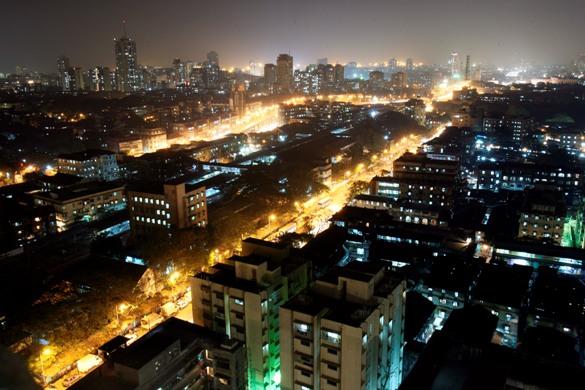 Image: An aerial view of a central district of Mumbai. Photographs: Arko Datta/Reuters
Affordable Housing wil be the buzzword
Affordable housing has become the talk of town ever since BJP, in their manifesto, promised 'housing for all' by 2022.
Post the budget, that opened a jackpot for affordable housing with a mammoth budget of Rs 4,000 crore (Rs 40 billion) and tax incentives for home loans, the mission got another facelift.
In July 2014, RBI also tweaked the definition of affordable houses. As per the changed norms, home loans up to Rs 50,00,000 in metropolitan cities and Rs 40,00,000 in non-metro cities will now come under the purview of affordable housing.
Moreover, RBI accorded the infrastructure status for affordable housing projects. Cashing on this, realty giants such as Mahindra Lifespaces, Tata Housing, Supertech are launching affordable projects in major metro cities.
Faridabad, an emerging hotspot in NCR
Faridabad and even greater Faridabad is expected to be the next hotspots in NCR due to the robust connectivity they have with Noida, Gurgaon, Greater Noida and Delhi.
Greater Faridabad is a newly formed residential and industrial part of the city, and is being developed as a self-sustained sub-city, with malls, wide roads, tall buildings, commercial centres and educational institutions.
There are plans of extending the (Delhi) metro to the city to ease travel between Faridabad and Delhi.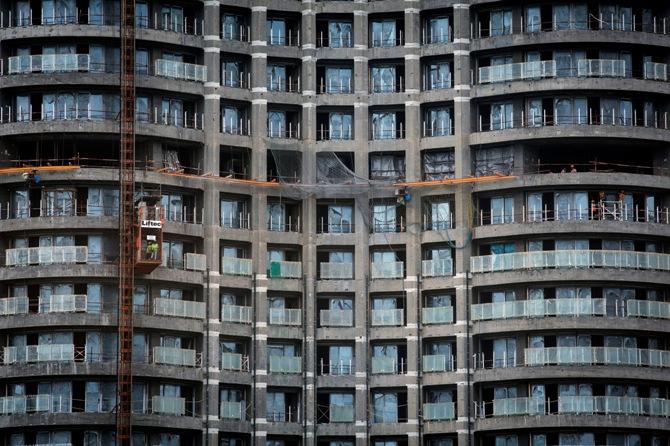 Image: In new Delhi, there is a high demand for amenities like the gym, play area and intercom Photograph: Reuters
Regular versus luxurious amenities
About 50 per cent buyers prefer regular amenities over ultra-luxurious ones, revealed a recent survey by CommonFloor.
For instance more than 85 per cent of the projects in south India prefer play area.
In Western part of the country, security, power back-up, garden, play area, gym and intercom were the most preferred amenities.
Research also suggests that in Northern part, buyers are drawn towards open spaces.
Having said this, if we analyse the pan-India scenario, then more buyers prefer to have basic amenities rather than the earlier trend wherein buyers took fancy to extravagant amenities.
Small is beautiful
Smaller property sizes are now taking precedence over larger units across the metros.
Large swanky homes that are huge on maintenance are no longer an attraction for several metropolitan buyers.
This was also validated by our recent survey where maximum people preferred property sized 800-1,200 sq. ft.
Moreover, understanding the affordability aspect of the prospective buyers, builders are also launching properties that are smaller in size but fall well within the budget of the home buyer.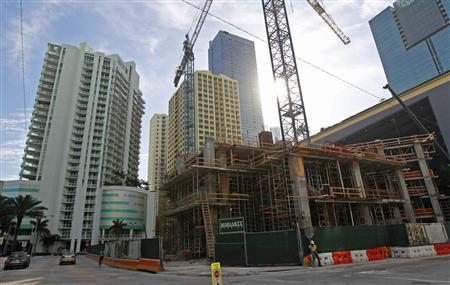 Image: Increasingly, home buyers prefer basic amenities in a new apartment. Photograph: Joe Skipper/Reuters
'Smart City' tag to boost realty prospects
'Smart Cities' is the latest buzzword that has created a wave in the country.
Thus, a lot of development will be seen in and around these cities. Survey findings indicates the ignited interest of buyers towards these potential cities.
It is interesting to note that about 32 per cent respondents showed interest in upcoming smart cities for investment.
While several cities have been proposed, few areas within the cities have also been identified.
For instance, Electronic City in Bangalore and Bandra-Kurla Complex (BKC) in Mumbai.
REITs: Game Changer for Commercial Realty
With 'tax pass through' status for Real Estate Investment Trusts (REITs), commercial real estate is expected to be the next big thing in 2015.
As the sector is reeling through an acute funding pressure, this initiative will give a much-needed fillip to the sector.
REITs will act as the investment vehicle between investors and developers. Recently, Blackstone, American private equity fund, started the process of grouping all the property it holds in India into a Real Estate Investment Trust (REIT).
Even, DLF is planning to monetise some commercial assets worth about $500 million or Rs 3,000 crore (Rs 30 billion).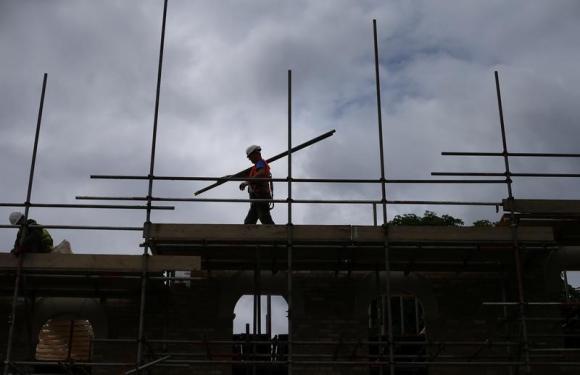 Image: New norms in the real estate sector will boost further investment. Photograph: Andrew Winning/Reuters
Investors back on realty Map
With FDI in construction becoming a reality, the year 2015 will see the return of real estate investors.
With no three-year lock-in period, the major hurdle for the overseas investors is removed.
Thus, now an investor can exit once the project is completed or after the complete trunk infrastructure development.
Bangalore & NCR: High Demand for Ready-to-Move-in properties
Increased demand for ready-to-move-in properties is another major trend that was noticed in 2014 and is likely to continue in 2015 as well.
Inordinate construction delay has pushed demand for ready-to-move-in projects significantly, primarily due to the increasing pressure of EMI plus rental values.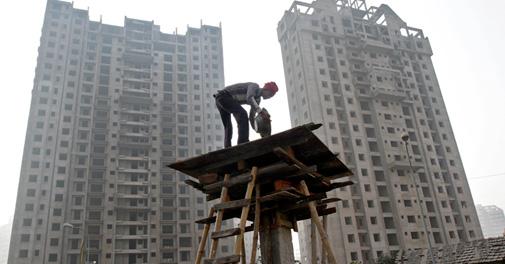 Image: 2015 will see the return of real estate investors. Photograph: Reuters
Resale Properties in abundance
Considerable increase has been recorded in the availability of resale properties.
Bangalore tops the chart with availability of nearly 60 per cent of the overall supply, followed by Pune with 36 per cent and Chennai with 31 per cent.
Similar trend was noticed in National Capital Region and Mumbai Metropolitan Region, where again there was ample availability of resale properties.
Thus, one can see a changing trend in the real estate market wherein investors are also showing an increased interest besides end-users.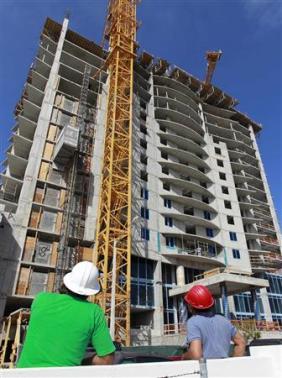 Image: Real estate sector is poised for growth in 2015. Photograph: Joe Skipper/ Reuters
Pune: Investors eyeing peripheral areas
With sky-rocketing property values at the city centre, the development in Pune is seen to be moving towards peripheries.
Research indicates that maximum absorption of units launched in 2014 was seen towards the peripheral areas as against localities within city limits.
This was quite contrary to the conventional trends witnessed in other metros.
The areas with maximum absorption over the year included Alandi, Punawale and Pirangut.
The key reason for this high absorption here could be the affordable property prices in the localities.
In addition, Alandi and Punawale are also potential growth pockets that have been earmarked for future industrial development.
Thus, it would be interesting to see how realty development in these areas shape up in the coming year.
MMR: Eastern Suburbs Gaining Prominence
It is no hidden truth that improved connectivity leads to the realty growth of the area.
There are several examples where the inception of metro has led to the rise in the capital values.
Similar trend is being noticed in the eastern suburbs of MMR. With monorail and metro doing the rounds, areas such as Chembur, Ghatkoper West, Vikhroli, to name a few, have witnessed a considerable growth in the last one year.
Powered by