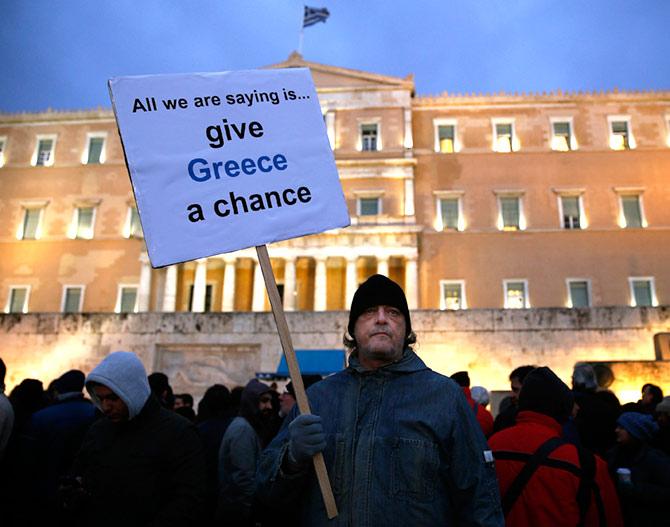 Image: A man takes part in a anti-austerity pro-government demo in front of the parliament in Athens February 11, 2015. Thousands of Greeks took to the streets of Athens to support their new anti-austerity government which was locked in tough negotiations with euro zone partners in Brussels. Photograph: Yannis Behrakis/Reuters

Euro zone leaders will hold an emergency summit on Monday to try to avert a Greek default after bank withdrawals accelerated and government revenue slumped as Athens and its international creditors remain deadlocked over a debt deal, says a Reuters report.

Finance ministers of the 19-nation currency bloc failed to make any breakthrough on a cash-for-reforms agreement at talks in Luxembourg on Thursday, just 12 days before Greece must make a crucial debt repayment to the International Monetary Fund.
Greece said it had put a 'radical proposal' for budget monitoring on the table to show its willingness to reach a deal, Finance Minister Yanis Varoufakis said.
Here are a few glimpses of the crisis-ridden country: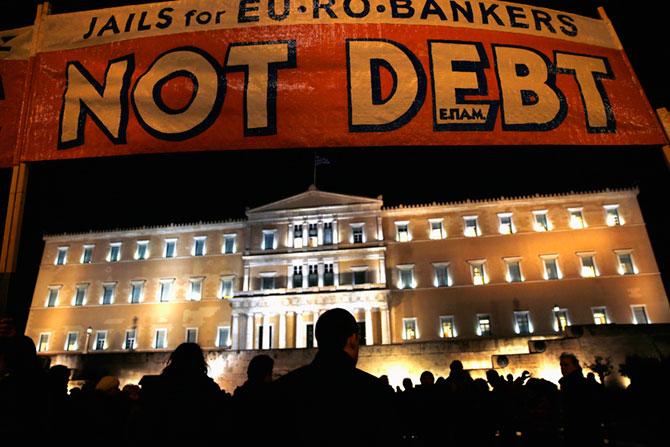 Image: People are silhouetted in front of the parliament during an anti-austerity pro-government demonstration in Athens February 16, 2015. Greece and its creditors made little progress in recent days toward an interim funding deal, officials involved in the talks said, citing wide differences over how the Athens government can deliver on election promises and satisfy lenders. Photograph: Yannis Behrakis/Reuters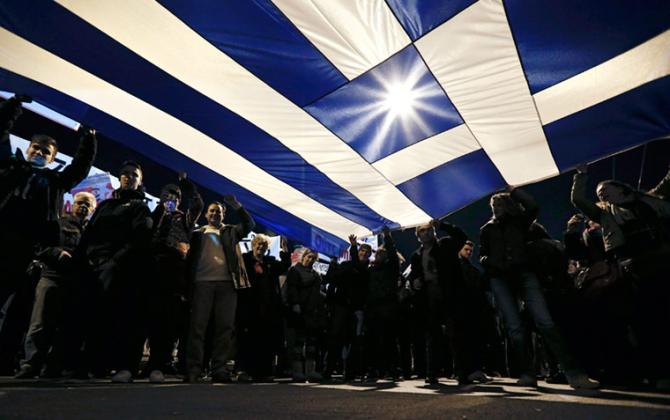 Image: Protesters hold a giant Greek national flag during an anti-austerity and pro-government demonstration in front of the parliament in Athens February 15, 2015. Greece recently said it was confident of reaching agreement in negotiations with its euro zone partners but reiterated it would not accept harsh austerity strings in any debt pact. Photograph: Alkis Konstantinidis/Reuters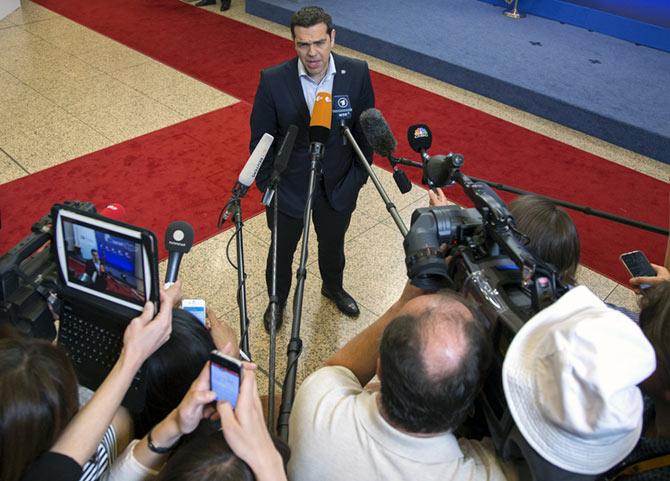 Image: Greek Prime Minister Alexis Tsipras holds a statement while leaving the European Council headquarters on the first day of an EU-CELAC Latin America summit in Brussels, Belgium June 11, 2015. European leaders realise Greece needs a viable solution to its debt crisis that allows the country to return to growth, Tsipras said on Thursday, after talks with the leaders of France and Germany. "We decided to intensify the efforts to bridge the remaining differences and proceed, I believe, to a solution in the coming period," Tsipras told reporters after talks in Brussels. Photograph: Yves Herman/Reuters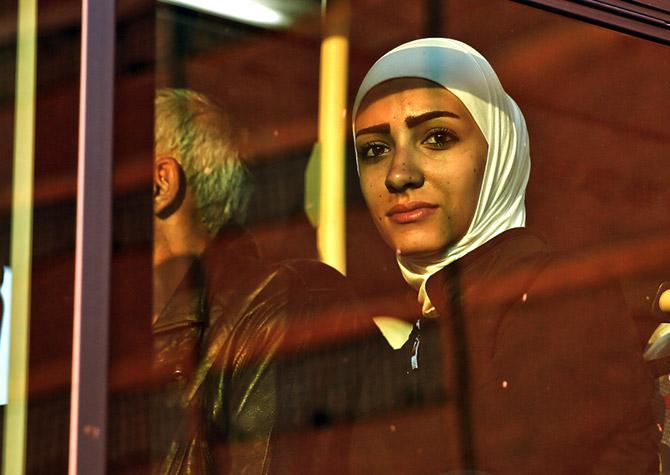 Image: A Syrian refugee woman sits in a bus after after arriving in the port of Piraeus near Athens June 14, 2015. Over 1,800 predominantly Syrian refugees and other immigrants who crossed the sea from the Turkish coast to the Greek island of Lesvos were ferried to Athens after the Greek authorities supplied them with temporary documents. An average of 600 migrants were arriving in Greece by sea each day, many of them fleeing poverty and conflicts in Syria, Iraq and Libya, at a time when the Athens government is facing its own economic crisis, said the UN refugee agency UNHCR. About 42,000 migrants arrived in Greece this year, six times the same period last year, the UNHCR said. Photograph: Yannis Behrakis/Reuters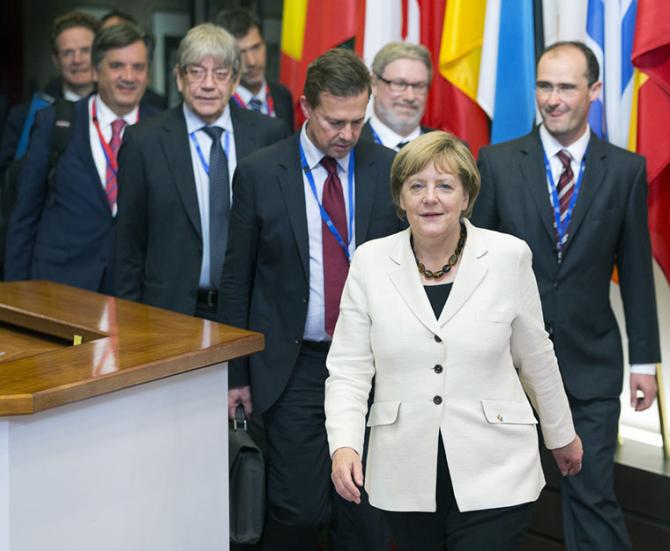 Image: German Chancellor Angela Merkel leaves the European Council headquarters on the first day of an EU-CELAC Latin America summit in Brussels, Belgium June 11, 2015. European leaders realise Greece needs a viable solution to its debt crisis that allows the country to return to growth, Greek Prime Minister Alexis Tsipras said on Thursday, after talks with the leaders of France and Germany. Photograph: Yves Herman/Reuters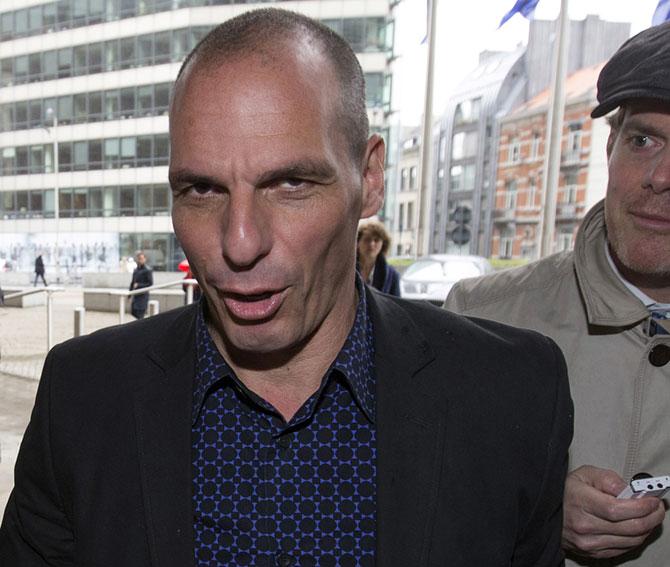 Image: Greek Finance Minister Yanis Varoufakis arrives at the European Commission headquarters ahead of a meeting with European Commissioner for Economic and Financial Affairs Pierre Moscovici in Brussels May 5, 2015. Greece stepped up diplomacy with euro zone partners on Tuesday to try to avert a potentially catastrophic funding crunch this month, when it must make a big debt repayment to the IMF as cash reserves dry up. Photograph: Yves Herman/Reuters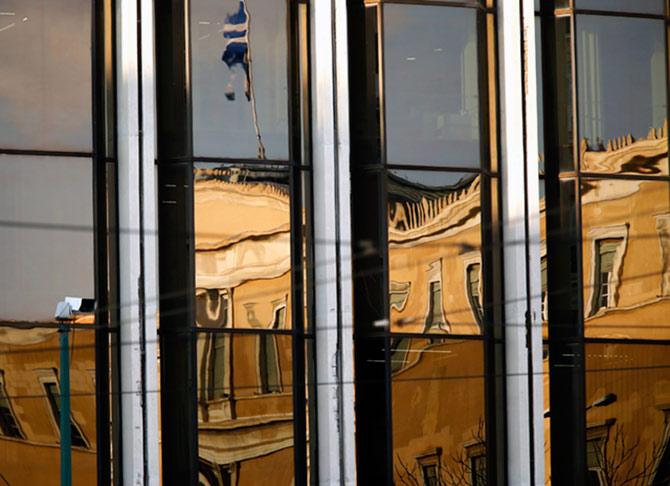 Image: The Greek parliament is reflected on the Foreign Ministry building in Athens March 12, 2015. Greece promised its lenders to reform its state sector, to implement labour reforms, such as opening up closed professions, to make its economy more competitive, improve its tax administration and fight tax evasion and corruption, which have been widely blamed for the debt crisis. Photograph: Yannis Behrakis/Reuters