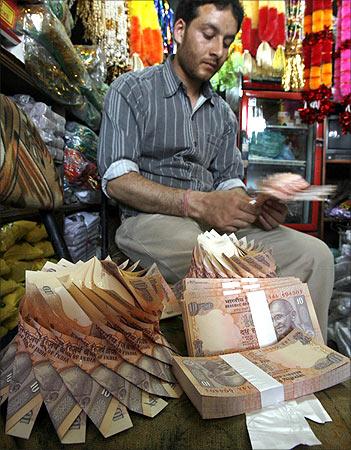 Image: Managing his personal finances well is half the battle won. Photograph: Reuters
India has seen enormous entrepreneurial activity in the last few years.

These initiatives have spanned industries, like e-commerce, green initiatives, technology firms, education, and many others, motivating many graduates from colleges to start their own venture. While this is a positive trend, entrepreneurs must be aware of the financial risks that starting a new venture carry with it especially when they have a family to look after.
As a survey points out, an overwhelming 80 per cent of new ventures fail and out of those, 90 per cent fail because of financial problems.

Often, financial woes of the business are intricately linked to the personal financial problems of the entrepreneur himself, and vice versa.
Hence, for an entrepreneur, managing his personal finances well is half the battle won when it comes to managing his venture's finances.

Let us look at 5 ways he can manage his personal finances.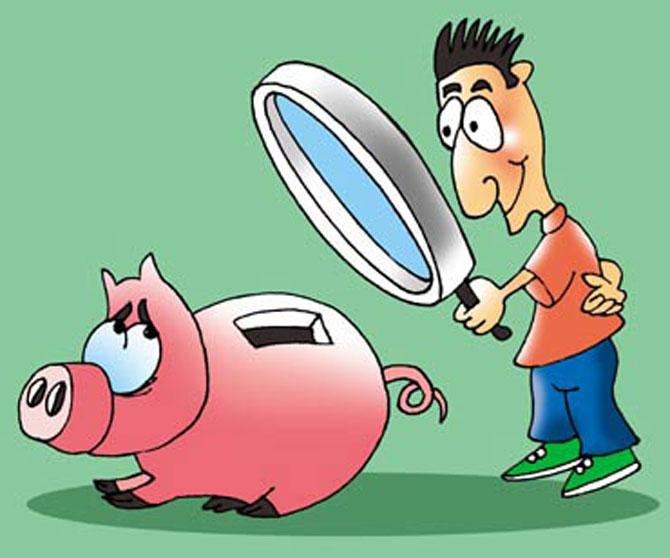 Image: It is advisable for entrepreneurs to build an emergency corpus of funds. Illustration: Uttam Ghosh/Rediff.com
Build a corpus for personal expenses
Entrepreneurship is all about long-term execution. On average, it takes about 4-10 years to get the business profitable and out of the red.

You have to survive for many years without earning anything from your venture. Even if your earns a surplus, the money will eventually have to be ploughed back in to the business on expenses such as marketing, sales, building portfolio of services, hiring etc. Equally, instances abound when the business would require healthy doses of funds from the entrepreneur out of his personal savings.

This can apply tremendous pressure on the entrepreneur's financial position if he is not prepared for such exigencies.
It is advisable for entrepreneurs to build an emergency corpus of funds that can sustain them for 3-4 years even if the venture does not yield any income during that period.

A corpus helps you forget about the month-to-month survival and lets you focus on building your business. The importance of having a corpus cannot be underestimated.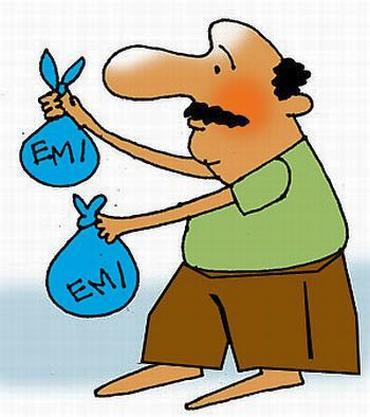 Image: Clear all the loans you have taken before you start a business.
Illustration: Uttam Ghosh/Rediff.com
Clear all dues before plunging in
Clear all the loans you have taken before you start a business. The burden of EMI will be heavy on you.

This is because you cannot control the EMI outflow. You can control personal expenses, family expenses, postpone purchases, take intermittent help from friends and family, but you cannot do anything with EMI payments.

You have no choice but to pay it, month after month, year after year. Hence clearing all your dues before plunging into your venture is absolutely vital.
This also works in your favour in another way.

Clearing all your dues builds a better credit history with CIBIL and other credit score reporting agencies.

A better credit score on the personal front is essential to get loans and funds for your business.

Banks and lenders tend to lend to entrepreneurs who have clean chits in terms of credit history since they represent lower risk.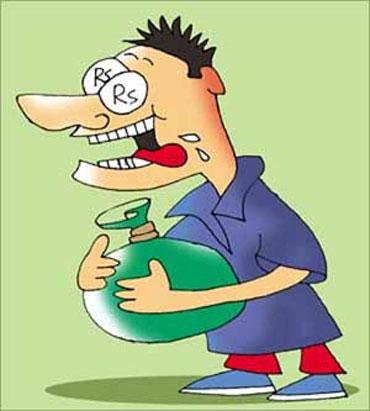 Image: Small savings done regularly add to your financial muscle. Illustration: Uttam Ghosh/Rediff.com
Make use of technology to save time and money
Every rupee you save in a personal capacity does two things.

One, small savings done regularly add to your financial muscle, which can afford you peace of mind as you go about running your venture.

Two, it adds to your ability to inject doses of funds into your business if need be by dipping into your personal savings.
There are many ways you can go about scrounging the last rupee you can find and leave no money on the table. For instance, you can use internet telephony to save money on telephone expenses.

Group subscription to telecom provider can save you money. In case you cannot do without using your cell phone for communication, you could take advantage of the within-network feature of telecom service providers to route your calls at lower tariffs than outside-network calls attract.

Some internet service providers offer group discounts where you can take 3-10 connections at a much lower price than what you pay individually.
You can also automate many tasks for which human intervention is required.

For an entrepreneur, time is literally money; and any time saved or effort reduced on the personal front can mean giving his business that much more of a chance to succeed. Online bill payments, recurring money transfers, payments through money transfer, use of mobile telephony, SMS services and many other technology-enabled services can save you much time and money by removing the need for your personal intervention in routine tasks.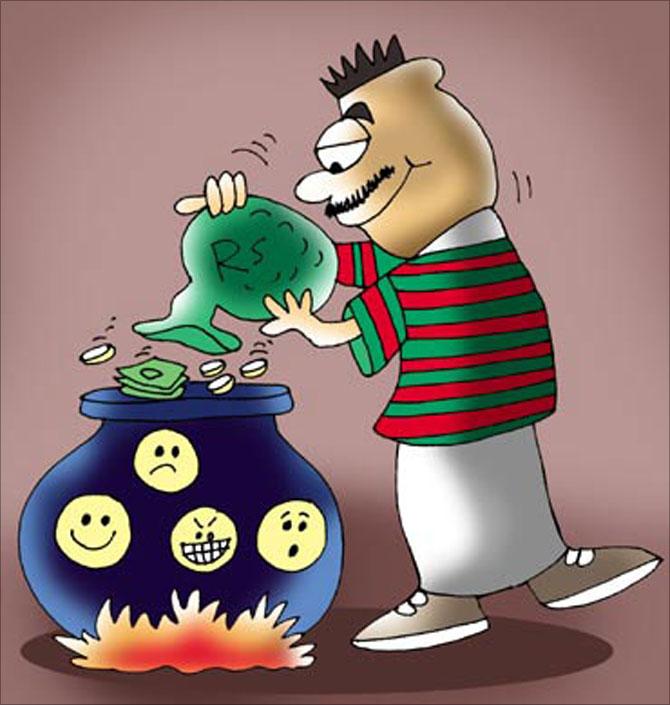 Image: Prune the list of non-essential expense heads and keep it to a bare minimum. Illustration: Uttam Ghosh/Rediff.com
Make a personal financial plan and stick to it
"Failing to plan is equivalent to planning to fail."

Cliched as this quote is, nothing could be truer for a businessman. Just as a business plan would set the overall direction of your business, a personal financial plan can do wonders in matching your personal expenses to your income sources and staving off unwelcome shortages.
First, set off the essential expense heads against the known and predictable sources of income. This is called the Matching Principle. This way, known expenses are sure to be addressed since the income heads matched to them are certain and guaranteed.
Next, similarly, match the non-essential expense heads against intermittent or unpredictable sources of income. By doing this, you will not only limit unnecessary spend but also try to increase the predictability or quantum, or both, of the uncertain income.
Also, prune the list of non-essential expense heads and keep it to a bare minimum. If possible, avoid them altogether. If you have any surplus left over after the essential expenses are taken care of in a month, resist the temptation to use the surplus to feed your non-essential expenses. Instead, carry forward the surplus to the next month's sources of income.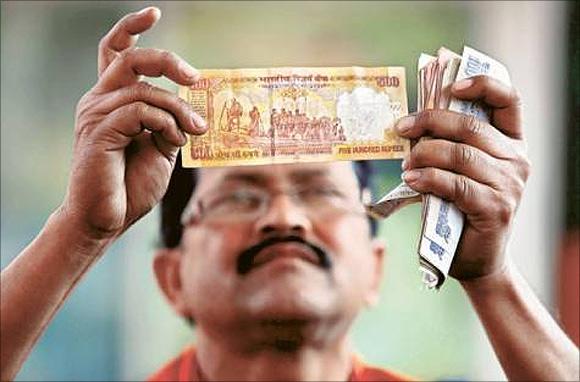 Image: Minute lifestyle changes can add substantially to personal savings. Photograph: Reuters
Make vital lifestyle changes
A lot of people advise entrepreneurs to separate personal expenses and business expenses.

This is certainly a desired habit. However, entrepreneurs rarely follow it. When businesses demand money, when you can see the result of spending little extra on marketing, or on training your human resources, or decorating office space, you can hardly decide against it. In almost all cases, entrepreneurs dip into their personal fund and invest.
Since this phenomenon is almost inevitable, what is desirable here is to minimize the personal expenses or postpone big personal expenses.

For example, if you like to buy clothes and accessories often, you can reduce the frequency or opt for cheaper brands. If you enjoyed expensive vodka, may be you can switch to becoming a teetotaller once in a while.

If you are a compulsive vacationer, a less extravagant holiday may be kinder on your wallet, which may already be feeling the stress.

Minute lifestyle changes can add substantially to personal savings, which in turn adds to your ability to fund your business when the requirement arises.
The non-financial aspect of things
Very often, entrepreneurs ignore their family. While work-related alibis abound, your family is the one that possibly sacrifices more than you do.

Remember that you are struggling to fulfil your dream while they are struggling with you to fulfil your dream. Respect your spouse and children.

They word as hard as you do to make your life comfortable within the given means. Finally, work hard and believe in the power up there.
Powered by

BankBazaar.com is an online marketplace where you can instantly get loan rate quotes, compare and apply online for your personal loan, home loan and credit card needs from India's leading banks and NBFCs.
Copyright 2008 www.BankBazaar.com. All rights reserved.