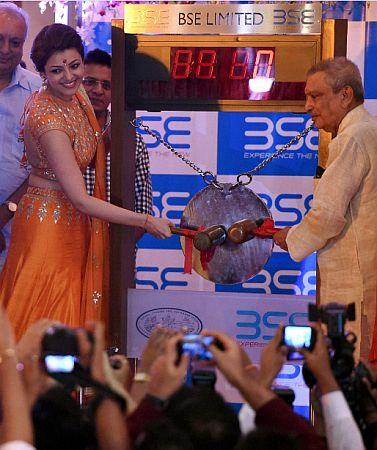 Image: Bollywood actress Kajal Agarwal during the auspicious Muhurat trade on the first day of Diwali at the Bombay Stock Exchange. Photograph: Shashank Parade/PTI
Here are a few stock recommendations for Samvat 2071 by leading brokerage and research houses.
Samvat 2070 has been an eventful year for the Indian stock market, with the benchmark indices – the S&P BSE Sensex and the CNX Nifty rising 26 per cent each – hitting an all-time high of 27,354.99 and 8,180.20, respectively, in a liquidity and hope-driven rally that a stable government at the Centre after the general election outcome in May will help kickstart the comatose reform process and implement key policy decisions.
The BSE Mid-and Small-cap indices outperformed their larger peers rising 72 per cent and 52 per cent, respectively, during Samvat 2070.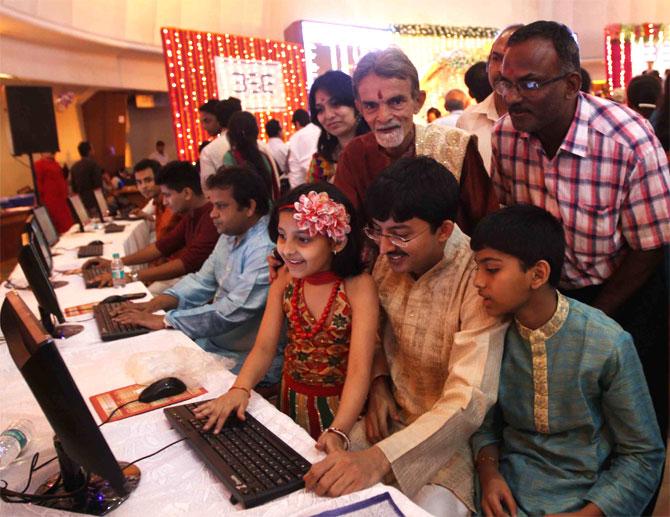 Image: Indian markets are likely to trend higher and see a multi-year bull run. Photograph: Sahil Salvi
Outlook and stock picks
While most analysts believe that the Indian markets are likely to trend higher and see a multi-year bull run on the back of an improvement in the economy as well as corporate earnings, they are mindful of the possible slowdown in global economy and its impact on India.
"For FY15, we would expect a Sensex EPS growth of around 15 per cent. We would expect earnings growth to accelerate once investment activity is revived and average at 20–25 per cent for the next several years. Considering that the valuation in several sectors like public sector banks, capital goods and infrastructure are extremely subdued, we would expect significant outperformance from these sectors in the next few quarters," points out Varun Goel, head of portfolio management services at Karvy.
While capital goods, consumer durables, auto, banking and pharma indices rallied between 40 per cent and 60 per cent in Samvat 2070, a look at the top 10 stock recommendations (based on potential upside in percentage terms from the current levels) for Samvat 2071 from leading brokerage and research houses in the country suggests that select stocks can gain up to 70 per cent.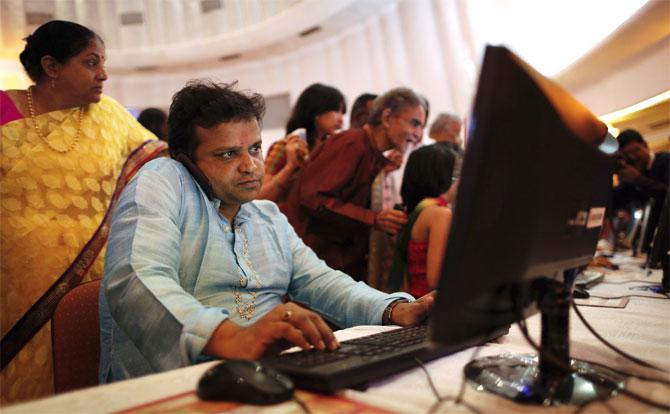 Image: Indian markets to see new highs. Photograph: Reuters
Infosys, ICICI Bank, Punjab National Bank, Reliance Industries, State Bank of India (SBI), ACC and Hero MotoCorp are some of the large-cap stocks that are part of the top recommendations across brokerages.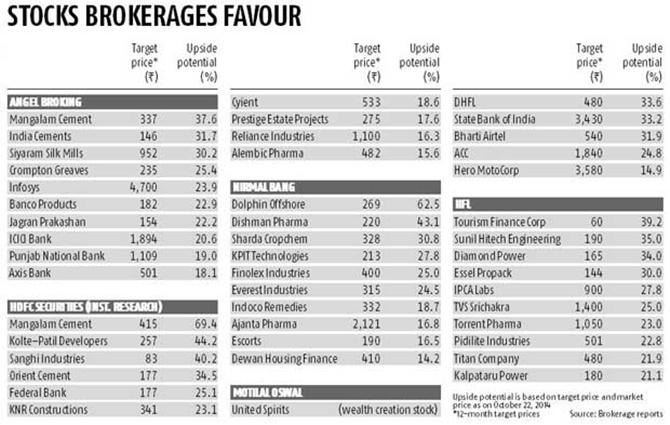 Analysts at HDFC Securities, for instance, believe that FY15 is a year of transition for Infosys and expect the company's growth to accelerate in FY16. "We see scope for Infosys to narrow the growth differential with peers, which could boost P/E expansion for the stock. Better clarity on capital allocation could be an additional trigger," they said in a report.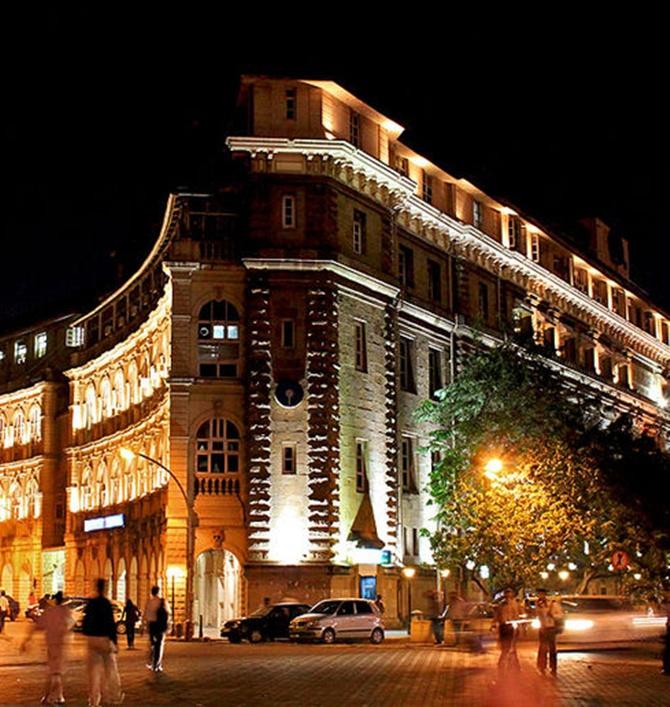 SBI remains Motilal Oswal's preferred pick to play the recovery in Indian economy. Since SBI is highly levered to macro-economic conditions, an improvement in investment climate and interest rates would assuage asset quality fears, they believe.
Kolte Patil Developers, KNR Constructions and Prestige Estate Projects are some of the stocks brokerages remain bullish on in the real estate/infrastructure sector.