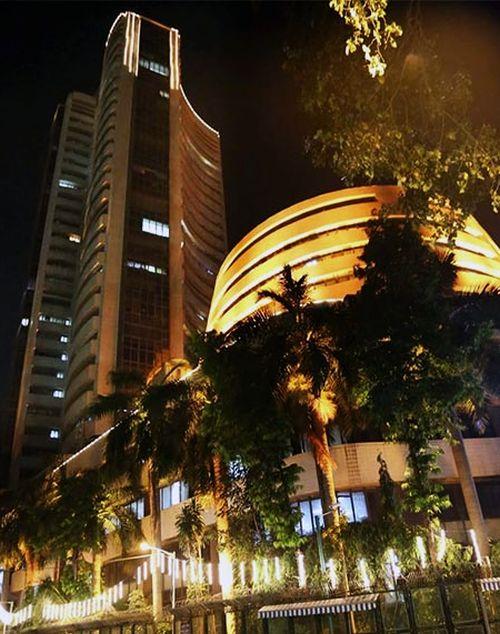 Image: Bombay Stock Exchange. Photograph, Courtesy: BSE
Half of the sharp rise in stocks in 2014 was driven by re-ratings - rise in price-to-earning ratios on hopes the new government would turn around the economy which will reflect in corporate earnings.
While valuation of the broader market is close to long-term averages, mid-caps are in an exuberant territory.

For the broader market to re-rate further, earning growth has to pick up. That is yet to happen. Against this backdrop, investors are likely to seek more action from the government in the New Year. Until then, the market could consolidate.
While the government has started taking its first reform measures - higher foreign direct investment in defence, railways and insurance, diesel price regulation and an ordinance to ease land acquistion by industry - the market has to contend with some external risks as well.
The world economic growth, barring in the US, remains fragile.

While slower global growth has brought down prices of commodities and is beneficial for India, it will also hurt our exports, besides pulling down the overall Sensex earnings and limiting FII (foreign institutional investors) flows from oil-rich nations.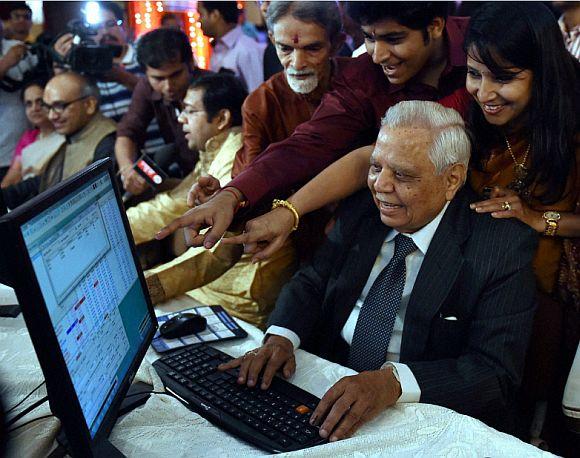 Image: Investors will have to be selective in picking stocks for higher returns. Photograph: Shashank Parade/PTI
Corporates, though, are slowly deleveraging, but the pain area - power and infrastructure - has hardly seen a significant improvement.
The good part is that India's fiscal and current account deficits have improved, and inflation is down.

But with US seen raising interest rate in mid-2015, an act that could bring volatility to emerging markets like India, the Reserve Bank might not cut its policy rate in a hurry. Interest costs for companies, therefore, might not come down meaningfully anytime soon.
Given these, and even as the markets are expected to rise 9-20 per cent from their current levels - Sensex could rise from 27,500 to the 30,000-33,000 level - investors will have to be selective in picking stocks for higher returns.
Experts advise against high-beta, highly indebted firms and vulnerable mid- and small-caps. A rise in global risk could see FIIs slow down purchases. But some experts believe an improving domestic environment could bring high inflows from local investors, providing some cushion.
Here are the top 10 stocks according to India's leading research houses, such as Morgan Stanley, Macquarie, Ambit, Credit Suisse, IIFL, Angel Broking and Religare.

These stocks have been selected on the basis of being recommended by more than one research house, potential returns and earnings growth.