A glass door of a bank in Kerala was broken and clashes with bank officials erupted in Gujarat sparking police action as the weekend rush added to the chaos over demonetisation across the country for the third day on Saturday with serpentine queues outside bank branches growing longer.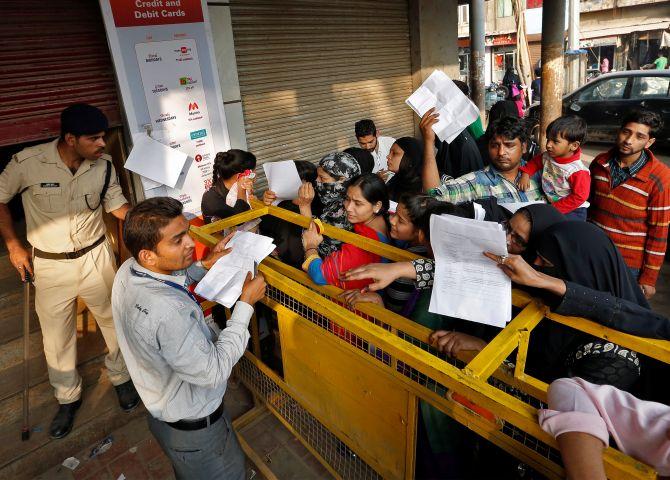 IMAGE: A bank employee hands out request slips for the exchange of old high denomination bank notes at a bank in Old Delhi. Photograph: Cathal McNaughton/Reuters
The endless wait to get valid currency notes was also taking a toll on people waiting for hours in long queues as there were reports of many elderly people collapsing out of fatigue.
Security was beefed up outside bank branches as millions of anxious people struggling to buy daily items waited for hours to exchange the banned Rs 500 and Rs 1,000 notes even as the ATMs went dry soon after they were stocked due to the huge rush.
"The crowd is more since it's a weekend and many people have an off today. The crowd is swelling by the hour," a senior police officer said in Delhi.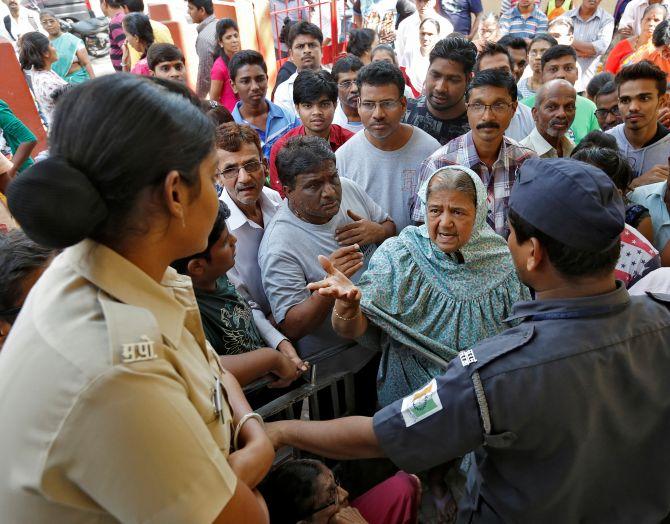 IMAGE: People argue with the security after they are stopped from entering a bank in Mumbai. Photograph: Danish Siddiqui/Reuters
Enraged over not getting ration from a fair price shop due to shortage of cash, people at Bardaha village in Chhattarpur in Madhya Pradesh allegedly looted groceries from the outlet in protest. Police claimed there was no such incident.
To add to the misery of cash-strapped people, several ATMs were non-functional.
Angry customers waiting outside a branch of the State Bank of Travancore at Vavvakkam in Kollam district allegedly broke a glass door after it decided to down shutters due to heavy rush when around 200 persons were inside the premises.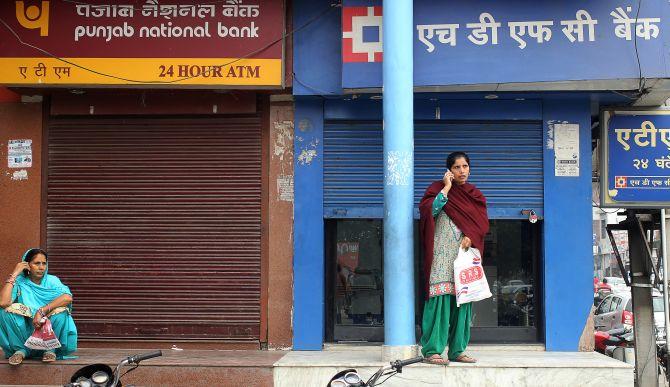 IMAGE: Women wait for ATM counters to open in Jammu. Photograph: Mukesh Gupta/Reuters
Apparently angered over this, more than 200 persons who were waiting in the queue outside the branch allegedly broke a glass door of the bank, officials said, adding the situation is now under control.
At several places in Gujarat, people clashed with bank officials leading to police action including lathi-charge and detention.
At a bank branch at Shihori in Banaskantha district, police resorted to lathi-charge after people clashed with bank officials when they refused to dispense money.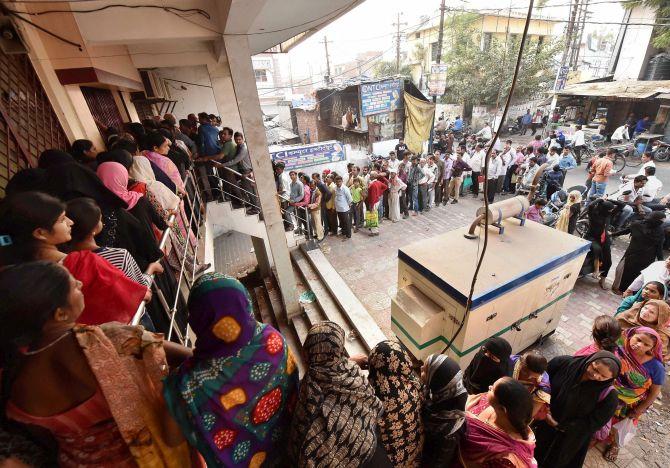 IMAGE: People queue up outside a bank to exchange their old Rs 1000 and 500 notes in Lucknow. Photograph: Nand Kumar/PTI Photo
Similar incident was reported at a bank branch in Abdasa in Kutch when people clashed with bank officials.
In the national capital, Delhi Police deployed more forces to maintain calm and warned of strict action against those trying to spread rumours on social media.
To manage anxious crowds, as many as 3,400 personnel of paramilitary and Delhi Police along with 200 quick reaction teams were deployed at ATMs.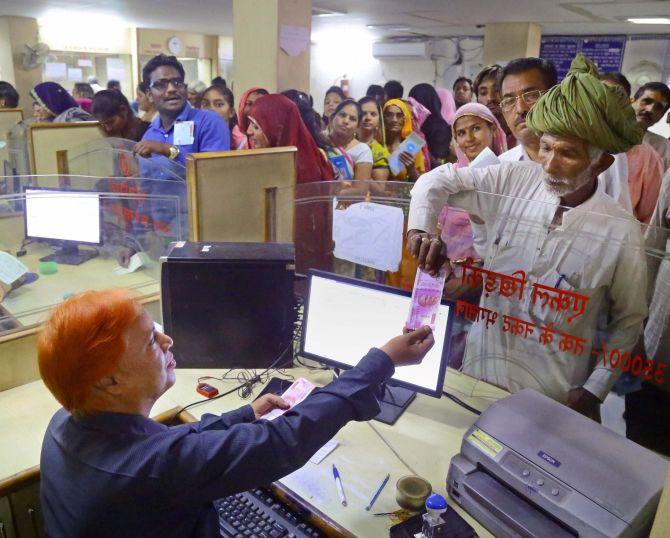 IMAGE: A person collects a Rs 2000 note in a bank in Beawar. Photograph: PTI Photo
In addition to this, Rapid Action Force jawans were also deployed at certain points to monitor the situation. Senior officers of Delhi Police were also present at important junctions to oversee the security arrangements.
People complained of difficulties with several ATMs remaining closed, and banks exchanging the scrapped Rs 500 and Rs 1,000 notes with coins and small denomination currency.
"Nobody is accepting old currency notes, even hospitals are now refusing to do so because of which we are facing difficulty. Several ATMs still remain closed," said Ramesh Agarwal, who came to exchange his old notes at a bank in Ahmedabad.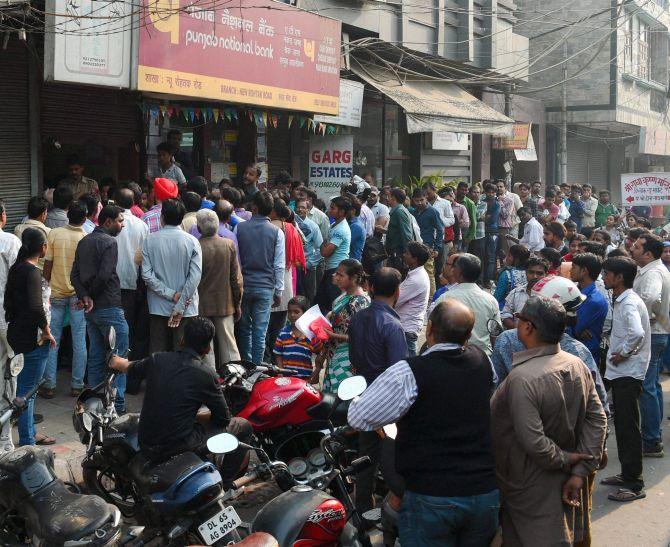 IMAGE: Rapid Action Force jawans were also deployed at certain points to ensure that there was no chaos. Photograph: PTI Photo
A bank in Mumbai is said to have floated a mobile ATM to dispense money to customers.
Shrikant Manohar, who drew money from the mobile ATM said, "It was no less than a surprise. People lined up for hours, while I got cash with this mobile ATM as it came to my doorsteps."