As the market value of BSE-listed firms soared to Rs 100 trillion on Friday, (November 28), experts and industry stalwarts hailed it as one of the biggest news in the 140-year history of India's equity market.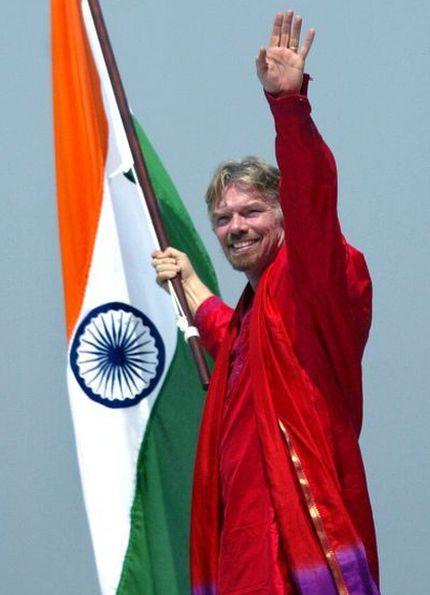 Image:

Virgin Atlantic chairman Richard Branson holds Indian national flag on the wing of a Virgin Atlantic aircraft at Bombay international airport.

Photograph: Adnan Abidi/Reuters
Market watchers say achieving Rs 100 trillion market cap in a single day is a reflection of India's growth potential from global perspective. India is all set to grow at exponential rate from here on, they say.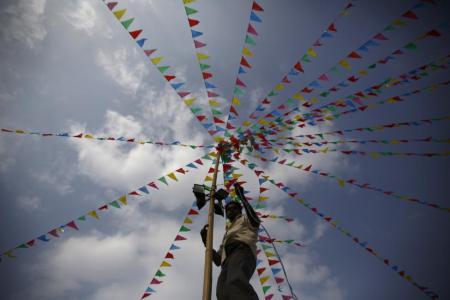 Image: India set to pick up growth Photograph:

Anindito Mukherjee/Reuters
Take a look what market biggies have to say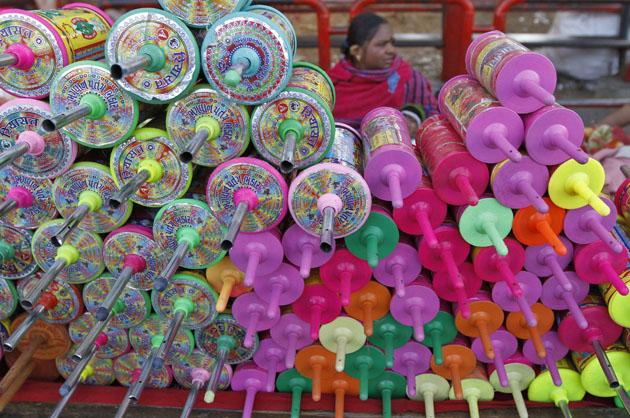 Image: A vendor sits next to her stall of reels of threads used to fly kites at the international kite festival held in Ahmedabad Photograph: Amit Dave/Reuters
Aashish Kamat , CEO of UBS
This glorious moment cements India further as a growing world economic power.
I believe this gets India to roughly 2.5 per cent of the world market cap and the 9th largest equity market globally.
And, if the new government delivers on the economic front it will further see India rise to new heights, given not too many countries are showing the growth/investment potential.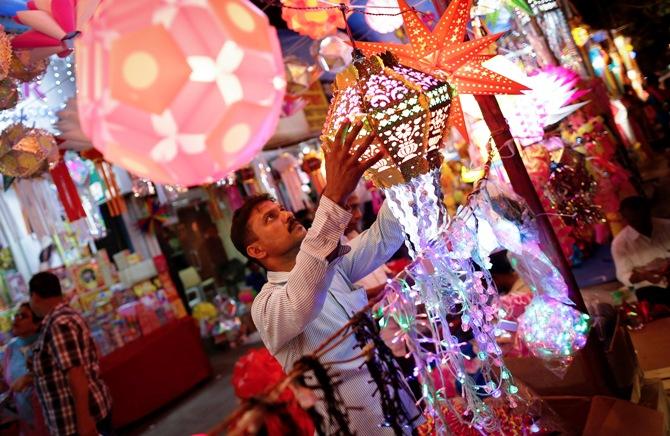 Image: A vendor hangs a lantern for sale at a Diwali market in Mumbai. Photograph: Danish Siddiqui/Reuters
Sanjay Kumar Singh, CEO of BNP Paribas Securities
Sensex Rs 100 trillion market cap can be compared with the market cap of India GDP which is marginally above the 10-year average of 80 per cent.
With the GDP widely anticipated to grow consistently over the next few years on the back of expected reforms and as the economic cycle turns for the better, the market cap is likely to sustain this growth trend.
We, therefore, see no reason to worry about the market getting top heavy.
India continues to be a long term story and with the actions of various central banks ensuring ample liquidity, India will continue to attract a fair share of flows.
Kalpana Morparia, CEO, JP Morgan India
This is indeed a historic milestone and is testimony to the vision, spirit and hard work of Indian entrepreneurs and the stakeholders who partner them in their businesses.
India's economic potential is well documented. The capital markets have a symbiotic role to play with policy makers in fostering growth.
A substantial improvement in the policy environment (on the back of the decisive verdict in the recent Elections) should enable a sharp pick-up in the growth momentum in the years ahead leading to sustained wealth creation for investors.
Our equity markets now rank among the top 10 in the world in terms of size and it is a matter of time before we make it to the top 5."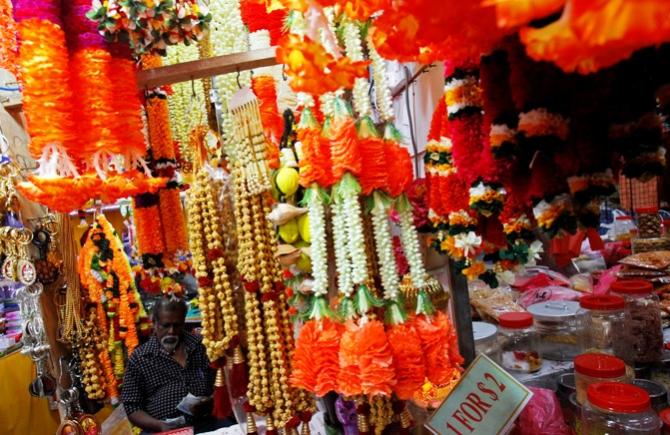 Image: A vendor sells festive flowers. Photograph: Edgar Su/Reuters
Anand Rathi, Founder & Chairman, Anand Rathi
It is a matter of pride for the country and especially for BSE when the market cap of companies listed on the exchange has exceeded Rs 100 lakh crore or Rs 100 trillion mark reflecting the bullish economic outlook and the investor interest in equities.
Being the oldest exchange of the country and responsible for creating the brand SENSEX, this day will go down in the history as a landmark day for financial markets in India.
BSE can take pride in having the state-of the-art exchange benchmarking global platforms and practices as also inculcating the equity cult in the country through trading of perhaps the largest no of listed companies anywhere in the world.
It makes me more delighted having participated in professionalising, modernising it technologically, strengthening risk management practices through settlement and Trade Guarantee fund as also setting up depository (CDSL) and penetrating the reach through BOLT while I was associated with it as a President (BSE).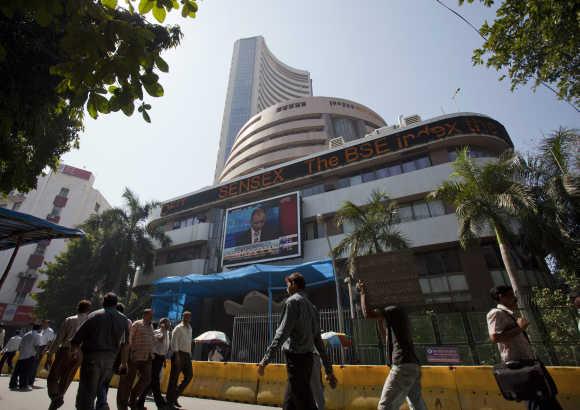 Image: Bombay Stock Exchange. Photograph: Reuters
R Venkataraman, Managing Director, IIFL
The BSE has silently chronicled India's enterprising spirit for over a century. Being Asia's oldest stock exchange, it has achieved many firsts in the history of the region's capital market and I congratulate the exchange as it achieves yet another milestone.
We have a strong association with BSE.
Both the entities have been at the forefront of bringing positive changes to capital markets, which has helped the common investor in terms of ease of trading and lower cost of trading.
As a leading financial services company IIFL will be happy to join in any initiatives of BSE to expand the market and enable a larger population to benefit from the India growth story. Like BSE, we will also continue our financial literacy effort to educate the common man about the world of investing.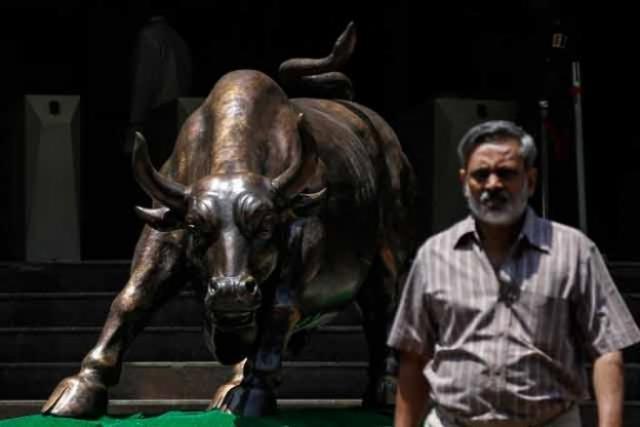 Image: Indian equity market is set for a bull run, say experts. Photograph: Reuters
Raghu Kumar, Cofounder, RKSV
Rs 100 trillion market cap now pins the BSE as the first exchange ever in India to hit the milestone.
There are almost 5500 companies listed on the BSE; however, the top 100 themselves make up 72 lakh crore (Rs 72 trillion) in market capitalisation. With the huge influx of FII funds this year and a steady increase in domestic retail investor participation, the event bears a moment of significance for the Indian capital markets.
This is big news as it gives investors across India and around the world that India is to be invested in right now. Some might look at it in a skeptical fashion, but from a FII and investor confidence perspective, nothing beats a headline that proclaims Asia's oldest exchange having 100 lakh crore (Rs 100 trillion) in market capitalization among its listed companies.
Himanshu Kaji, Executive Director and Group COO, Edelweiss
The BSE has so far been an epitome of service excellence and transparency across its 139 year run so far; also something that has ensured its splendid dream run towards its Rs 100 lakh crore (Rs 100 trillion0 market cap.
With systems and processes across exchanges worldwide integrating into a larger global standard of service delivery, the victory lies in constantly being able to adapt and integrate newer system innovations to ensure being relevant to the new age customer."
Leo Puri, Managing Director, UTI Asset Management
India joins an elite club of countries, with BSE market capitalisation crossing 100 lakh crore (Rs 100 trillion) milestone. With faster economic growth and strong polity, the next 100 lakh crore or Rs 100 trillion should be faster to achieve.