Image: Prime Minister Narendra Modi. Photograph:

Amit Dave/Reuters
India will fall well short of its $9.5 billion privatisation target this year, despite a big stock market rally that has attracted foreign investors, two government sources told Reuters.
Prime Minister Narendra Modi's ambitious selloff agenda has met resistance from labour unions and faces delays because of bureaucratic upheaval caused by a purge of the top team at the finance ministry that handles asset sales.
Officials say a fall in global oil prices will reduce the government's subsidy burden, giving it a greater chance of hitting its ambitious fiscal deficit target of 4.1 per cent of gross domestic product in the fiscal year to March.
But they warn that revenues from share sales could reach just half the target, forcing Modi to take the axe again to spending after he last week banned bureaucrats from flying first class and staying at five-star hotels.
"At the most we could raise Rs 250-300 billion ($4.1-$4.8 billion) from disinvestment this year," one senior finance ministry official with direct knowledge of the matter told Reuters.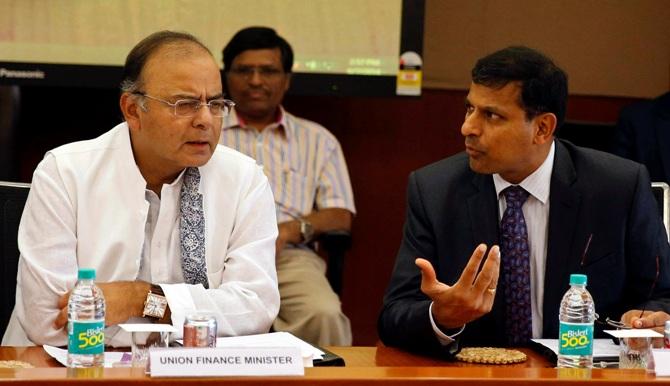 Image:

Arun Jaitley (L) listens to Reserve Bank of India Governor Raghuram Rajan during a financial stability development council meeting in Mumbai June 7, 2014.

Photograph: Reuters
India's bloated public sector is a legacy of its Soviet-style planned economy but, despite Modi's pro-business platform, it avoids even using the word "privatisation".
"It's more a divestment model," Finance Minister Arun Jaitley told a World Economic Forum conference on Wednesday, stressing that the state would keep control over strategic state enterprises.
In his maiden budget, Jaitley set a target of raising Rs 584 billion ($9.5 billion) from the sale of shares in companies in which the state has majority and minority stakes.
Yet the government has so far raised Rs 518 million, less than one thousandth of its target, with more than half of the fiscal year gone.
The budget assumes that sell-off proceeds will generate 5.6 per cent of total revenues.
"Given the sluggish growth of tax revenues in (the) first half of 2014/15, meeting the disinvestment target would be crucial to ensure that the fiscal deficit remains in line with the budgeted level," said Aditi Nayar, an economist at ICRA, the Indian arm of rating agency Moody's.
BANNER SALE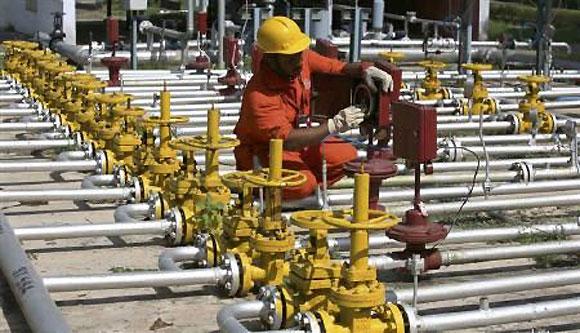 Image: An ONGC worker at a plant. Photograph:

Reuters
The government is in the final stages of preparing its first major sale to raise about $2.8 billion from a 5 per cent stake in energy explorer Oil and Natural Gas Corporation, two sources told Reuters on Wednesday.
The Cabinet has already given approval to sell a 10 per cent stake in Coal India that could help raise nearly $3 billion, besides shares in power producer NHPC and Steel Authority of India.
But it faces opposition from trade unions to the Coal India sale, amid a power crisis caused by chronic shortfalls in production.
Over 400,000 Coal India employees, who blocked the previous government's attempt to sell a 10 per cent stake, have threatened to strike on November 24 against privatisation.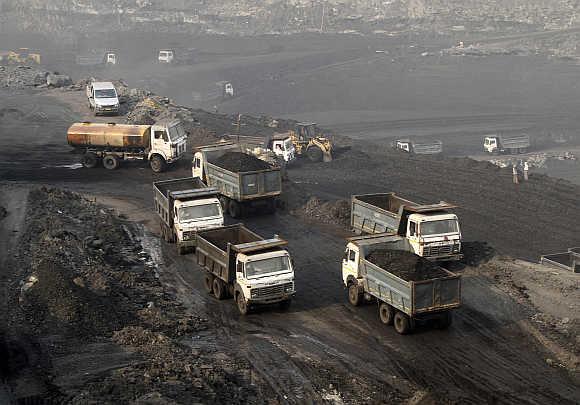 Image:

Trucks move in the Mahanadi coal fields, near Talcher town, in Orissa.

Photograph:

Rupak De Chowdhuri/Reuters



"Employees do not want privatisation because it will encourage plundering of mines and push the workers back into slavery," said Jibon Roy, general secretary, All India Coal Workers Federation.
The government's plans to raise Rs 150 billion by selling its minority stakes in Hindustan Zinc and BALCO face a legal challenge from trade unions that have gone to the Supreme Court.
"I see no possibility of share sales in Hindustan Zinc and BALCO this fiscal year," said another senior finance ministry official with knowledge of the matter.
Officials worry that a shortfall in proceeds from share sales and lower tax collections due to the weak economic recovery could force them to cut budgeted spending again.
"The situation is not as bad as last year, but we may need expenditure cuts, maybe of Rs 200-250 billion," said the first source, adding there could be savings in capital spending as some ministries were unable to spend allocated funds.
In the last four years, India has raised 758 billion rupees against a budgeted target of Rs 1.5 trillion from the share sale programme.
($1 = Rs 61.42)