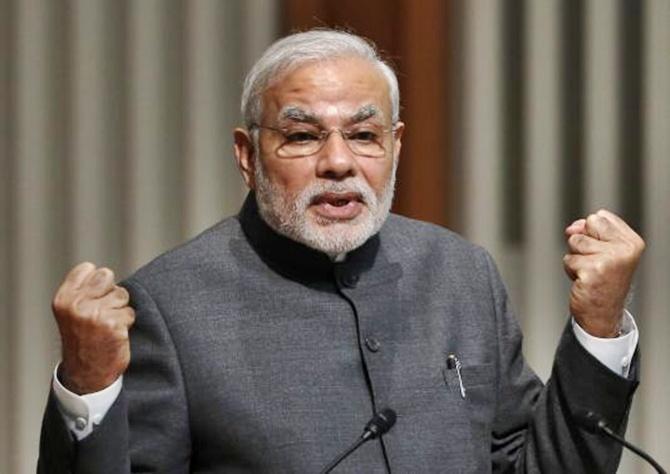 Prime Minister Narendra Modi makes a speech as he attends a luncheon organized by Japan Business Federation (Keidanren) in Tokyo. Photograph: Yuya Shino/Reuters
Hardselling India as a manufacturing destination, Prime Minister Narendra Modi on Tuesday invited Japanese investments, saying the era of "red tape" has been replaced by "red carpet" with ease of doing business and liberalisation.
Addressing Japanese investors at a business symposium organised by Nikkei and Jetro, Japan's trade promotion body, he talked about his vision of 'Make in India' and cited the decisions of his 100-day old government to create ease for doing business.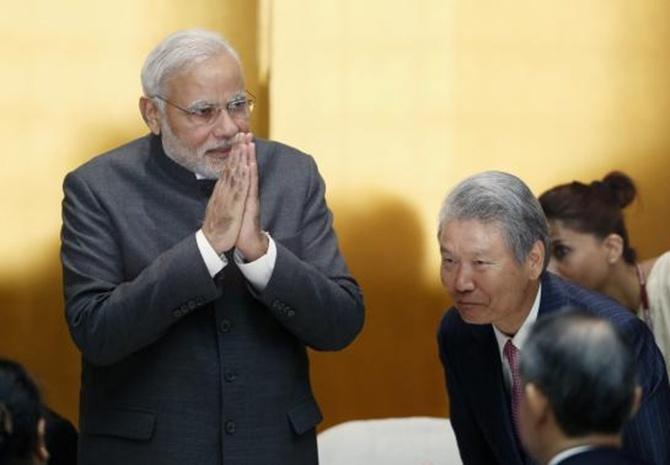 Prime Minister Narendra Modi attends a luncheon organized by Japan Business Federation (Keidanren) in Tokyo. Photograph: Yuya Shino/Reuters
"No other country offers such an opportunity" as India, given the fact that it has democracy, demography and demand, Modi said on the fourth-day of his trip, a day after he addressed investors and businessmen on Monday at another event.
The Prime Minister asked business leaders to "try their luck" by investing in India, contending that they could do "miracles" in terms of profits through low-cost manufacturing.
"What do manufacturers want? They look for low-cost manufacturing. They don't want high-cost manufacturing. Cheap labour, skilled manpower, ease of business and liberalised environment. Then it becomes economically viable in India.
"Trillions and trillions of dollars need to be invested in India. The electronic market especially the mobile handset sector is a big market with a potential," he said, adding the government has put digital India plans for 125 crore people on a mission mode.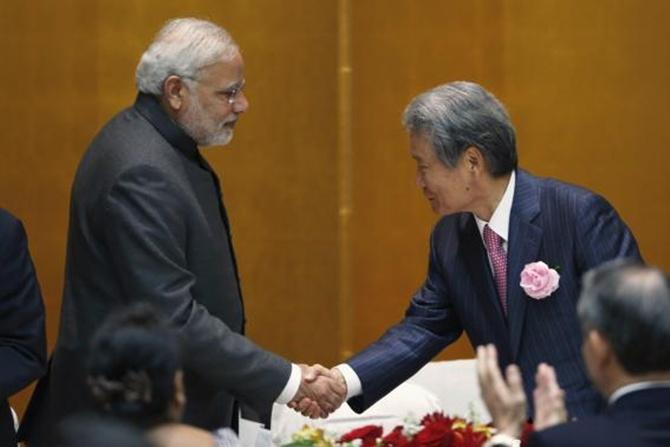 Prime Minister Narendra Modi shakes hands with chairman of Japan Business Federation (Keidanren) Sadayuki Sakakibara . Photograph: Yuya Shino/Reuters
Arguing why India provides a big potential, he said plans for metro construction in about 50 cities and renewable energy sector offers big opportunities.
"Bharat is ready to invite you. Make in India whatever facilities you want, they are there," he said wooing Japanese business leaders.
Modi particularly flagged the opportunities available in small and medium industries and in IT sector, saying India has expertise in software and Japan has expertise in hardware, which need to be inter-linked.
"Without Japan, India is incomplete and without India, Japan is incomplete," the Prime Minister said while giving a call for charting new history between the two countries on the economic front.
"I have come to assure you that there is no Red Tape but Red Carpet in India. For the ease of business, we have changed so many rules. Never has earlier any government done so much in such a short time," he said, while underlining the "speed" at which decisions are taken by his government.
"India is ready to welcome you for Make in India. You get ready to come to India. Whatever facilities you require, we will provide," he said.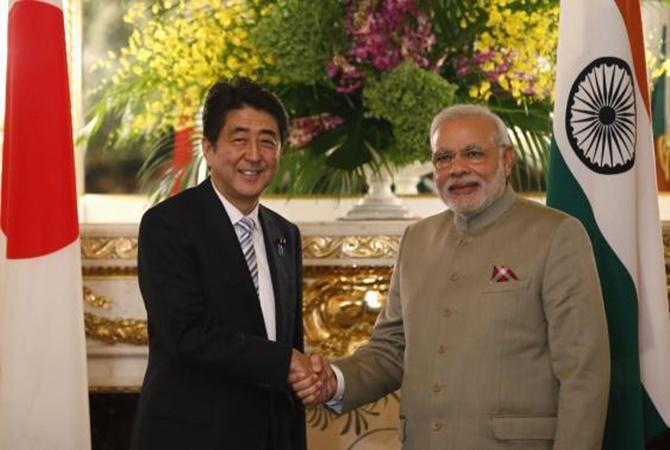 Prime Minister Narendra Modi and Japan's Prime Minister Shinzo Abe shake hands before their talks at the state guest house in Tokyo. Photograph: Toru Hanai/Reuters
"I invite you to come for peace and progress of Asia. We need to work together. Try your luck, try your capabilities," he said, while noting that a market of 125 crore people were waiting.
"You can meet the requirements not only of India but of the world by manufacturing in India," he said.
He said his government had made policy changes to create ease for business and cited the jump in the first quarter GDP growth to 5.7 per cent which used to hover below 5 per cent in last 2-3 years.
Projecting India as a potential hub for manufacturing, Modi said India is a "god gifted location" for reaching out to global markets as it has vibrant sea coasts, skilled manpower and low-cost raw material.
Wooing the Japanese business leaders, he told them, "what miracle you do in 10 years, you can do in two years. Such are the possibilities." He said India guarantees democracy, safety, security and justice.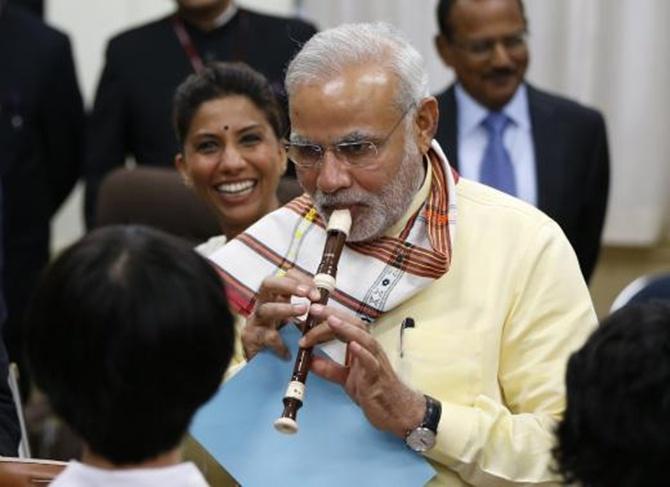 Prime Minister Narendra Modi tries to play a soprano recorder before school children at a music class during a visit at Taimei Elementary School in Tokyo. Photograph: Issei Kato /Reuters
Talking about his 'Make in India' vision, the Prime Minister said the intent was to build a brand name of products made in the country that would have credibility of quality like those of Japanese-made items.
Across the world, people want low-cost products and the goods manufactured in India could be economically-viable for the Japanese businesses.
He was asked why he prefers only small and medium businesses from Japan to enter India. In his response, he quipped, "even the small from Japan is big for India."
Another question was how he could retain his 'nationalist' image if foreign companies make products in the country. Replying to this, he said there is no contradiction as "I see it as expansion."
He said there is no change in identity if tourist goes to any place.