Natural farming, termed Zero Budget Natural Farming in India, has been adopted by upwards of 972 villages.
Will all of India's 650,000 villages take to it?
Sanjeeb Mukherjee examines the pros and cons.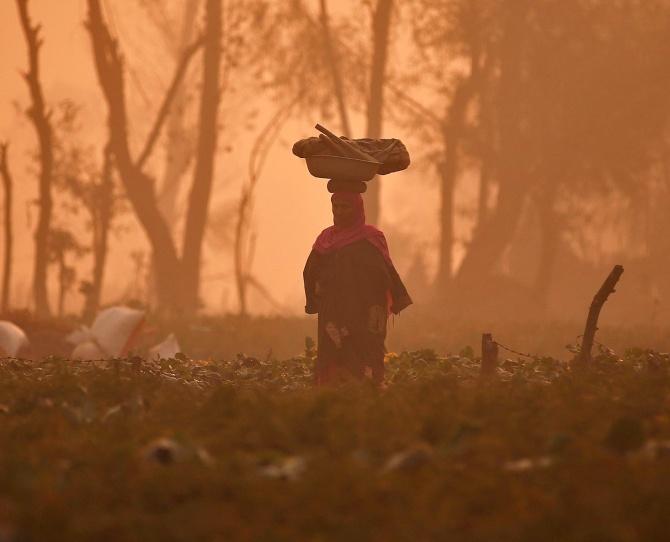 Subhash Palekar and his Zero Budget Natural Farming are again in the news.

The government's Economic Survey of 2018-2019 advocated it as a lucrative livelihood option for small farmers.
A day after, Finance Minister Nirmala Sitharaman in her budget speech, mentioned the method as one of the innovative models through which farmers' income could be doubled by 2022.

ZBNF has been in practice for almost 10 years, in various forms.
Japanese scientist and philosopher Masanobu Fukuoka first popularised natural farming, practising it in his family farm in Shikoku.

Natural farming is conceptually different from organic cultivation, though there are often mistaken as one and the same. Palekar's effort popularised ZBNF in this country. It got a fillip in 2015, when the Andhra Pradesh government started a non-profit organisation to popularise it among farmers.

Called the Rythu Sadhikara Samstha, the non-profit body, with financial support from Azim Premji Philanthropic Initiatives and the state government, got 138,000 farmers to try ZBNF. In two years, 150,000 acres were brought under the model.

Later, the farming practice spread to other parts of the country, largely due to the efforts of Palekar and his team. According to the 2018-2019 Economic Survey, Karnataka and Himachal Pradesh are the other states where this is gaining in popularity.

As on date, ZBNF is being implemented in 131 clusters covering 704 villages under the Centre's Rashtriya Krishi Vikas Yojana. And, 1,300 clusters covering 268 villages under the Paramparagat Krishi Vikas Yojana among 163,034 farmers, says the Survey.

In Himachal, officials say around 4,000 farmers are adopting the practice and the state is planning to become the first fully ZBNF-compliant state by 2022.

What exactly is ZBNF? According to a 2018 report from the Council for Energy, Environment and Water, done by Saurabh Tripathi, Shruti Nagbhushan and Tauseef Shahidi, it involves four components.

One, beejamrutham or microbial coating of seeds using cow dung, and urine-based formulations. Two, jeevamrutham or application of a concoction made with cow dung, cow urine, jaggery, pulse flour, water, and soil to multiply soil microbes. Three, mulching, or applying a layer of organic material to the soil surface, to prevent water evaporation and contribute to soil humus formation. Four, waaphasa or soil aeration through a favourable micro climate in the soil.

For insect and pest management, ZBNF propagates the use of various decoctions made from cow dung, cow urine, lilac, and green chillies, called kashyams.

Is ZBNF beneficial?
The CEEW study, done between 2016 and 2017, is based on crop-cutting experiments in 13 districts of Andhra Pradesh where ZBNF was being practised, as part of the state government's RySS. It found a sharp decline in input costs and improvement in yields among farmers who used the technique.

Clearly, Palekar and his technique has some takers.
But, given the scale and size of India's farm economy, does this technique have the capacity to spread across the country and deliver similar results in all agro-climatic conditions?

Though on-field studies are being conducted at various levels and in various universities, including by the official Indian Council of Agricultural Research, to understand the methods, value and viability for farmers in various agro-climatic zones, none has reached any definite conclusion so far.

"The biggest threat to Indian tomato growers today is from a pest called tuta absoluta which entered the country in 2015 and could wipe out entire fields in short time. Our studies have shown that there is just 5 per cent infestation of this deadly pest in fields which have used ZBNF, while in organic fields it is 60 per cent and in fields where chemical pesticides have been used, the incidence is 20 per cent, despite four-times application of harmful pesticide," said Rajeshwar Singh Chandel, principal scientist at the state-run Dr YS Parmar, University of Horticulture and Forestry, Solan, Himachal Pradesh.


In the next two years, he said, there will be properly documented evidence, based on field studies, to show the impact of ZBNF on farmers' fields, their incomes and yields.

Not all seem convinced. Mahendra Dev, director at the Indira Gandhi Institute of Development Research, said it could be difficult to replicate the model on a large scale.
"It can be one of the models to double farmers' income but not the only solution, as yield growth through ZBNF over a longer period of time in comparison to conventional methods isn't known. More tests and studies in various agro-climatic zones need to be done before any firm plan is made for a nationwide push. Else, it could be counter-productive," he said.

Ram Kaundinya, director-general of the Federation of Seed Industry of India, said there needed to be a scientific evaluation of the sustainability of ZBNF, on its impact on yields and whether it can be scaled up to cover 140 million farmers.
"I am not saying it is bad or good but every technology has its own place where it gives best results. ZBNF has its own space but it needs to evaluated first, where it can be scaled up. Also, if this technique was so attractive, why it is confined to a few farmers for so long?" he asked.

Within the NITI Aayog, which has been championing the cause of ZBNF through its vice-chairman, Rajiv Kumar, there seem two distinct views on scalability and efficacy.
While Kumar seems convinced about the beneficial impact of ZBNF, others differ.
'Chemical farming is not remunerative'
Subhash Palekar has been one of the oldest proponents of Zero Budget Natural Farming in India. He discusses techniques and their long-term impact on boosting crop yields and raising farm incomes, in an interview with Sanjeeb Mukherjee.
Could ZBNF be scaled up nationally? Questions are being raised on the technique's efficacy.
I don't know who is questioning the efficacy of ZBNF and its potential to be scaled up. This technique can very much be scaled up and used by all farmers in India but it won't happen overnight or in the next two years. It will take time.
Five years back, Prime Minister Modi assured farmers of doubling their income by 2022. He gave this assurance with the hope that agricultural scientists would develop such techniques. In the past five years, has any scientist developed a single such technique?
It was then that NITI Aayog, under instructions from the PM, started looking for technologies through which this could be done, and simultaneously reduce global warming. And, zeroed in on ZBNF. When the whole world is looking to reduce its carbon footprint, who wants to increase the same by spreading the use of chemical farming in India?
There are complaints that farmers who adopted ZBNF reverted to conventional farming, as the returns weren't good enough after the first few years.
Absolutely wrong. Anyone who has adopted my technique starts getting a return which is higher than in organic farming methods and much more than chemical-based farming, from the first year itself. There are models running in various places which are showing such returns and are sustainable.
If your technique is so good, why hasn't it been adopted so far by significant numbers of farmers?
What is the way out if we need to double our production, as population is increasing but availability of land is limited? Farmers are actually leaving farming, as chemical farming is not remunerative. More, who would want to die due to cancer or diabetes by eating chemicals-laced food? All these problems are due to the poisonous food we eat. The solution to all these lies in natural farming.
There are questions on ZBNF. Many say proper studies haven't been done on the technique and its efficacy in various agro-climatic zones.
All those spreading these rumours should be sent to GB Pant University of Agriculture & Technology in Pantnagar (Uttarakhand) or Himachal Pradesh Agriculture University, Palampur. Or the ICAR, where a lot of works and field studies covering all aspects are being done on ZBNF. We have scientific evidence of the efficacy of this technique for all farmers.
Your expectations from the central government, now that there seems to be all-round interest in this technique?
Well, the government can't make a law to force people to adopt ZBNF. This is a democracy. What the government will do is that it will offer this technique as an alternative to farmers, compared to organic farming and chemical farming. Then, it is up to the farmers to see which is most beneficial for them.