"People are more interested in India now than ever before. So it's has been a good engagement," Chief Minister Devendra Fadnavis said.
Promoting Maharashtra as one of the best investment destinations for investors, Chief Minister Devendra Fadnavis has been wooing investors in Silicon Valley.
"We need more investment in Maharashtra and that's the objective of our visit," Maharashtra Chief Minister Devendra Fadnavis told Rediff.com on the sidelines of the 'Invest in India and Make in Maharashtra' roundtable event held July 1, in Palo Alto, California organised by the Maharashtra Industrial Development Corporation (MIDC) along with Venture capitalists in partnership with TiE Silicon Valley.
Fadnavis who stayed less than a day in Silicon Valley had a series of meetings with Cisco System Inc, Google and Apple and a meeting with venture capitalists.
Fadnavis said that he has been interacting with people and the response has been very good. "People are more interested in India now than ever before. So it's has been a good engagement," he said. On Wednesday, he signed a $750 million MoU with Cisco to build Nagpur as a smart city.
On Cisco's investment he said, "Right now it's a non-commercial MoU but once we actually built up the capability then the actual investment would start and that can be around Rs 1,000 crore (Rs 10 billion). They would work on the smart grid side too," Fadnavis said.

He however denied any comment on the Pankaja Munde controversy saying he would like to focus on business. When asked what he is doing to deal with corruption, he said that the state has enacted a 'Right to Service Act.
The people have got right to get services and the state's duty is to actually provide right to service at the right time and cost. On the time line for smart city initiative in Maharashtra, the minister said the smart city program is an initiative by the central government. The state government and cities would be the partners in the entire initiative.
He assured investors that so as of now 10 cities from Maharashtra would be included in the 100 smart cities initiative though he did not names all the cities. He said how many cities would be included under 100 smart cities is not known yet. "We are hopeful that 10 cities from Maharashtra would be selected. So we are also asking the cities to compete in the challenge," said Fadnavis. He lauded the Modi government's digital India initiative, "I feel that India has lot of potential to move towards knowledge-based economy. In fact when our prime minister said that 100 cities in India would be developed as smart cities, it means challenges of cities would be addressed with the use of technology."
"Technology is a tool, which can equalise and optimise the quality of life. The quality of life which we want our people to actually experience should be achievable. Maharashtra has always been pioneer in the field of technology," he said, adding Pune is an IT hub like Mumbai. Now Aurangabad, Nasik and Nagpur are also attracting people from IT sector.

Elaborating on Maharashtra's pros, he said, one is advantage of demography. We all know that the 50 per cent of the population is below 25 years of age and it's a population, which wants to embrace technology and has been using technology. The highest penetration of mobile phones is in Maharashtra. It also has the highest number of smart phone users.
"Maharashtra also has a high ratio of young human resources," Fadnavis said. To attract investors he said, "We are offering many things which I feel will actually empower the existence of IT. The new thing which we are offering is the integrated IT Township with work culture and I think that actually opens a huge road not only for investment but also for technological innovation."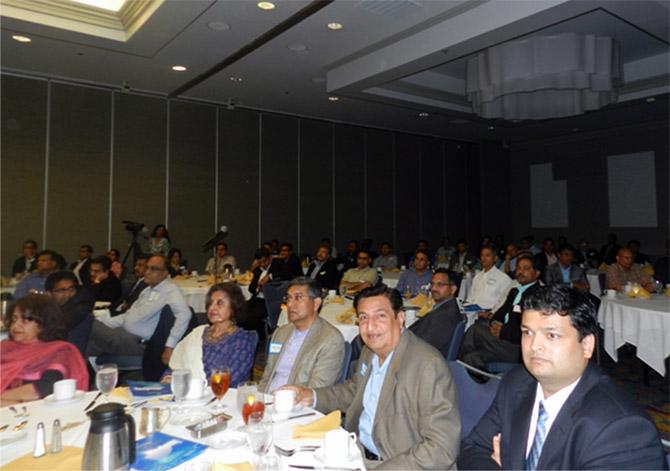 On setting up IT incubators in Maharashtra, he said that the start ups and incubators are well placed in Maharashtra. We would like to tie-up with people in Silicon Valley. We will provide the infrastructure to set up a proper platform to develop and contribute to the society. I feel that our interaction would open up lot of opportunities for you to come to Maharashtra and invest," said Fadnavis who had meet venture capitalists interested in investing in Maharashtra.
Silicon Valley entrepreneur Sunil Ganu and Prakash Bhaleroo, serial entrepreneur and investor, initiated the meeting. He said, "Let me assure you, this government is absolutely pro-active. Our biggest agenda is ease in doing business." He also talked about the government initiative of 'Make in India'.
He said in the manufacturing sector to start an industry, initially it required 76 permissions. It has been cut down to 37. This will further come down to 25 making it very easy for doing business.
"We are bringing them on the IT platform through an automated route, where if the permission is not granted within stipulated time it is deemed to be given. And the business should not stop working."
"I feel with these initiatives we are creating atmosphere, which is positive and we want to translate it into the entire ecosystem of business so that the business and the society at large gains. I urge you to give a serious thought of engaging with our government in Maharashtra," the CM said. Bhaleroo who along with Ganu hosted the event said the whole team seems to be very keen on business.
"Fadnavis is a young visionary," said Bhaleroo and added, "But the biggest challenge in Bangalore or Maharashtra is network connectivity. The connectivity will be a make or break aspect when investors look at India as an investment destination."
Secondly, to make any state or technology successful, he said, the country should consume its own innovation the way it happens in the US. Bill Boerum, Chairman Sister Cities International told the minister, "I seek your help to form a sister city and a twin city between cities in your state and cities in California. People to people diplomacy."
Responding to this Fadnavis said, "Let's make it a partnership to help sister city work because sister cities are only about people they don't interact much but if you make it partnership then people will interact more."
Fadnavis will be visiting Seattle to meet executives at Amazon, Microsoft and Boeing. Fadnavis said, "Maharashtra has a huge scope and we want them to expand business in the state."