Prices of commercial properties in Mumbai have remained stable, while rentals are showing signs of inching up as local businesses showed interests in rolling out expansion plans.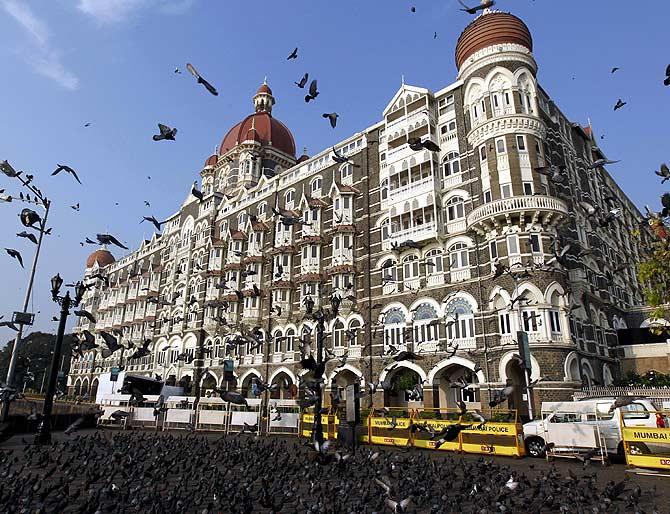 Image: The Taj Mahal hotel in Mumbai. Photograph: Danish Siddiqui/Reuters
A stable government at the Centre and its plans to set up smart cities has revived investors' interest in the country with Mumbai, Delhi and Bangalore set to emerge as hot investment destinations in 2015.
According to a report by PwC, titled 'Emerging Trends in Real Estate Asia Pacific 2015', the rankings for the three major metros, among the 22 cities surveyed across the region, have improved significantly as compared to last two years.
While Mumbai climbed to 11th position, Delhi's ranking improved to 14th and Bangalore to 17th, indicating a significant improvement in investor sentiment in the country, PwC India Partner Gautam Mehra said.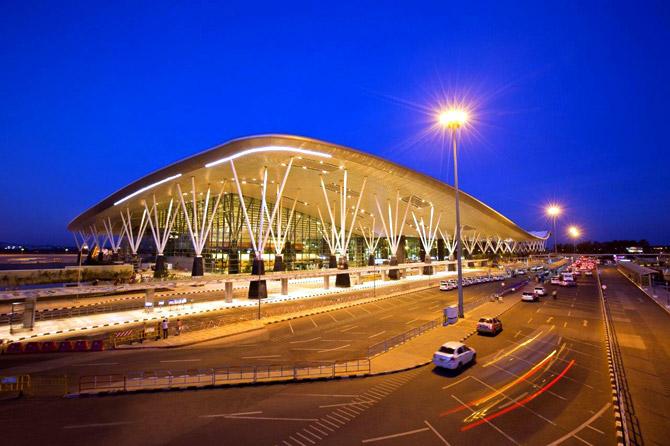 Image: New terminal at Kempegowda International Airport, Bangalore.
Photograph: Courtesy, GVK
In 2013 and 2014, Mumbai stood at 20th and 23rd position, respectively. While Delhi ranked 21st in both the years, Bangalore stood at 19th and 20th position in 2013 and 2014, respectively.
"There is certainly a positive vibe complemented by the expectation of an improved economy and a more transparent environment, keeping interest levels up among investors," he said.
The positive sentiment can be gauged by the fact that global real estate funds focused on India are seeking to raise $6 billion in new capital, on top of $1.6 billion raised in the first seven months of 2014 and most of this is aimed at residential projects, he added.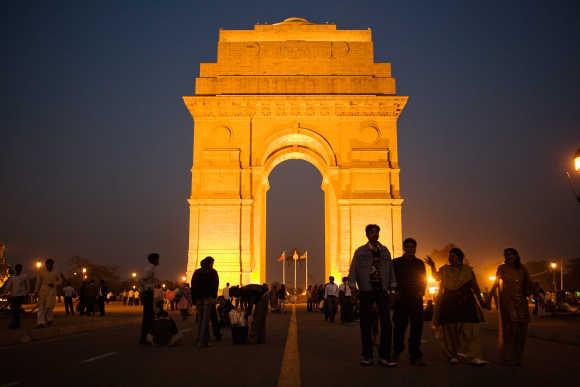 Image: A view of the India Gate in New Delhi. Photograph: Daniel Berehulak/Getty Images
In addition, there has been a significant rise in interest from large sovereign and foreign institutional players over the course of 2014.
"There is excess liquidity across various jurisdictions in the market, which is looking at opportunities for investment and India is emerging as a promising destination.
"Additionally, the expected developments around creation of smart cities focused on large scale manufacturing, and the roll-out of REITs, if implemented well, are expected to further add to the momentum," Mehra said.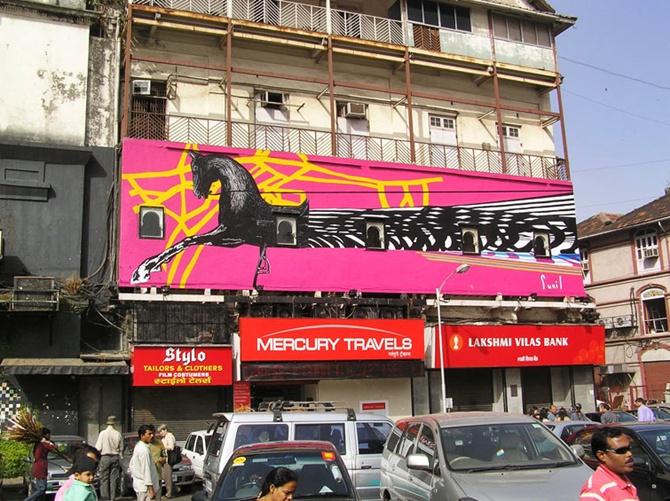 Image: A mural of the black horse (Kala Ghoda) near Rampart Row, Mumbai. Photograph: Elroy Serrao/Wikimedia Commons
Similarly, the outcome of large volumes in e-commerce is likely to translate in demand for largescale logistics and warehousing space, he said. He further said the interest in commercial space is likely to increase in 2015 as an improvement in rentals is expected.
Prices of commercial properties in Mumbai have remained stable, while rentals are showing signs of inching up as local businesses showed interests in rolling out expansion plans.
Since occupancy, which is currently standing at around 80 per cent, property rates and rents are expected to rise, especially for high-quality and well-located premises, the report said.
Image: Khan market, India's costliest retail hotspot. Photograph: Ekabhishek/Wikimedia Commons
Meanwhile in New Delhi, commercial properties are already witnessing a rebound on the back of a rise in leasing activities, post the 2014 general elections.
Bangalore, on the other hand, saw rents and capital values of business park facilities increasing steadily over the last few years. Some areas, such as the corridor along the outer ring road, are attracting attention among investors, the report added.
However, the year may not witness new project launches in the commercial space as the thrust will be on completing the ongoing projects.
© Copyright 2022 PTI. All rights reserved. Republication or redistribution of PTI content, including by framing or similar means, is expressly prohibited without the prior written consent.