If you are on a business trip to any of these cities, travelling can be a nightmare and here's why.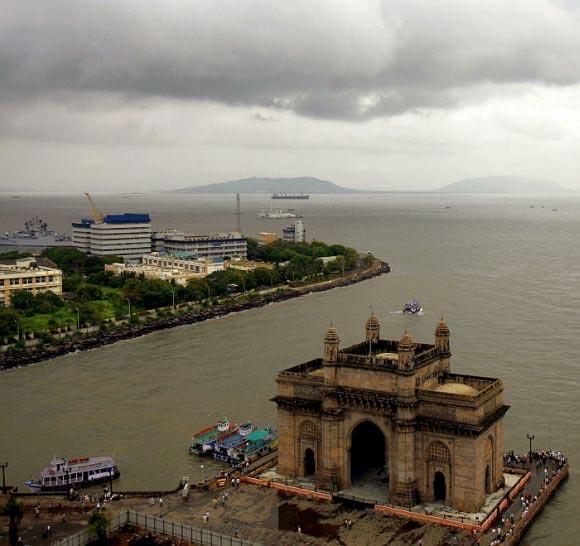 Image: An aerial view of Gateway of India, Mumbai. Photograph: Reuters
Each one of us may have few frustrating travelling experiences.
There may have been times when you were stuck up in bad traffic and had eventually landed up late for your job interview or any such important event.
Be it any country, commuting issues prevail everywhere, but there are cities where travelling may be a nightmarish experience.
CNBC has listed seven cities globally which are worst cities to visit.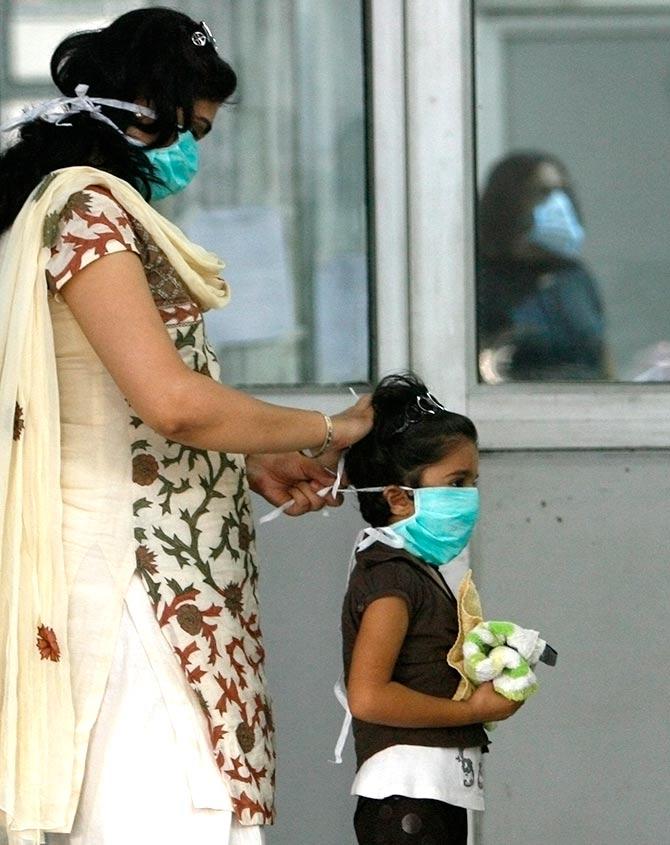 Image: A mother puts on a surgical mask for her daughter as they arrive for a H1N1 flu screening at Ram Manohar Lohia hospital in New Delhi. Photograph: Fayaz Kabli/Reuters
Delhi, India
Why: Pollution
Though, there are many expressways coming up in and around the city in the near future, commuters complain about the existing slow moving traffic as most of the citizens have more than one car in the family.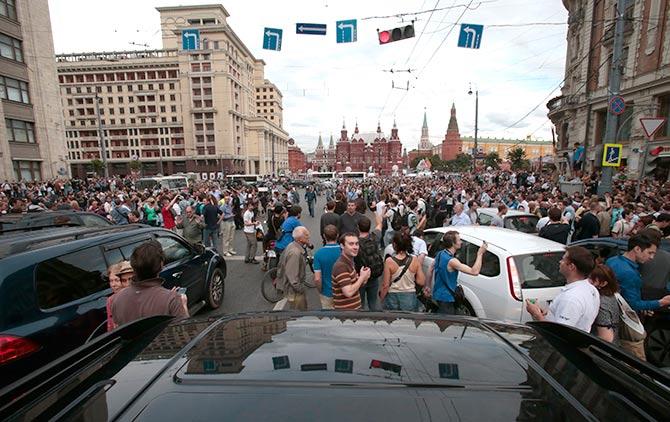 Image: People are seen on the traffic way as they hold a protest against the verdict of a court in Kirov, which sentenced Russian opposition leader Alexei Navalny to five years in jail, in central Moscow. Photograph: Tatyana Makeyeva/Reuters
Moscow, Russia
Why: One of the most congested cities in the world
The city lacks traffic management systems for its metro trains and other modes of transportation, complain urban planners.
Most business travellers have expressed their disinterest in visiting the city due to constant traffic jams which puts them off.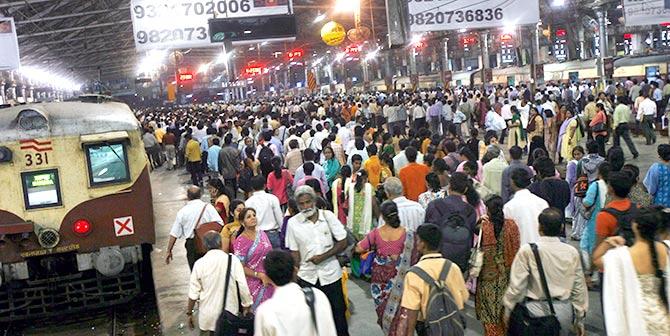 Image: People walk on platforms of Chhatrapati Shivaji Terminus railway station, also known as Victoria Terminus in Mumbai. Photograph: Arko Datta/Reuters
Mumbai, India
Why: Most overcrowded city
Being the commercial capital of India, Mumbai's population has crossed 12 million.
The current road infrastructure is crumbling and hence the government has earmarked huge amount to construct expressways and metro trains to ease traffic snarls.
If you happen to be in the city for a business trip, do begin early to reach your meeting venue which could be hardly 10 kms away from your hotel.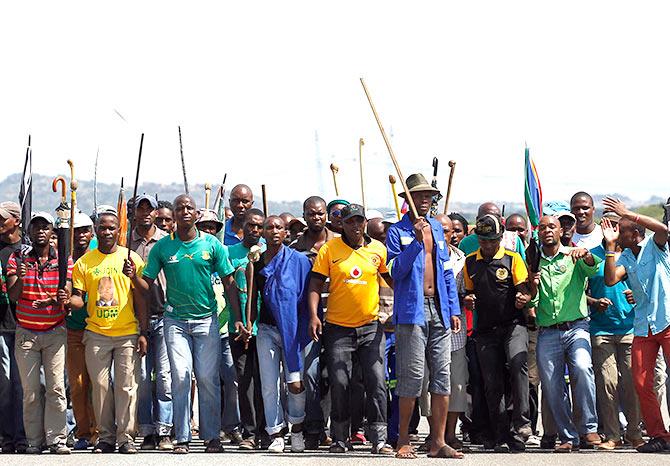 Mine workers protest outside the Lonmin mine in Rustenburg, northwest of Johannesburg. Photograph: Siphiwe Sibeko/Reuters
Johannesburg, South Africa
Why: It's the most unfriendly city
The average time to enter the city from the airport is around 1.5 hours during peak hours in Johannesburg.
Business travellers have complained about the horrendous traffic, which most of the time delays their corporate meetings.
The city is hardly 20-25 kms away from the airport.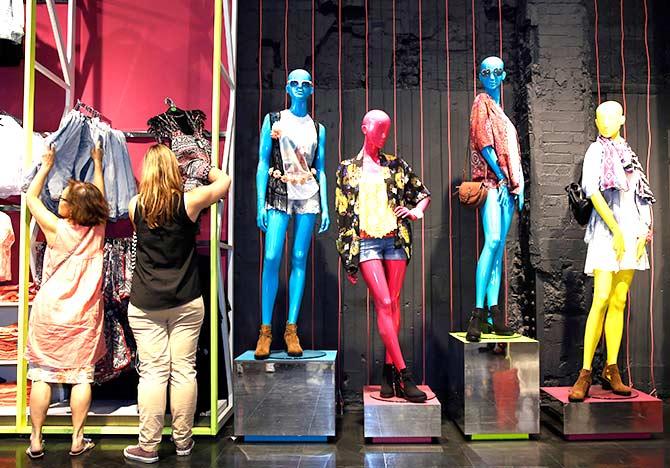 Customers shop at a Primark store on Oxford Street in London. Photograph: Luke MacGregor/Reuters.
London, England
Why: Though London is a peaceful city, travelling can actually burn a hole in your pocket.
The average monthly travel cost can go up to $250 for students who come to the city to pursue higher studies, which is by far expensive by European standards.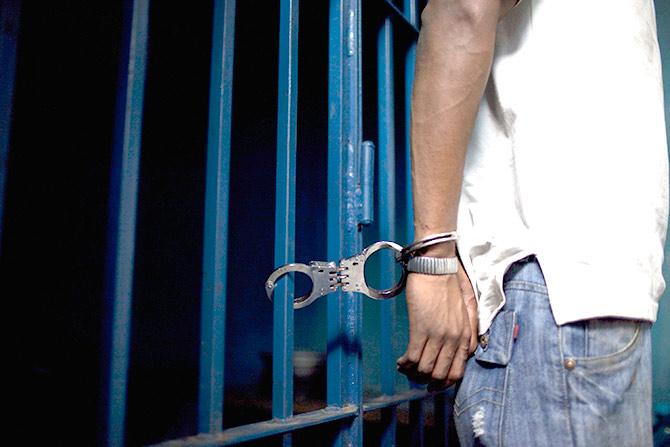 A man is handcuffed at the police station of Mariche in the slum of Petare in Caracas. Photograph:Carlos Garcia Rawlins/Reuters
Caracas, Venezuela
Why: One of the most dangerous cities in globally
One has to be extremely cautious while travelling on the outskirts of Caracus.
Pick-pocketeers can even murder travellers for want of money.
The city ranks high on crimes like theft and murders and hence the city's tourism has not taken off.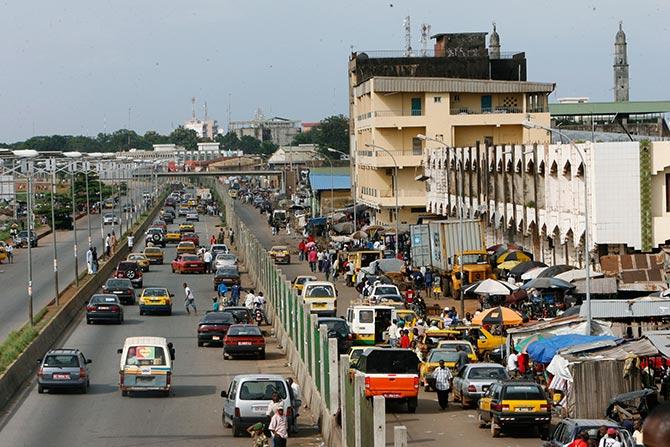 A view of the road near Madina Market in Conakry July 1, 2010. Photograph: Luc Gnago/Reuters
Conakry, Guinea
Why: Conakry is one of the poorest cities in the world.
The city lacks basic road infrastructure along with many other civic amenities.
Most business and holidaymakers around Conakry avoid visiting the city due to its poor transportation.