Mamata Banerjee's triumphal declaration of having attracted investments worth Rs 2.43 lakh crore at the summit, are numbers that no one but she and the enigmatic state finance minister Amit Mitra believe, points out Kanika Datta.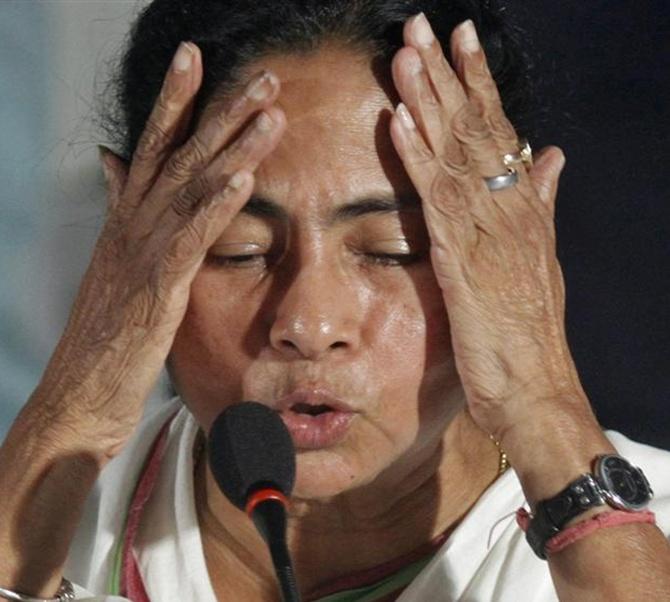 Image: Mamata Banerjee, Chief Minister of West Bengal. Photograph: Rupak De Chowdhuri
T
he tamasha of the two-day Bengal Global Investment Summit in the ramshackle state capital on January recalled the title of Business Standard's edit page leader on Thursday, March 27, 1975, its maiden edition.
"West Bengal still on decline," it read. The opening sentence reads: "Repeated efforts have lately been made by West Bengal Ministers to assure the people that the economy of the State is firming up" (eccentric capitalisation in original).
The paper could as well carry the same headline on March 27, 2015, its 40th anniversary, and the same opening sentence - better edited perhaps and with the phrase "West Bengal Ministers" replaced by "Chief Minister Mamata Banerjee" - and few would notice the difference.

Despite the gleams of hope in the late 1980s and early 1990s when the Left Front, predecessor to the ruling Trinamool Congress, made belated and clumsy efforts to reverse decades of misrule, West Bengal has been steadily "on decline" since the 1960s.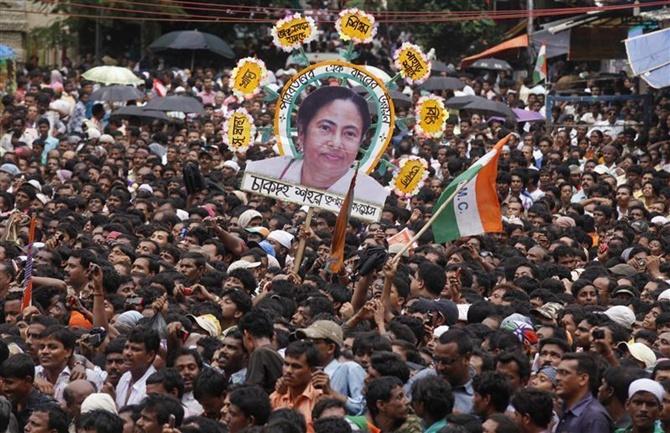 Image: Bengal still on a decline. Photograph: Reuters
Only the first two paragraphs of the 1975 article, billed as a "survey of industry", can be called "positive".

They included a statement from the chief minister (then Siddhartha Shankar Ray, Indira Gandhi's close advisor and Emergency collaborator) asserting that the state had grown five per cent against an all-India average of 3.1 per cent.

There was also a laudatory reference from K K Birla, doyen of the Licence Raj era of non-competition. Some praise is better than none.

"It is after a long time that West Bengal has got a clean chit from an industrialist of all India stature," the article commented dryly.
All the same, the "positive" paragraphs could not avoid mention of a 43-day strike by "2.5 lakh jute workers" even as it spoke of 46 new projects in the public, private and joint sectors that were in the pipeline worth almost Rs 600 crore that were expected to generate over 50,000 jobs.
Those extravagant numbers found an echo 40 years later in Ms Banerjee's triumphal declaration of having attracted investments worth Rs 2.43 lakh crore at the summit, numbers that no one but she and the enigmatic state finance minister Amit Mitra believe.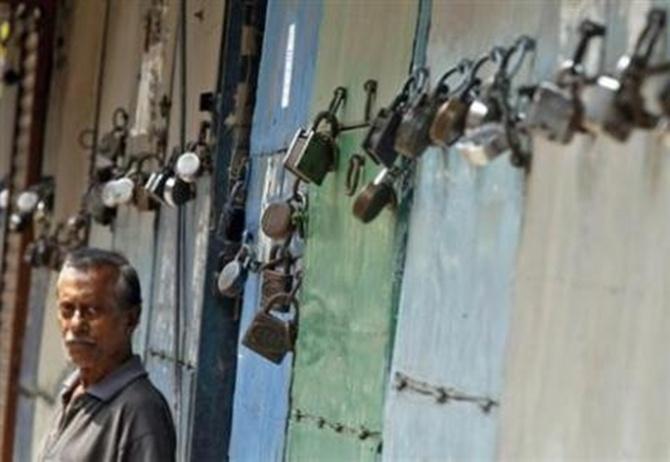 Image: Industry still plagued by problems. Photograph: Reuters
It is hard to escape the view that the few prospective investors who were disposed to turn up did so because Union Finance Minister Arun Jaitley was chief guest.
The 1975 article also echoed the incredulous editorial comment that appeared after Ms Banerjee's post-summit announcements (though it was a lot more restrained than the undisguised derision expressed by the papers of the ABP Group, former owners of Business Standard).

With a courteous reference to "cautious optimism" the two-part survey proceeds to relate the myriad problems that were afflicting West Bengal then: the declining jute industry, labour problems, power shortages, falling agricultural and coal production, chronic political violence, and so on and so forth.
Much murky water has flowed under the HowrahBridge since. The jute industry has finally and certifiably declined, the labour unions are a discredited bunch, Coal India, encased in sparkling new headquarters in New Town, Rajarhat, is facing complex problems of which production is just one, land for industrial projects remains a powerfully emotive issue in a state where land-losers have few options even as an organised mafia grabs real estate along the city's edges to build the faceless townships that characterise modern India.

Power is in abundance, but only because of the lack of industrial demand. Oh yes, there's an information technology industry that denizens of the state cling to as the only Great White Hope. But West Bengal is, undeniably, "still on decline".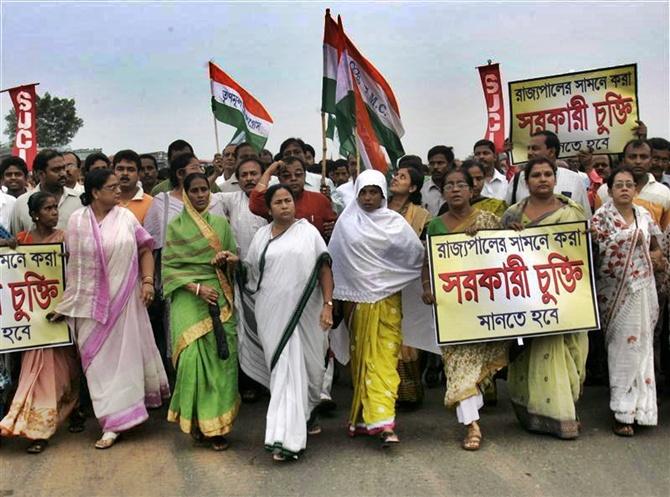 Image: Mamata Banerjee during a protest rally in Singur in 2008. Photograph: Jayanta Shaw/Reuters
The state of West Bengal's capital city is a good example of Ms Banerjee's destructively idiosyncratic approach to governance.

The power surplus is being dissipated to light up Park Street for the festive season and place "London-type" street lights that give off so little illumination that they need to be boosted by standard street lights.

Public places have been painted blue and white. Glitzy malls have sprung up. At the occasional traffic signal the drone of Rabindra Sangeet can be heard.

None of this can camouflage the depressingly gimcrack appearance of what could have been one of India's most attractive cities.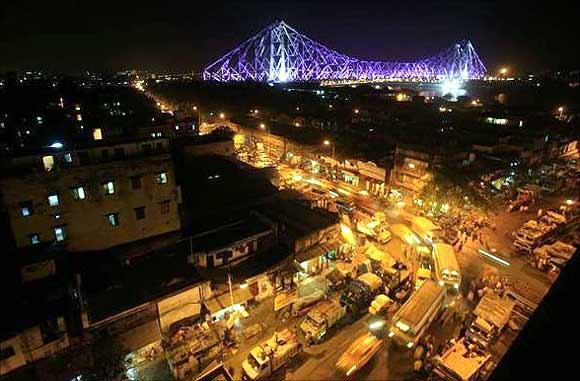 Image: Deterioration is stark in Kolkata. Photograph: Reuters
The deterioration is stark. Pavements in even the "fashionable" parts have been overtaken by: all forms of excreta; vagrants and beggars; dhabas; roadside shops selling bric-a-brac; overflowing sewers.

This was a city in which it was once possible to walk long distances. Now, the middle class studiously avoids walking on the roads, ironically widening the gap between rich and poor in this avowedly leftist state.

The expensively refurbished waterfront overlooks reams of garbage along the banks and rotting hulks of abandoned vessels.

In short, the distance between promise and performance is so wide that those invited to "Come to Bengal, Ride the growth" earlier this month will be forgiven if they pass up the opportunity and wait for the increasingly popular Bharatiya Janata Party to come to power instead.