Politics and poor governance are robbing the Maximum City of its spirit, notes Anjuli Bhargava.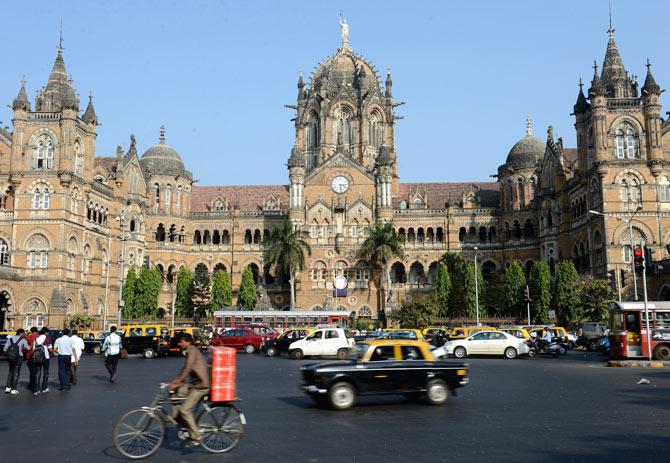 IMAGE: Mumbai's infrastructure crumbles. Photograph: Gareth Copley/Getty Images
All through my early career, whenever I returned from a visit to the city of Mumbai - on work or otherwise - I usually felt a certain wistfulness.

Born and brought up in Delhi, I loved Mumbai's pace, its resilience, its efficiency and its spirit.

Evenings in Mumbai's ubiquitous pubs and bars thrilled me more than Delhi's perfect couple dinner parties. Its cabbies - who in some ways reflect the pulse of the city - always offered me more insights than golfers and globe-trotters I met in Delhi.
Even with its limited space, the city offered a host of delights - the National Centre for the Performing Arts with its rich theatre, art and music, the Bandra festival and even the buggy rides on Marine Drive.

At heart, I was a Mumbaikar and had many a heated argument with defensive Delhiites on the relative merits of the two cities. Of course, Delhi was the easier city to live in but it lacked a certain something that Mumbai offered.
That's why on my recent trip to Mumbai - after an unusually long gap - I was quite upset to find the city of the early and late 1990s almost gone.


IMAGE: Manmohan Singh's 'Shanghai' is in shambles. Photograph: Reuters
Of course one has seen the slow erosion over the years but this is no longer the Mumbai I knew.
As I spoke to more and more long-time residents of the city -not to mention at least seven cabbies on interminable rides through the city - I felt their despair and unhappiness.
To me the biggest shock was that Mumbaikars seemed to be losing their spirit - that innate quality that gave them the resolve to carry on despite all odds. What we all saw during the 2005 floods seems to have been swept away. Manmohan Singh's "Shanghai" is in shambles.
Why has this happened ? A large portion of the blame lies with the city's crumbling infrastructure that has made already hard lives almost impossible.

Even as people continue to pour in to Mumbai from all corners of the country, an execution paralysis has gripped the city.

A host of agencies has failed to come together to improve the city's roads, flyovers and bridges. Arterial roads have not been expanded and are in a constant state of repair.

Navigation in and out of the business districts at peak times is a nightmare. Traffic, that was always dense but moving, now seems stationary.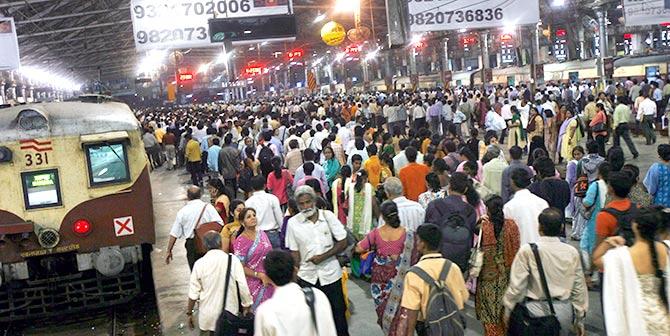 IMAGE: People walk on platform of Chhatrapati Shivaji Terminus railway station in Mumbai. Photograph: Arko Datta/Reuters.
A gamut of projects aimed at relieving the stress lies in various stages of non-completion.
When I mentioned the present chief minister's new war room and what it hoped to do to one top businessman and a few professionals in the city, they said they would believe it when they saw it.

The Mumbai Trans Harbour link was conceived in 1966, the Bandra Worli sea link was conceived in the 1960s (only a portion has been executed), the Navi Mumbai airport in 1994 and the list goes on. Hope was for the naïve.
One of my cab drivers - who drove me for meetings on two days - squarely blamed the divisive politics at play in the city.

Factionalism, intolerance and a kind of goonda raj had, he argued, eroded the city's cohesiveness, leading to a poorer quality of life for people like him.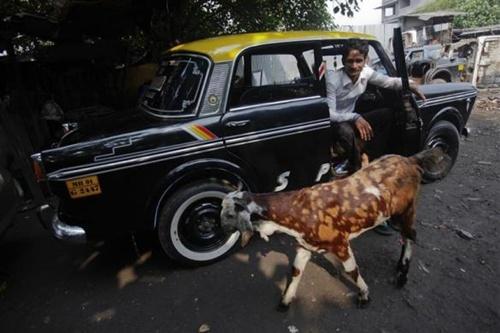 His brother and he - both immigrants from Tamil Nadu - had managed to buy cars that they now owned and ran as taxis but still slept on top of their cabs at night - parked in any spot where the sea breeze offered some relief from Mumbai's stifling humidity and heat.

Why didn't he return to his village where he had, at least, a roof over his head, I asked. He answered with silence.
Above all, many Mumbaikars I spoke to felt that they and others around them no longer seemed to care about what happened to their fellow citizens - so busy were they struggling to keep their heads above water.

Being India's capital city and partly thanks to the Commonwealth Games, Delhi, as a city, has improved in many ways in the recent past. Citizens of Delhi and even Gurgaon were trying to make changes (car-free day, Raahgiri etc).

But in Mumbai, hope has slowly been sucked out of the bloodstreams of its citizens and a cynicism has replaced it.
If a 2005 kind of crisis were to repeat itself, the city might no longer respond the way it did.
One may no longer feel wistful when leaving Mumbai but one can't help but feel sad.