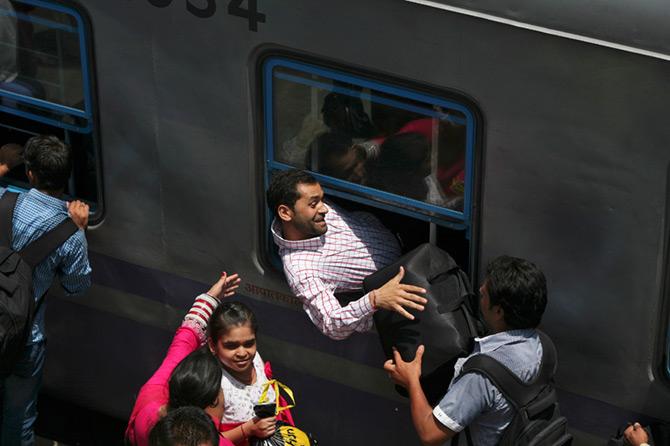 Image: More amenities for train travellers. Photograph: Reuters
Unveiling a people-friendly Budget, Railway Minister Suresh Prabhu announced a slew of initiatives to make train travel a pleasant experience. The Railways has hiked allocation for better passenger amenities to 67 per cent.
Take a look how you will benefit from these announcements…

No hike in fares: Train travellers need not shell out more money on trips.
Ticketing easier: Passengers can now book tickets 120 days ahead of travel date, instead of 60 days now. Coin vending machines for railway tickets within 5 minutes.

Swanky stations: 200 more stations to come under Adarsh Station scheme; Lifts and escalators have been planned at major stations

Going hi-tech: Wi-Fi to be provided at B category stations. An "SMS Alert" service to inform passengers in advance the updated arrival/departure time of trains at starting or destination stations. Similarly SMS alert would be sent 15/30 minutes in advance of arrival of the train at the destination.
Complaints: 24x7 helplines for attending passenger problems and security related complaints. Passengers can call on 138 an all-India helpline number on real time basis, while on trains for any complaints. Railways has dedicated a toll-free number 182 for receiving security related complaints.
Safety: For the safety of women passengers surveillance cameras in suburban coaches

Extra coaches: There will be an increase in the quota of berths for senior citizens, pregnant and differently-abled persons in trains. Folding ladders would be made available in coaches and the middle bay of coaches will be reserved for women and senior citizens for safety.
High speed trains: The speed of nine railway corridors will be increased to 160 and 200 kmph. Travel time between metro cities will be reduced.
Clean trains: A new department for keeping stations and trains clean under Swachh Rail Swachh Bharat Abhiyan
Quality Food: E-catering to help passengers select meals from an array of choices. e-catering has been introduced in 108 trains on an experimental basis from January this year. Food can be ordered through the IRCTC website at the time of booking of tickets.

Mobile phone charging: Mobile phone charging facilities would be provided in general class coaches and the number of charging facilities would be increased in sleeper class coaches.
Bed linen: Get ready for improved design, quality and cleanliness of bed linen within the next six months. The National Institute of Fashion Technology (NIFT), Delhi has been approached for designing bed linen. The facility of online booking of disposable bedrolls at select stations is being extended to all passengers through the IRCTC portal on payment basis.
Entertainment: Indian Railways' Delhi Division is taking up a project for introducing on-board entertainment on select Shatabdi trains on license fee basis. After seeing the response, the facility will be extended on all Shatabdi trains.