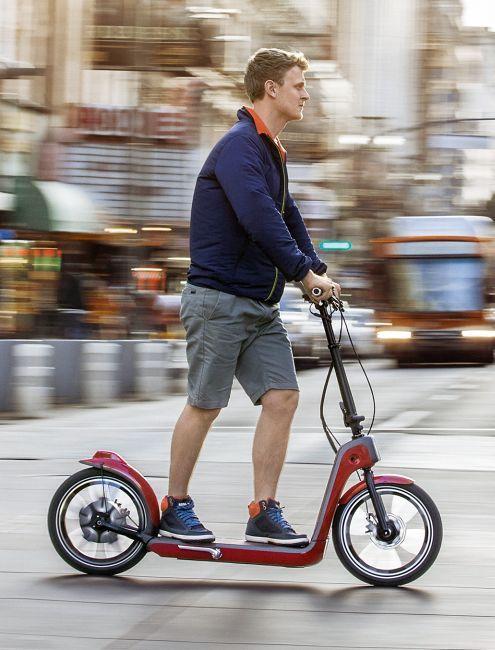 Image: MINI City Surfer.
Photograph: Courtesy, MINI
Let's take a look at the five stunning concept cars and personal mobility vehicles that were most talked about at the Los Angeles Motor Show.
MINI City Surfer
---
MINI, the retro-chic brand of famous luxury car maker BMW, showcased an electric foldable kick scooter concept at the 2014 Los Angeles Auto Show.
The eco friendly scooter is capable of reaching a top speed of 25 km/h via hub motor placed inside rear wheel.
The motor embraces exceptional technology, and doesn't switches-off until the rider with his own physical push lets the scooter achieve minimum speed; here the speed is controlled by thumb-operated accelerator.
Weighing only 18 kg, the City Surfer has lithium-ion battery that allows travel of about 15 km to 25 km.
The scooter possesses brake energy recuperation system. Additionally, the scooter can be folded and kept in the boot of the car without difficulty.
MINI states City Surfer as "ideal last mile solution" and goes in tandem with parent group's mantra "Creativity in the development of sustainable solutions for future mobility".
The Lexus LF-C2
---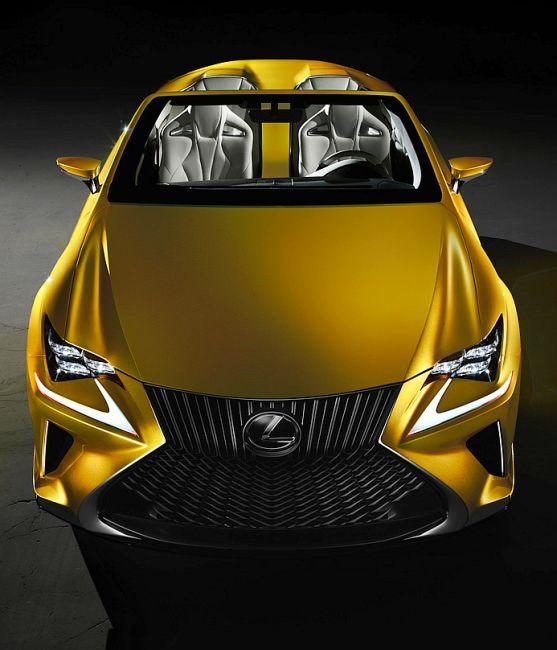 Photograph: Courtesy, Lexus
The luxury division of Toyota Motors, Lexus has created waves at the Los Angeles Motor Show this year with the global unleashing of Lexus LF-C2 prototype.
The fascinating vehicle is said to be based on RC-F coupe and will be a 4-seater roadster when it hits the streets.
The displayed concept LF-C2 looks a bit surprising with no cover or weatherproof gear on top.
The roadster measures 4,715 mm in length, 1,840 mm in width and carries a low height of 1385 mm.
Seen as a BMW 3 Series Convertible competitor, the design is extraordinary with large Lexus spindle grille upfront, alongside pure LED headlamps and a very charismatic 'Lexus' mark that is basically for the gorgeous DRLs.
In trick golden shade, the LF-C2 looks stunner, while the rear deck makes its way into the cabin.
Inside, the space is adequate for every occupant and there is shimmering yellow streak that bisects cabin in two.
The Audi Prologue
---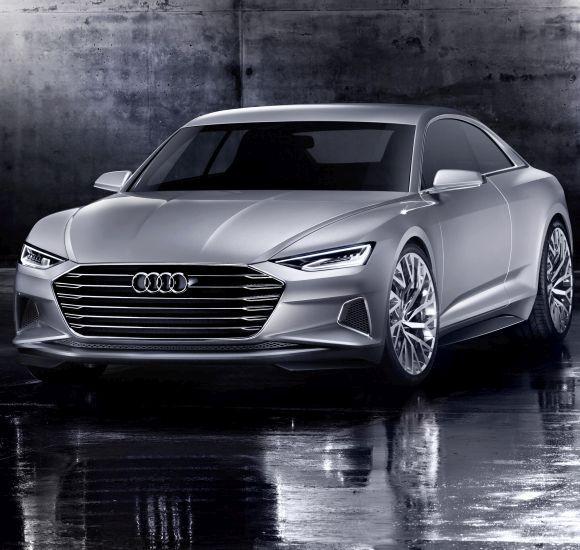 Photograph: Courtesy, Audi
The future of Audi design comes with the Audi Prologue concept; this spellbinding design is expected to be a part of upcoming A6, A7 and A8 saloons.
The fascia of large saloon has single-frame that holds four-rings and a very wide and large grille is placed lower compared to current A8 model.
The flat wedge-like headlamps has Audi's high-resolution matrix laser technology, whilst the pupils of headlamps are laser-light projection lens, which makes it look all-future-ready.
The 3D LED rear tail lights runs comprehensively across the full rear width, plus the 22-inch alloys with Y-spokes create a three dimensional view.
Interior is centred on Gran Turismo design, facilitating sporty driving as well as unperturbed touring.
Flooded with overabundance of advanced technological aspects, Audi Prologue is packed with 4.0L TFSI biturbo V8 powertrain that generates about 605hp of massive power alongside 553Nm of high torque.
The mean engine can reach 100km/h from nil in an earth shattering 3.7 seconds.
Chevrolet Chaparral 2X Vision Gran Turismo Concept
---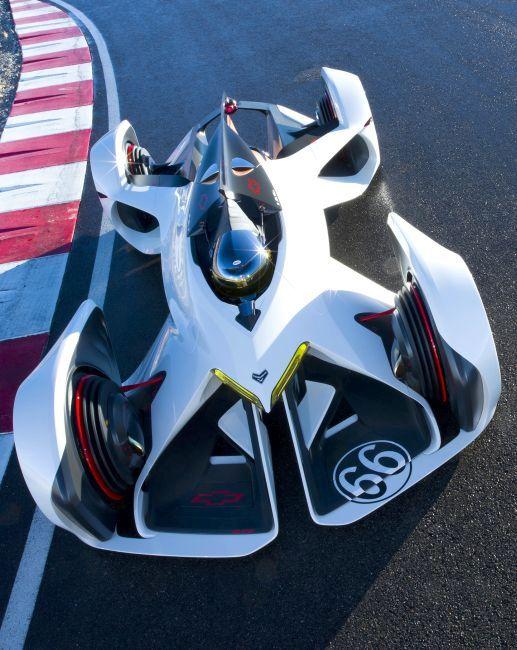 Photograph: Courtesy, Chevrolet
It was thought that Nissan is the only carmaker that has a realistic adaptation of Gran Turismo 6. But at LA Auto Show, Chevrolet stuns everyone with Chaparral 2X Vision Gran Turismo concept.
Developed under the Vision Gran Turismo project that celebrates 15th anniversary of popular video game, Chevy calls it 'an interpretation of ultimate car'.
Racing vehicle boasts futuristic features such as driver-adjustable aerodynamics alongside a propulsion system based on laser technology.
The racing machine is capable to reach 100km/h from nothing in a momentous 1.5 seconds. Moreover, with its 671-kW battery-powered laser, it produces 900hp of peak power, and with this mammoth influence it can attain a top-speed of 400km/h.
As per the design team lead Frank Saucedo, the Chaparral 2X VGT is akin to racing wing suit that has shielding fuselage for 'flying' very close to the ground.
The futuristic vehicle has been digitised and gamers can drive it in PlayStation 3 "Gran Turismo 6" video game.
Scion iM Concept
---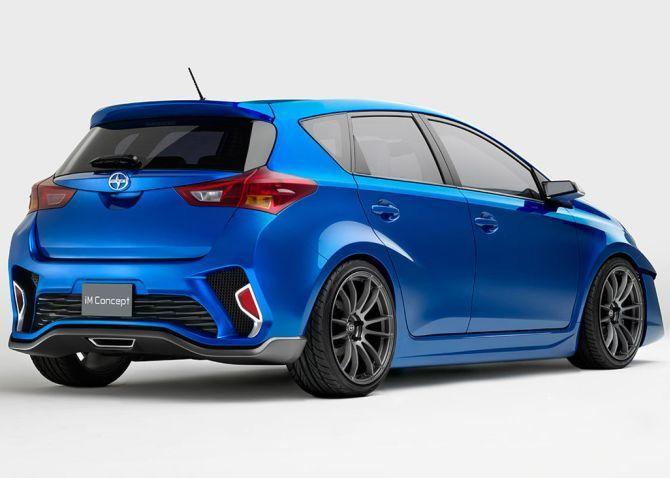 Photograph: Courtesy, Scion
Toyota's 'Youth' brand Scion unveils iM Concept hatchback that is expected to go into production by 2015. Rumored to be a compact 5-door hatch with underpinnings of Toyota Auris, it gets an aggressive front fascia, height adjustable racing suspension inspired by European racing cars and meaty looking 19-inch alloy wheels.
Although, company is tight-lipped about the engine and specs details, however, as the Auris is presented in petrol, diesel and hybrid-electric avatars in the European market, same is speculated to rest under hood.
This is a car for those young buffs who intend to have a 5-door hatchback that appeals to every on looker and at the same time is a practical vehicle with enough boot space.
The struggling auto maker is in desperate need of mainstream vehicle and Scion iM can deliver the goods.
Powered by


CarDekho.com offers the best platform in India to research cars online. Make better car buying decisions using features like car research, reviews, car comparisons, discounts, on-road prices etc. on CarDekho.com.