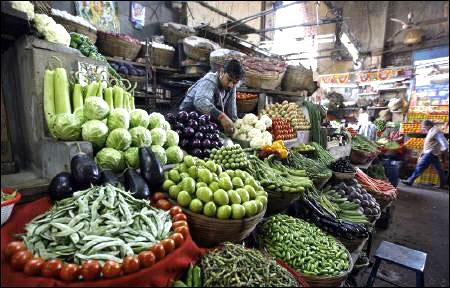 Rising prices of petrol and diesel fuelled wholesale price index-based inflation to 3.39 per cent in December 2016, reversing the declining trend and neutralising the impact of the softening prices of vegetables.
Also, hardening prices of manufactured items during the month may refrain the Reserve Bank of India from cutting rates in its policy review on February 8.
The WPI inflation, reflecting the annual rate of price rise, stood at 3.15 per cent in November. In December 2015, it was (-)1.06 per cent.
WPI inflation in vegetables, at (-)33.11 per cent in December, saw deflationary pressure for the fourth consecutive month. This was helped by a substantial price fall in onions, which stood at (-)37.20 per cent.
While the prices of diesel shot up by 20.25 per cent, petrol became dearer by 8.52 per cent. The overall inflation index of fuel and power segment registered an increase of 8.65 per cent in December.
Besides fuel items, sugar, potato, pulses and wheat became expensive during the month.
Overall, the food basket witnessed contraction, with inflation at (-)0.70 per cent in December as against 1.54 per cent in November.
Experts said that inflationary pressures on petrol and diesel have arisen following the firming up of crude prices in global markets.
"Steady and continuous rise in prices of crude oil and strengthening of the dollar for the last one month may have negative impact on input prices for the industry, which has already started feeling the pressure on its profitability owing to low demand," Assocham said.
The fact that the upward pressure on wholesale prices has come about despite a sharp drop in prices of vegetables shows how WPI may gather pace further once the seasonal price of advantage of vegetables goes away, it added.
Petrol and diesel prices were hiked twice and once, respectively, in December after the international crude oil prices saw a surge since OPEC reached an agreement to cut output.
ICRA's principal cconomist Aditi Nayar said the pick-up in WPI inflation reflects a combination of rising commodity prices and an unfavourable base effect.
"The trajectory of WPI inflation is likely to chart a rise in January and February 2017, before recording a dip in March 2017. Food inflation is likely to rise over the course of the ongoing quarter as the base effect turns unfavourable, and the end of winter pushes up prices of perishables," Nayar said.
As per the commerce ministry data released on Monday, sugar recorded the maximum inflationary pressure at 28.04 per cent, potato at 26.42 per cent, pulses at 18.12 per cent, and egg, meat and fish at 2.73 per cent in December.
The reading for manufactured articles was 3.67 per cent compared with 3.20 per cent in the previous month.
The WPI inflation for October has been revised upwards at 3.79 per cent against the provisional estimate of 3.39 per cent.
The rise in wholesale inflation is in contrast to the fall in retail inflation, which hit a three-year low of 3.41 per cent in December.
The monetary policy committee headed by RBI governor Urjit Patel had last month held interest rates steady and said demonetisation of high-value currency could lower prices of perishables and reduce CPI inflation by 10-15 basis points by December.
The RBI has projected the March 2017 CPI inflation to be five per cent.