Since prices are at rock bottom, you will get capital appreciation on the property value. These also offer higher rental yields than residential property, notes Amit Kukreja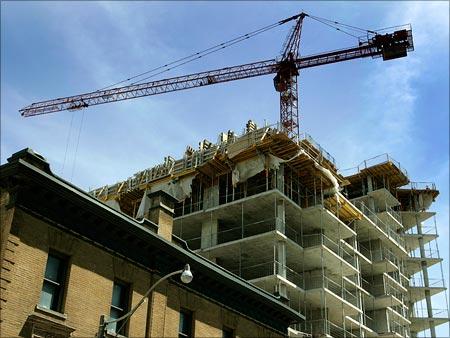 For those looking to invest in real estate, commercial property is a better option than residential at this point of time, from the investment perspective.
Given the oversupply in the commercial real estate space, prices are currently at rock bottom, as compared to residential property.
In Central Mumbai, for instance, a commercial property is quoting at Rs 18,000 per sq feet, while the residential property in the same premises is quoting at Rs 28,000 per sq feet.

Apart from Kolkata and Hyderabad, most of the leading cities are seeing the same trend.
Delhi NCR has the highest concentration of under-construction real estate projects in the country with about 33 per cent of the total value.
Same is the condition in Mumbai, with plenty of commercial properties in places like Andheri (East), Parel and Bandra Kurla Complex.

With a stable government at the Centre and the a renewed sense of confidence among the industry, there is expectation that there will be more demand for office space.
So, investing in prime commercial property now is a good option.
You can get properties at rates cheaper than residential properties and can also earn higher from rental income. So, there is scope for both capital appreciation as well as regular income.

Here are a few pointers on why it is a good investment now and what you must keep in mind before buying a commercial real estate.

Culture of entrepreneurship
Commercial real estate is expected to benefit from the increasing number of new enterprises that are being registered every year.
These enterprises are not only overseas-based businesses, but also a number of Indian entrepreneurial businesses that have shown a steady growth over the years.
Because entrepreneurs are no longer dependent only on foreign players to invest and grow their business, there is a high demand of commercial real estate in most of the Tier-I cities.
This is also evident from data by the Reserve Bank of India, which shows that cumulative loans to commercial real estate increasing with every passing year. In the past six years, the total amount of borrowings for commercial real estate projects has almost trebled.

Not just businessmen, even professionals such as lawyers, doctors, chartered accounts will need office space. To cater to this category builders are building smaller units or dividing their existing property into smaller units.
If your budget is not very huge, you can look at investing in such smaller office spaces, which can be later on given out on rent.

Fair valuation of commercial real estate
If you consider valuations of commercial real estate vis-à-vis residential real estate, the residential space has had its bull run. But commercial property has not had its run since the fall in 2008.
A recent report by Jones Lang LaSalle says that "Average capital values in the office sector in India are still 25 per cent lower than their most recent peaks seen in mid-2008.
On the other hand, capital values in the residential sector had surpassed their previous peak by end-2011.
Given that commercial rental and capital values have bottomed out considerably in most major cities in India over the last couple of years, the commercial real estate is seen with lot of investor interest."
The commercial real estate is a good buy for anyone who intends to have regular monthly income or use the space for his/her own business set up.

Impact of change in government

A clear mandate to the new government has improved confidence in corporates and in global investor companies.
Proposed changes in the FDI norms in real estate should augur well and encourage long -term investments in real estate.
The change in sentiment is fuelling capital inflows to India.
With several foreign companies looking to set up operations in India, they too will require large office space, which will push up demand for commercial real estate in the coming years.

Higher yields

In India, the yields in commercial real estate are one of the highest n the world. While yields from residential properties are between 3-4 per cent, in case of commercial properties it is around 8 per cent, and can even go up to as much as 10 per cent in some areas.

Yields in commercial real estate are always better than residential real estate.
If you are looking for decent rental income to support your passive income and avail wealth tax exemption, then commercial real estate fits the bill. However, capital appreciation in the value of real estate is still much higher in residential real estate owing to pent up demand.

REITs will make it professional
With the launch of Real Estate Investment Trusts commercial real estate will be managed by a professional Asset Management Company, similar to mutual funds.
REITs will create depth, liquidity, and transparency in the market. With the policies still in draft stage, REITs' guidelines once refined further will the fillip to commercial space.

Investing in a property in which a REIT has already invested is a good idea since the due diligence will be done by the fund and you can be assured of good quality property.

Amenities in the building

In order to get good rents make sure the property has good amenities such as parking space, backup power supply for lifts, fire safety measures, good quality wiring in the offices for running several computers and so on.
The infrastructure in the offices, such as seating space and so on, should also scalable so that more number of people can be accommodated if the company hires more staff.

Vacancy

For a commercial property, it is even more important to ensure that it does not remain vacant for too long, than a residential one.
So, the location of the property is very important.
Choose a prime property that is among the top 10 in the locality to ensure that it does not remain vacant for too long.

With the rise of India as an ideal business destination, commercial real estate is a safe bet for investors looking for attractive yields.
With the economy set to grow in the coming years, there will be more demand for commercial properties.

Amit Kukreja is founder, WealthBeing Advisors
The image is for representational purpose only