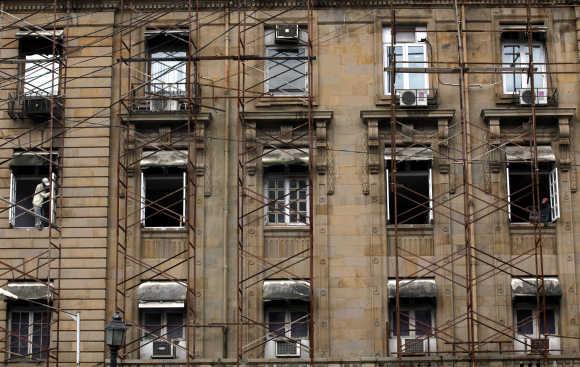 While under-construction property sees slowing sales and decline in prices, a well-maintained and ready-to-use house can command a premium

You had approached a broker six months earlier to sell your house.
He would call with daily updates about prospective clients he'd shown the flat to and the interest they showed.
It'd get sold soon, the broker assured. But, in the past two months the broker does not call frequently.
When he does, it is to tell you that clients are not showing much interest. Or to advise you to lower the price.
Launches and sales of house property have seen a continuous drop in the past two and a half years, says a recent report by Knight Frank India, which compared prices across six cities.
According to the report, there are at least 700,000 unsold units and these will take over three years to exhaust.
It does not expect a recovery in this market in the next six months.
A report by Ambit Capital says property prices have fallen by seven to 18 per cent across large cities.
There is a significant drop in transaction volumes, with Maharashtra and Tamil Nadu suggesting these have fallen by 10-15 per cent annually for three years.
The report is based on data from property prices and registration offices.
A CLSA Research report says a bear cycle in real estate has begun.
"Don't be surprised even if there is a 50 per cent correction over the next few years. Tone down your expectation on real estate even in the next bull cycle, as black money would start playing a lesser role," it says.
"One reason for the slowdown is that in many markets, prices had risen to unaffordable levels and inventory with developers had piled up.
Investors in real estate have dried up as there are alternatives available now," says Mudasssir Zaidi, national director at Knight Frank.
According to Sanjay Dutt, executive managing director, South Asia, at Cushman & Wakefield, transaction activity in the housing segment has slowed down significantly over two years, leading to decline in capital values of five to 15 per cent.
However, there also are regions which have seen healthy appreciation in the same period. In recent times, rental yields have also remained largely stagnant.
However, Ashwinder Raj Singh, chief executive officer, residential services, JLL India, says prices will not decline because developers are currently working on low margins and don't have much scope to reduce prices further.
"There is pent-up demand, as buyers are sitting on the edge and waiting for the right time. Investor demand is out and those who are buying are doing so for end-use.
Once buying re-starts, prices will start improving," he says.
The slowing is largely in the under-construction segment, as buyers have lost faith in builders' ability to deliver on time.
So, that puts a ready-to-use property at an automatic premium in price, as there is no risk in construction.

Having said that, what are the factors that can impact your property's value, if you are looking to sell or lease it?
It goes without saying that before putting your house for sale or rent, one must ensure legal issues or bank loans are cleared. Keep relevant documents like the registration paper and society share certificate handy and be willing to share copies with the buyer or at least show the documents.
While property owners cannot do much about size or location, it has been generally seen that properties with better finishing (specifications) fetch better rentals and price.
Location
A property owner cannot change this.
But, generally, buildings in well-developed areas and approved colonies get a higher price than in areas yet to be developed.
Housing societies that have infrastructure like children's parks, stores or markets and schools nearby will command a higher price than those that don't.
In crowded cities, parking space and easy approach to the main road are also reasons why buyers might be willing to pay extra. Similarly, buildings constructed on freehold land tend to get a higher valuation than those on leasehold plots.

Society members
The gentry or profile of residents of the society can make a difference to some extent, says Zaidi.
For instance, if members of the society belong to the same community as the buyer, he or she might may be willing to pay a bit more for that flat.
Overall upkeep

If your society is a well-maintained one, with regular repairs, water proofing, etc, that can be cited as a reason for a premium.
So, use good quality material for repairing and upkeep of your building.
Ensure common facilities like sewage and water pipes, lifts, electricity lines and meters, fire fighting equipment, etc, are in good condition.
This is also essential for safety of the building.
"Property owners must keep in mind that they cannot out-price the market.
"But, overall upkeep and maintenance of the property can help command some premium," says Zaidi.
Within the same building, there are cases where a well maintained house can get a better rate than others not so maintained. If freshly done up, the property can get a better price.
But not always, as some buyers will want to do up the flat by their requirements.
"Sellers must avoid spending on improvements that are not required by most buyers and thus become unnecessary expenditure.
"While selling, it is preferable to un-decorate or remove things that have accumulated over time. The aim is to make the space look as big and open as possible, not cluttered," says Dutt.

Additional amenities
Today, smart homes fetch a higher value and are also preferred by the aspirational class, says Dutt.
Similarly, while renting, providing facilities like wi-fi, power back-up and house-keeping helps in getting a higher rent.
Similarly, a fully or semi-furnished flat, with appliances or utensils, can fetch better rents. A standalone house with one floor but with provision for constructing additional ones can be an added attraction for a family with many members.
While giving a house on rent, the owner can offer to pay maintenance charges and offer free use of club house, swimming pool and other facilities, says Singh.

Right price
The seller should be reasonable in quoting a price.
If a very high one, the buyer might feel you are not serious and in turn offer a low price.
On the other hand, if you quote a very low price, the buyer might suspect some fault with the property.

"When deals have happened at a certain price in your locality, that becomes the benchmark. So, if there are absolutely no deals at the price you want, there might be no option but to reduce the price," says Zaidi.
When to reduce

Reducing the price is advised only if the expectation of the seller is higher than the prevailing market price.
"From the day a seller puts his property in the market for sale, it usually takes quite some time till the conclusion of a transaction.
Therefore, details of the last transacted price or getting a valuation done is helpful. In case of emergencies requiring expediting the disposal of property, it is advisable to reduce the price," says Dutt.
If planning to sell your house and buy a bigger one but you are not getting the price you want, you can opt for a home loan and wait for prices to improve, advises Singh. But if a distress sale, you might have to lower the price.
'GOOD TIME TO BUY'
"It is a good time to buy, especially for end-users, as prices have declined and developers are offering attractive payment plans suiting buyer need.
"There is flexibility in payment plans and payment period offered in under-construction projects. One can expect up to 10 per cent discount," says Sanjay Dutt of Cushman & Wakefield.
"Prices will start rising as soon as sentiment changes.
"So, if you are looking for a house, now is the time to buy," says Ashwinder Raj Singh of JLL India. Buyers can get a lot of indirect discount, especially in luxury and semi-luxury properties, such as free air-conditioners, modular kitchen, wardrobes, etc.
All these facilities can easily add up to Rs 25 lakh (Rs 2.5 million) or so in luxury properties.
Or you can negotiate the payment terms and say that instead of six months, you will make the payment only over a year.
Buyers can expect 5-15 per cent discount, he adds.
"There is already some increase in sentiment compared to last year.
"Now is a good time to buy as prices have kind of bottomed out and a major fall from these levels is not expected," says Mudasssir Zaidi, national director at Knight Frank.
Image: A labourer carries out renovation work on a commercial building in Mumbai. Photo is for representation purpose only. Photograph: Danish Siddiqui/Reuters
The image is used for representational purpose only