Foreign portfolio investors, on the other hand, have been net sellers in the markethaving pulled out Rs 8,600 crore
Illustration: Uttam Ghosh/Rediff.com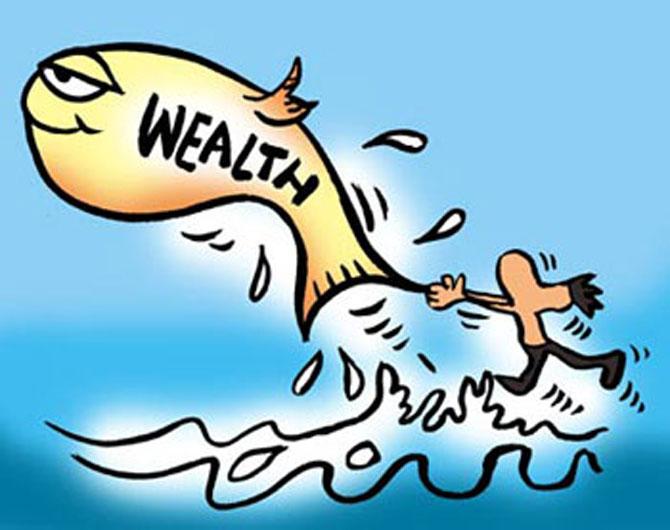 Mutual funds (MFs) have purchased stocks worth nearly Rs 94 billion in May.
This is the 22nd consecutive month of straight net buying in the sector.
The buying comes despite choppiness in the market, which saw the benchmark Sensex swing 1,200 points from a high of 35,536 to a low of 34,344.
Foreign portfolio investors (FPIs), on the other hand, have been net sellers in the market this month, having pulled out Rs 86 billion.
Fund managers are advising investors not to panic when markets turn volatile. Instead, they should use corrections before investing more.
And, the advice has apparently gone down well with customers, with equity schemes seeing monthly inflows of Rs 4,000-6,000 crore via systematic investment plans (SIPs) in the past two years. Since August 2016, MFs have purchased stocks worth about Rs 2.1 trillion.
In the past 22 months, when MFs have been net buyers, FPIs pumped in less than Rs 40,000 crore.
In April 2018, equity funds (including Equity Linked Savings Schemes and arbitrage funds) witnessed a monthly net inflow of Rs 12,410 crore - up 86.4 per cent from Rs 6,657 crore in March 2018, data from the Association of Mutual Funds in India (Amfi) shows.
March 2018 had seen equity outflows mainly because of volatile markets and implementation of the long-term capital gains tax (LTCG).
According to Icra, inflows in April 2018 suggested that investors have overcome their fears, and the industry could witness some buoyancy moving forward.
"Extensive investor awareness campaigns at the individual and industry levels have contributed to the upside. Further, a shift from traditional physical assets such as real estate and gold towards financial assets has also led to the increase," Icra stated.
Overall assets under management (AUM) of the Indian mutual fund industry rose 8.9 per cent to Rs 23.25 trillion in April 2018 from Rs 21.36 trillion in March 2018.
The increase has come after the industry saw month-on-month declines in February and March 2018. On a yearly basis, AUM grew 20.7 per cent from Rs 19.26 trillion in April 2017.
FPIs have historically been the dominant player in Indian equities, given their size and trading patterns.
However, this has changed in the past couple of years, with domestic institutional investors (DIIs), particularly MFs, stepping up purchases, and giving much needed support to the markets.
The financialisation of savings, triggered by demonetisation, has also supported the trend. The rise in the share of domestic investors reduces dependence on the more volatile foreign inflow.