Happy retirees are the ones who have planned well in advance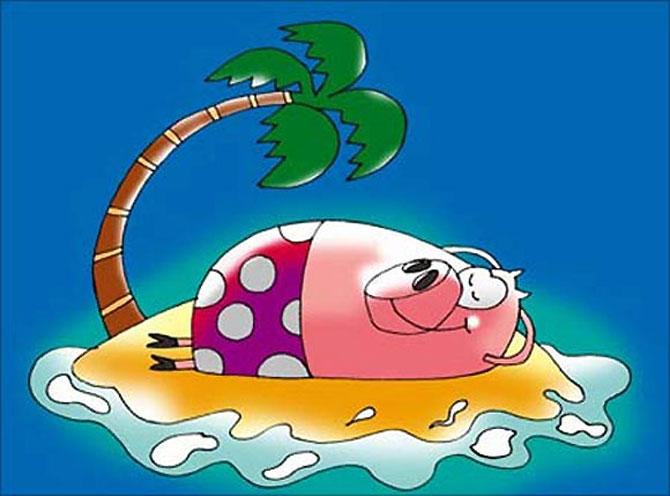 Have you imagined spending your 'golden years' relaxing on a beach, without having to care to get back to work? After years of putting yourself through the daily grind, retirement is a time to relax and relish the benefits of a successful career. However, this dream will be jeopardised if you don't plan well.
Did you know that you might have to save more than 3 times your monthly spend if you have less than 10 years left to retire?
We at BigDecisions analysed data from 76,000 users of our retirement calculator and found the following: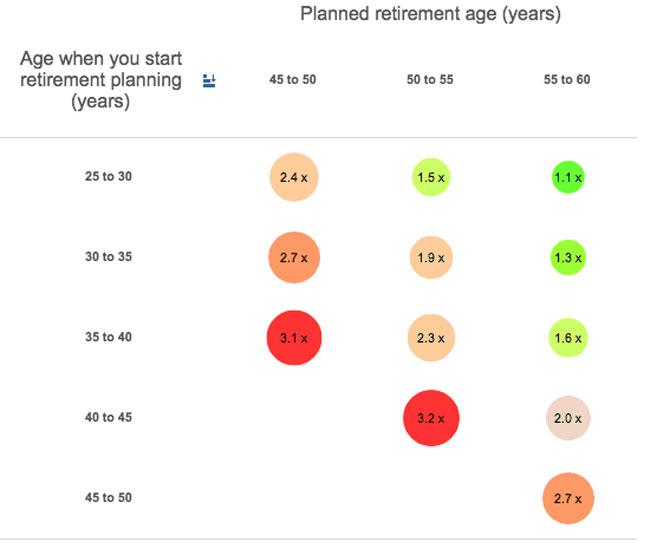 Early planners have the advantage
Building a retirement corpus may not be your priority when you start a career, however, it does have its own benefits.
The first and foremost being, time is on your side. You have more number of years, say around 35 years (considering the retirement age to be 60 and you started off at 25) to invest in a retirement kitty, which will enable you to continue the current lifestyle, even when the source of income is nil.
However, as the years to retirement decreases, the rush to meet the target intensifies.
According to the table, users in the age group of 25-30 will have to save 1.1 times of their monthly spend to have a comfortable retirement (assuming 60), however, the required savings drastically increase to 2.4 times, if they plan to retire by 45-50. Similarly, users in the age group of 30-35, need to save 2.7 times of their monthly spends, while those belonging to 35-40 need 3.1 times of their expenses, in case they plan to hang in their boots in the next decade or so.
For the age group of 40-45 and 45-50, who are nearer to their retirement age, building that corpus can become an uphill task. With lesser number of years at their disposal to reach the target (60), they will have to save twice and 2.7 times, respectively, of their monthly expenses.
Power of compounding
"Compound interest is the eighth wonder of the world. He who understands it, earns it … he who doesn't … pays it."-- Albert Einstein
The sooner you get started, the greater your chances are of reaching your retirement goal. Small amounts compounded over many years often create more value than larger amounts invested for fewer years.
For example, to reach a retirement corpus of Rs 1 crore (assuming retirement age to be 60 and investments earned at 8 per cent), a 25-year-old will have to save Rs 4,400 per month for the next 35 years (total Rs 18.48 lakh), while a 45-year-old will have to save Rs 28,900 p.m. (Rs 52.02 lakh) for the next 15 years to reach a similar milestone.
In case, the realisation to build a retirement kitty hits you as late as at 55 years, your required savings increase dramatically to Rs 136,097 per month or total of Rs 81.66 lakh in the next 5 years to reach that Rs 1 crore target.
Plan early, be wise
The monthly saving is lower in the initial years but increases gradually as you near the retirement age, thus leading to more stress and burden to your finances. Hence, planning for an early retirement helps you take control of the finances. It further prepares you for the added responsibilities and commitments that await in later years like home loan, car loan, children's education, etc.
Various studies, conducted globally, have shown that happy retirees are the ones who have planned well in advance.
Remember, a small step today paves the way for a secure tomorrow.
Illustration: Uttam Ghosh/Rediff.com
Kankana Roy Choudhury is content head at BigDecisions.com
Powered by