Both banks and jewelers sell coins and bars, but it is generally costlier to buy it from a bank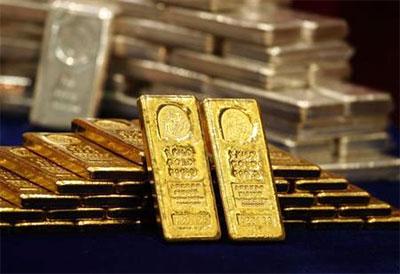 Purchase of precious metals in India has always been more for consumption than investment. Precious metals, especially gold and silver, have almost always had a sentimental value attached to it.
However, with newer forms of purchase like Exchange Traded Funds (ETFs), more and more people have started viewing gold as an investment. Silver, too, has been long considered an alternative asset to gold, and there has been a rising interest in the white metal. At the outset of the current financial year, silver enjoyed a better outlook in trading circles than gold did for 2015, making it a better investment play.
However, the price movements show that silver prices in India have fallen from approximately Rs 1,065 per ounce a year ago to approximately Rs 1,040 per ounce currently. In contrast, gold prices in India have held steady at approximately Rs 76,000 per ounce over the past year, though the one-year high and low touched approximately Rs 81,000 per ounce and Rs 65,000 per ounce respectively.
This means that silver has lost value over the past year, making it an attractive investment option compared to gold.
Why investing in silver is a good bet
The white metal is expected to be preferred over the yellow metal in the country during the upcoming festival season. The fall in prices makes it an attractive buy, as most Indians would prefer to buy metals during Diwali. Although silver and gold follow similar patterns in price movement, the latter is more directly affected by a complex set of factors, such as policy actions in the US, investment demands from India and China, dollar movement, etc.
Demand for silver is expected to continue to outstrip supply, leading to a price appreciation in the future. Globally, there has been a net deficit of 600 tonnes of silver in 2015. Silver also has a higher demand potential from the industrial sector, unlike gold. It is expected that the demand for silver from the solar power sector will increase by almost 50 per cent in the next 4-5 years. This builds the case for higher demand for the white metal compared to gold.
Experts often measure the gold-to-silver ratio to ascertain the investment potential of both the metals. This ratio has averaged about 73 in the first half of 2015, and it continues to remain at the same levels even now. This historically high level indicates that silver is underpriced compared with gold, and that there is plenty of scope for the white metal to outperform.
Global silver ETF holdings have also increased by over 4.7 million ounces in the first half of 2015, indicating that investors hold a bullish long-term view on the metal. The current low prices, expected high demand from retail as well as industrial users, and favorable global trends are expected to push the price of silver higher in 2016, making this a good time to explore this investment option.
Ways to invest in silver
In India, the most popular channels for buying silver for the common person are jewelers and banks. Silver sold in the form of jewelry or artefact involves making charges and melting charges at the time of resale. This makes it more expensive than buying it in the form of coins and bars.
Both banks and jewelers sell coins and bars, but it is generally costlier to buy it from a bank. One can also buy silver futures from the commodity market. However, the lot sizes are generally large and this involves other charges such as brokerage, stamp duty, etc.
Unlike gold, which can be bought in the form of ETFs, silver does not have a similar market in India. Therefore, if one wants to buy silver ETF, it has to be done from the US market, which requires you to open international trading accounts with select Indian brokers.
Silver prices, like gold, are governed by global and domestic economic conditions. They are also driven by sentiment to a certain extent. Therefore, one should observe the movement of dollar index and base metals index before purchasing silver as they can be very good indicators. In addition, silver price movement is also affected by its demand for industrial uses. So when the demand from industries is poor, the price of silver may fall, irrespective of other economic conditions. Therefore, one should be very cautious while investing in silver.
It is recommended to conduct thorough research or seek the help of a professional before investing in any avenue.
Powered by

BankBazaar.com is a marketplace where you can compare and apply online for loans to meet all your personal loan, home loan, car loan and credit card needs from India's leading banks and NBFCs.