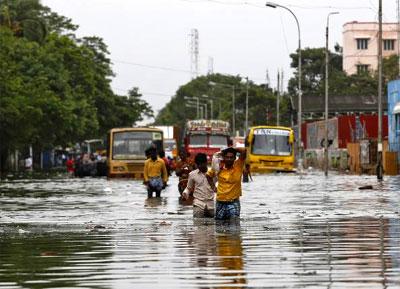 After the Chennai flood, there has been an increase in the number of insurance claims, which are expected to cross the Rs. 3000 crore mark. The majority of insurance claims are for automobile insurance, followed by life, property and health.
Did you or someone you know have the misfortune of getting affected by the Chennai floods? Here are some things you should know before you go and file an insurance claim for your loss.
Documentation needed to lodge a claim
Insurers have eased the documentation process to file claims so that they can be settled faster. For example, when filing for a life insurance claim, if you do not have the death certificate of the policy holder, a list of deceased issued by any government agency or hospital will be accepted. Claimant's photo identity card and a written claim request are the only two documents needed to file a claim.
Ways to lodge a claim
To lodge a claim you can choose either an online mode or an offline one depending on your preference. Claims can be made by calling the dedicated helpline number of the insurance company, sending an email request as well as sending a SMS to the company claim helpline number.
Relaxed settlement norms for Chennai floods
In an attempt to ease the suffering of the residents of Tamil Nadu who faced unprecedented rains and floods, the Insurance Regulatory and Development Authority of India (IRDAI) have relaxed norms for filing and payment for insurance claims. The relaxed norms are available for all residents of Tamil Nadu, Andhra Pradesh and the flood affected Puducherry.
Formation of special claims helpline: Insurers have set up special helpline numbers and email addresses where you can submit your claim requests. Insurers have also eased the required documentation list making it easy to file for claims. Most insurers are accepting claims with just a written claim request and claimant's photo identity card.
Dedicated teams for claim settlement: Insurers have fastened their claim settlement and payment process by increasing the survey process for claims. Companies have appointed nodal officers from outside the state of Tamil Nadu to decrease the claim settlement timeline. Insurers are now taking claim requests on a daily basis, ensuring faster claim settlement.
Direct Credit Using NEFT: Insurance companies are now promoting the use of direct money transfers so that claim funds can be credited quickly. Insurers are seeking NEFT details of claimants so that they do not have to deposit a cheque and wait for clearance to access the claim returns.
Other assistance offered by Insurers
Apart from easing of the claim settlement process and simplification of documentation required to file a claim, here are some other measures adopted by insurance companies.
Overdue waive off: People living in Chennai and adjoining areas, and unable to pay insurance premium, do not need to worry about any overdue charges or policy lapses. Insurers are extending a waiver of premium overdue as well as any policy lapsation charges. Some companies have extended this facility till 31st December 2015, while yet others till the end of January 2016.
Extended grace period: The time to renew a policy or pay your premium has been extended by 90 days on an average by most insurance companies. You can now continue to be protected under your insurance policy without fear of loss of protection as the continuity benefit is retained.
Claim over Phone or SMS: Claim requests are being entertained online using email, and offline using a simple phone call or just one SMS to the insurance company. Almost all insurance companies have both phone and SMS services, making it easier for you to file a claim.
However, car owners who have met with damages to their vehicle during the flood will be having a tough time as there are several terms and conditions for damages arising from floods, especially for engine damage. However, if the vehicle is totally washed away in the flood, claims can be made under total loss and the insured will get the Insured Declared Value as compensation.
Powered by

BankBazaar.com is a marketplace where you can compare and apply online for loans to meet all your personal loan, home loan, car loan and credit card needs from India's leading banks and NBFCs.