The call for easy financing may still have a long way to go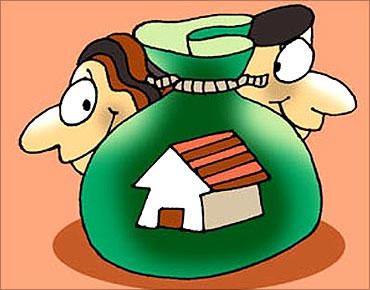 With real estate prices in India witnessing a steep hike over the years, 'housing for all' can become a reality only if affordable home loan options are available for the masses.
The lowering of interest rates has brought cheer to homebuyers, as it enhances their loan eligibility and lessens their EMI burden. Nevertheless, homebuyers are still on the lookout for attractive schemes offering easy financing and more funding.
The call for easy financing may still have a long way to go, but the need for more funding is being taken up. Apart from the flexibility in LTV, which can go up to 90 per cent in some select schemes, a laudable step taken in this regard is the introduction of mortgage guarantee-backed home loan schemes in India.
What is a mortgage guarantee-backed home loan scheme?
In a mortgage guarantee-backed home loan scheme, lenders are partly insured by the India Mortgage Guarantee Corporation (IMGC) against loan defaults by borrowers. While the lenders' loan exposure and credit risk decrease, borrowers can enjoy more relaxed credit norms like longer tenure, higher LTV, and therefore, a higher loan amount.
Banks will have no risk in offering the scheme, as this loan scheme will be backed by the IMGC. The IMGC guarantees the incremental risk for the banks. However, this risk cover is not a free lunch. The bank charges borrowers a small fee of around 1-2 per cent of the borrowed amount and in turn pay the IMGC a protection fee against credit default risk. This amount will act as a premium, offering coverage to the risk involved in the additional borrowing.
This loan scheme is popular in countries such as the US and Canada. In India, IMGC offers this support for banks in tie up with the National Housing Bank, NYSE-listed Genworth Financial, International Finance Corporation, and Asian Development Bank.
Whom do such schemes benefit?
Offering a long-term loan extending past the retirement age of the borrowers is a risk for the bank. Banks would want to ensure that the loan tenure does not extend past the borrower's 60th year. This translates to a lower loan amount and a higher EMI for many borrowers who take loans in their late thirties. Also, most banks offer lesser tenure for self-employed people, as compared with the salaried class.
Due to the limitations in loan tenure and higher EMI, many borrowers, especially those who are seeking loan later in their lives, find it difficult to meet their actual loan requirements. In many cases, they are forced to take personal loans with heavy interest to meet their additional funding requirement in materializing their dream home. A mortgage guarantee-backed loan can come to the aid of such borrowers.
Illustration for increased borrowing
Suppose a 45-year-old borrower earning Rs 30,000 a month approaches the bank for a home loan. He can avail the loan for a maximum tenure of 15 years, considering that he will retire at the age of 60. So if the bank's current interest rate is 10 per cent, his loan eligibility will be Rs 13.95 lakh at 50 per cent fixed obligations to income ratio (FOIR). If this amount does not meet his requirements, he will have to opt for a personal loan with an average interest rate ranging from 16 per cent onwards.
If the bank, backed with mortgage guarantee offers him 7 more years in loan tenure, his loan can go up by an additional Rs 900,000 by paying a premium of around 1-2 per cent of the additional amount. However, any increase in loan amount under the mortgage guarantee-backed loan schemes needs to comply with the LTV guidelines specified by the RBI.
Advantages and disadvantages of mortgage guarantee-backed home loan scheme
The main advantage of the mortgage guarantee-backed home loan scheme is availability of higher loan amount. This scheme is an advantage for those who opt for a loan later in life, and therefore, having smaller loan tenure. Longer tenure, however, always means more interest outflow. So, by going for an extended tenure beyond 20-25 years under the scheme means you will be paying back more to the bank.
The premium payable is also a disadvantage. Continuing with the earlier example, if the borrower goes ahead with the additional Rs 900,000 of loan amount, he will have to pay a minimum premium of Rs 9,000.
Despite its limitations and additional expense, the mortgage guarantee-backed home loan scheme has the capacity to substantially change the scenario for the average homebuyer and increase accessibility to home loans. The higher LTV and the increased tenure could bring many more people closer to realising their dream of owning their own home in an accelerated timeframe.
Illustration: Uttam Ghosh/Rediff.com
Powered by

BankBazaar.com is a marketplace where you can compare and apply online for loans to meet all your personal loan, home loan, car loan and credit card needs from India's leading banks and NBFCs.
Copyright 2008 www.BankBazaar.com. All rights reserved.