Baba Ramdev's brand is pivoting away from franchise outlets and expanding its retail presence through the tried-and-tested channel distribution route of FMCG companies. Arnab Dutta reports.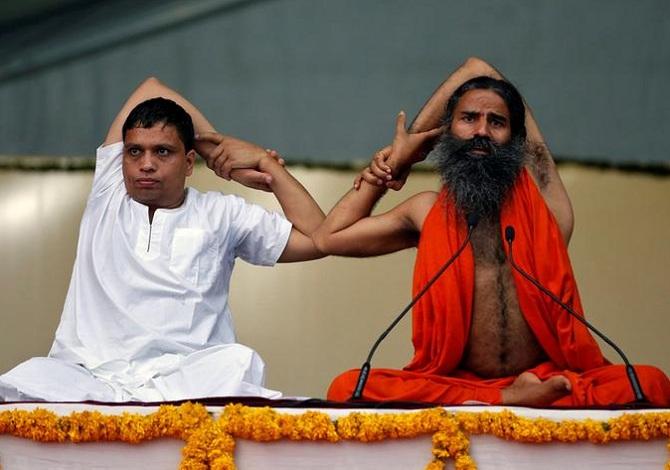 A few years ago, Baba Ramdev's Patanjali Ayurved had disrupted the market with its natural-herbal proposition, forcing major fast-moving consumer goods (FMCG) firms to follow the trend. After growing by leaps and bounds in the past five years, now it seems it is Patanjali's turn to follow the conventional FMCG players to hold on to its success in the coming years.
The firm, which so far has depended heavily on branded franchise outlets for growth, is now looking to aggressively expand its retail presence by taking the tried-and-tested channel distribution route that FMCG companies have been relying on for decades. While it currently has 5,000 distributors, Patanjali has set a target of increasing the number to 25,000 in the next two years.
The move would be crucial to meet the ambitious target of annual sales of ₹1,00,000 crore by 2020 set by its co-founder Baba Ramdev.
"While we are continuously increasing our production capacity, which now stands at ₹50,000 crore a year and is set to rise to ₹1,00,000 crore in next two years, it is important that we expand our retail reach as well," a company spokesperson said.
Patanjali first began appointing distributors to make available its products across millions of mom-and-pop stores in March 2012. But its retail reach continues to remain low compared to peers.
According to industry estimates, while products from Hindustan Unilever Ltd (HUL), Dabur and Nestlé reach some 6 million, 5 million and 3.5 million outlets, respectively, Patanjali's retail reach stands at nearly 0.8 million stores, apart from some 10,000 branded outlets.
It plans to reach 2.5 million outlets in the next two years and is inviting interested parties for distributorships.
"The foreign multinationals are dominating the market place with their vast presence across small outlets. We aim to grab ₹1,00,000 crore annually by making our products available. However, unlike them, our profits are dedicated to charitable purposes," the spokesperson said.
Patanjali, unlike most of its peers in the sector, gets 70 per cent of its revenue from its branded franchise outlets -- Patanjali Chikitshalayas, Arogya Kendras and Patanjali Mega Stores. The move is also aimed at reducing dependence on exclusive outlets as the company estimates the share of distribution channel to increase to 40 per cent in the coming days.
Most of the players, including HUL, Nestlé, Procter and Gamble, Britannia, and ITC, in the ₹3,20,000-crore branded FMCG market in India, get over 75 per cent of their sales from conventional distribution channels.
"The firm has a weak presence, when it comes to conventional retail reach in the southern and rural markets, despite the fact that rural market generates 40 per cent of sales for most FMCG players. For deeper distribution, Patanjali needs to increase its reach and it has great scope for that," said Abneesh Roy, senior vice-president at Edelweiss Financial Services.
While Patanjali's success so far has been attributed to its rapid expansion of portfolio and a trend-setting natural-herbal proposition that the brand has enjoyed so far, analysts say it would not be easy for the firm to touch the ambitious target that it has set for itself by only expanding its retail reach.