A beleaguered Vijay Mallya may have walked free on bail within hours of his arrest but the event, which he nonchalantly dismissed as "usual Indian media hype", had rival parties claiming credit for it and engaging in recrimination.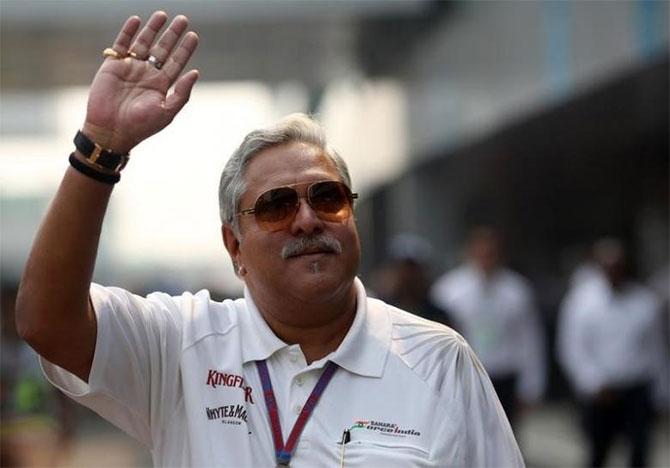 The government and the ruling Bharatiya Janata Party quickly claimed credit for the arrest of the flamboyant tycoon, while congress dubbed the exercise as an attempt to "hoodwink" the people of India.
Minister of State for Finance Santosh Kumar Gangwar said, "We are now assessing the facts how we can bring him back into the country and start judicial proceedings against him."
The government, he said, will leave no stone unturned to bring to justice anyone indulging in financial irregularities.
Mallya's arrest by the Scotland Yard in London underlines the Modi government's will to act against people accused of defrauding public resources, the BJP said.
It is a confirmation of the government's relentless efforts and commitment to act against those involved in illegal activities like generation of black money, BJP spokesperson Nalin Kohli said.
Right from the formation of a Special Investigation Team against black money in the first cabinet meeting under Modi to the current initiation of the extradition process against Mallya, the government has acted at every level, he said.
"Investigation agencies have a free hand to act without fear and favour," he said.
Mallya, whose now defunct Kingfisher Airlines owes more than Rs 9,000 crore to various banks, had fled India on March 2, 2016, and was arrested at New Delhi's request for his extradition on fraud charges.
The Congress, however, assailed the Modi government for seeking Mallya's extradition and not deportation which, it said, would have ensured his immediate custody to India.
"Strange that he is detained and released in the same go...What kind of extradition is this. He is detained for an hour and is honourably granted bail and is defiant.
"Will it take another dozen years, 15 years, 30 years or our entire lifetime before Vijaya Mallya is brought back and Rs 9091 crore of people's money is recovered. These are questions that BJP and Modiji need to answer instead of hoodwinking people of India," Congress chief spokesperson Randeep Surjewala said.
He claimed that the action against Mallya came after a relentless campaign by the Congress party, its vice president Rahul Gandhi and other opposition leaders.
Noting that Mallya's detention was first of 9 steps of extradition with 3 possible appeals, the Congress leader asked "when will we have his custody? Why did BJP Govt not move for Mallya's deportation instead of extradition?"
Surjewala also questioned the government over its failure to bring back Lalit Modi, the former IPL commissioner, who is wanted by India for alleged money laundering. "Why is BJP government shying from moving against 'Chhota Modi' (Lalit Modi), who escaped to UK even before Mallya?" he asked.
Jitendra Singh, Minister of State in the Prime Minister's Office, claimed consistent efforts by the Modi government had resulted in Mallya's arrest.
"Previous governments could not do anything about it. It is certainly the success of this government, particularly Finance Ministry, whose efforts resulted in his (Mallya) arrest," said Singh.
Amid all the political chest-thumping, former employees of Kingfisher Airlines talked about the bread and butter issue of getting their dues paid.
"Our main concern is that the government should get him (Mallya) to India and we should get our dues," former Kingfisher Airlines pilot Rahul Bhasin said in his reaction to Mallya's arrest.
"We appreciate government's efforts. They have done something, finally," Bhasin said.
Anirudha Ballala, another former Kingfisher Airlines pilot, said that the law is taking its course.
"Mallya is perhaps paying for the karmas (deeds) that he has done by not paying to employees," he added.
Significantly, Ballala along with some other employees had written to Prime Minister Narendra Modi in March last year seeking his intervention to safeguard the interest of the erstwhile airline's staffers after Mallya quietly left for London.
In the middle of all the fuss, Mallya tweeted,"Usual Indian media hype. Extradition hearing in Court started today as expected."
"It was a voluntary action. He will be out in a few minutes," said a member of Mallya's team at the Westminster Magistrates' court in London before the former liquor baron was seen walking out leisurely hours later.