While the Bongaon municipality accommodates 1,200 trucks, the rest are at the mercy of private parking lots, where contractors charge an upfront fee of about Rs 4,000 per day.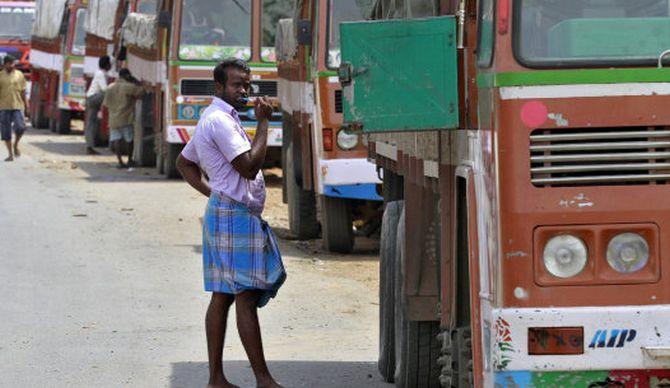 Two-hour parking charges at the world's most expensive parking bay, in New York, is $32.97, according to Global Parking Index Study, 2017, by Parkopedia, a global provider of these services.
It takes double that amount to wait to cross a seven km stretch from Bongaon village in West Bengal to Petrapole along the Bangladesh border.
Between 2014-15 and 2016-17, the value of Indian exports to Bangladesh through the Petrapole checkpost increased 22 per cent to about Rs 15,700 crore.
Much of the increase is attributed to the Indian government's push for trade with Bangladesh and the modern integrated check post (ICP) at Petrapole, built for about Rs 200 crore, inaugurated in February 2016.
The checkpost is managed by the Land Port Authority of India (LPAI), a statutory body set up by an Act in 2010 to provide better administration of border trade.
The ICP at Petrapole is the busiest and largest land port in India in terms of cargo handling, spread over 100 acres.
Nearly 60 per cent of border trade with Bangladesh is through the Petrapole ICP, which replaced the old Land Customs Station, which had capacity to park 700-800 vehicles.
With the new ICP, this capacity has gone up to 2,000 trucks.
Yet, the cost of exporting from the Petrapole ICP defies the rules of economics - mainly for two reasons.
First, while India has increased its parking capacity at Petrapole to 2,000, Bangladesh has a facility to park only 500-700 vehicles, resulting in an increase in detention time for trucks at Indian ports and outside.
Second, on an average, 3,000 to 3,500 trucks wait outside Petrapole at any given point to enter the ICP.
The parking rentals in adjoining areas have gone up several times and the average waiting time for trucks crossing the Bangladesh border is as much as 15-20 days, adding to the rolling capital cost of exporters.
"At least 3,500 Indian trucks are waiting on any given day in the hope to cross the border.
"This poses a huge issue of parking. Cashing in on this situation are the locals at Bongaon village, about seven km ahead of Petrapole.
"Of the 3,500 trucks, 2,000 have to wait for almost 10 days before they get parking at Petrapole.
While the Bongaon municipality accommodates 1,200 trucks, the rest are at the mercy of private parking lots, where contractors charge an upfront fee of about Rs 4,000 per day.
"The irony is that Bongaon's economy depends on this congestion," spokesperson for one of the major exporters of chassis to Bangladesh said.
"For a big exporter, who exports 50 consignments a year, the cumulative detention time comes to 200 days. If a consignment gets stuck for 200 days, it would be a major cost," a senior official of LPAI said.
Cotton, denim, three-wheelers and chassis are the top export commodities from India to Bangladesh through Petrapole.
Tata Motors, Arvind Ltd and Ashok Leyland are the top three exporters from India at the Petrapol ICP.
The impact of detention is already visible in export. The export of raw cotton, the top export commodity from India to Bangladesh, fell about 20 per cent in the first nine months of FY18 year-on-year through Petrapole.
The biggest decrease was in iron and steel, which fell 57 per cent.
Export of motor vehicles fell 10 per cent. Many companies, especially those involved in motor vehicle export, are exploring the sea route, despite its higher costs, said sources close to a prominent vehicle company.
"We have increased our capacity to process about 2,000 vehicles per day but Bangladesh is able to receive only 450-500 vehicles per day.
"Detention, damage and pilferage are the three issues which have been impacting the bilateral trade. We have communicated to the ministry of home affairs that there has to be diplomatic pressure on Bangladesh to increase its port capacity," senior official of LPAI said.
The annual trade potential is Rs 50,000 crore from Petrapole.
Photograph: Sivaram V/Reuters