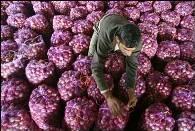 Dubbing Pakistan's decision to ban onion exports across the Wagah border as "shocking", India on Thursday said the issue has been taken up with the concerned authorities in Islamabad.
"It is shocking and unfortunate that Pakistan has banned onion exports to India via land route. We have urged them that the contracted quantities which were to come via the land route should be released," Commerce and Industry Minister Anand Sharma said here. He said the government is also exploring "all the opportunities".
Authorities in Pakistan today stopped 300 trucks of onions bound for India at the Wagah border, saying exports had to be curbed to control rising prices in their own country. Sharma said that state-run State Trading Corporation (STC) and PEC had contracted onions from Pakistan.
"The matter has been discussed with the High Commissioner in Islamabad, who has already met the concerned officials in the neighbouring country." He said whatever decisions are taken should be implemented prospectively and the convoy of trucks should not have been stopped.
Asked whether Pakistan's action was in retaliation to India restricting cotton exports, Sharma said New Delhi's decision was not aimed at Pakistan. The government has put a ceiling of 55 lakh bales on cotton exports for the current season.
However, a large quantity of onions from Pakistan will be reaching Mumbai via the sea route. Meanwhile, STC has also approached the External Affairs Ministry, seeking its intervention in the issue.
"We have written a letter to the External Affairs Ministry to intervene in this issue," a senior official said. STC and PEC were asked to import 300 tonnes and 1,000 tonnes of onions, respectively, from Pakistan to contain prices in the domestic market, which had skyrocketed to Rs 75-85/kg in retail markets across the country on December 22, 2010, and continue to rule at Rs 45-70/kg in metros.
An official with agri-cooperative NAFED, which was to store the onions imported from Pakistan, said: "Trucks were to cross Amritsar by afternoon and reach Delhi by tomorrow morning." Nafed, which was to distribute the onions to retail outlets like Kendriya Bhandar and Mother Dairy, has kept its storage facilities ready.